The Los Angeles Rams made a splash this offseason by adding key veteran players in Ndamukong Suh, Brandin Cooks, Aqib Talib, and Marcus Peters to a team that was good enough to win the NFC West last season. Expectations were high coming into 2018, and the Rams have done nothing so far to dissuade the idea that they are one of the primary contenders to hoist the Lombardi trophy next February. They have cruised to three wins to open the season, posting an average margin of victory of 22 points.
Their revamped secondary, led by Talib and Peters, has made an impact early on and contributed to a team coverage grade of 89.8 that ranks second in the NFL through Week 3.
Last season through three games, opposing quarterbacks were averaging 21.6 yards per completion, and a tallied a passer rating of 88.8 when targeting the Rams' outside cornerbacks. This season, those numbers have dropped to 14.6 yards per completion and a passer rating of just 64.9. The damage could have been even worse early on last year, as nine passes were either off target or dropped compared to just two this season.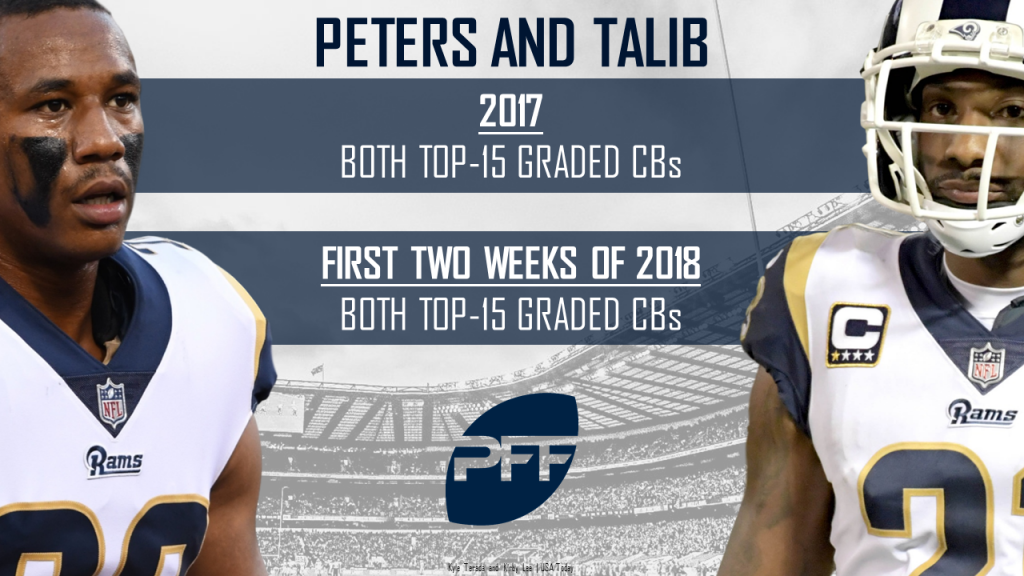 With a game coming on Thursday night against another NFC contender in the Minnesota Vikings, the Rams will be without one or both of their new-look cornerbacks. Both Peters and Talib went down with injuries to varying degrees in their Week 3 meeting with Los Angeles Chargers. Peters suffered a calf strain that was initially thought to sideline him two to four weeks but has since been upgraded to day-to-day and a game-day decision in Week 4. Talib, on the other hand, got placed on the injured reserve Wednesday after suffering a high ankle sprain that will require surgery, and he will miss considerable time, if not the season, for the Rams.
These injuries come as big blows to a team that has not faced much adversity yet in 2018. Peters and Talib both are both No. 1 cornerbacks in terms of talent. In 2017, Talib recorded the 14th-ranked overall grade while Peters ranked 15th. Through three games this season, Talib ranks 13th in overall grade. Peters ranks 31st,  but his grade would be much higher if not for a poor showing in limited snaps last week. With Talib set to miss the foreseeable future and Peters uncertain for the primetime showdown with the Vikings, the Rams' secondary depth will be put to the test. Next in line at the outside cornerback are Sam Shields and Troy Hill.
Shields stepped in last week and played 37 snaps compared to just nine snaps for Hill, so Shields figures to be the first man up at outside cornerback. Against the Chargers, he was targeted three times and allowed all three to be caught for 58 yards and a touchdown for a perfect passer rating of 158.3. Shields does step into Talib's shoes with experience under his belt, though, as an eight-year veteran with nearly 5,000 snaps played on defense in his career.
Shields hasn't seen significant playing time since 2015 after a string of concussions forced him to miss most of 2016 and all of 2017, but before that, Shields had brought solid cornerback play to the Green Bay Packers.  In his last full season (2015), Shields allowed a passer rating of just 71.2 (14th) intercepted more passes than touchdowns he allowed (three vs. two) and broke up 10 passes (17th in the NFL among cornerbacks). His coverage grade also ranked inside the top-20 cornerbacks in the NFL.
Shields has also flashed genuinely elite play in addition to the solid play he's shown over his career, granted it was five-plus seasons ago. In 2012, Shields received a 90.2 overall grade for the season, which ranked fourth among all NFL cornerbacks. He allowed just 45.6 percent of the passes thrown his way to be caught and broke up or intercepted 24.6 percent of the targets against him, which ranked second behind only Richard Sherman.
All of that goes to say that the Rams should feel comfortable in Shields' ability, but as the NFL is a what-have-you-done-for-me-lately league, he will have to re-establish himself after a nearly two-year hiatus recovering from concussions. He will be tested early by the combination of Stefon Diggs and Adam Thielen, and he must perform better than he did in relief against the Chargers last week.
The other cornerback that may see significant time against the Vikings' wideouts, pending the status of Peters, is Hill. The former Oregon product does not come with quite the experience of Shields, but he is in his fourth season and has just over 700 coverage snaps played in his career. Hill saw extensive playing time for the Rams late last season, and his last two games in Week 17 and the Wild Card Playoff round form a microcosm of his up-and-down play.
In Week 17, Hill turned in a game grade of 29.9 against the San Francisco 49ers on the back of three missed tackles and five receptions allowed for 58 yards and a touchdown. In the Rams' playoff game, however, Hill had a stellar performance. He was targeted five times, did not allow a reception and broke up three passes. His grade of 89.1 in the game ranked second on the team behind only Aaron Donald.
That sort of play-making ability shown by Hill in the playoffs is the calling card for Peters. From 2013-2017, 16.6 percent of the passes targeting Peters have either been intercepted or broken up. Only two players with at least 200 targets against them have a higher rate in the NFL over that time – Alterraun Verner and, ironically, Sam Shields. If Peters is forced to miss time with his calf strain, the Rams will be hoping that Hill and Shields will be able to replicate his play-making ability.
The Rams' secondary still has plenty of talent without their two top-end cornerbacks in the lineup.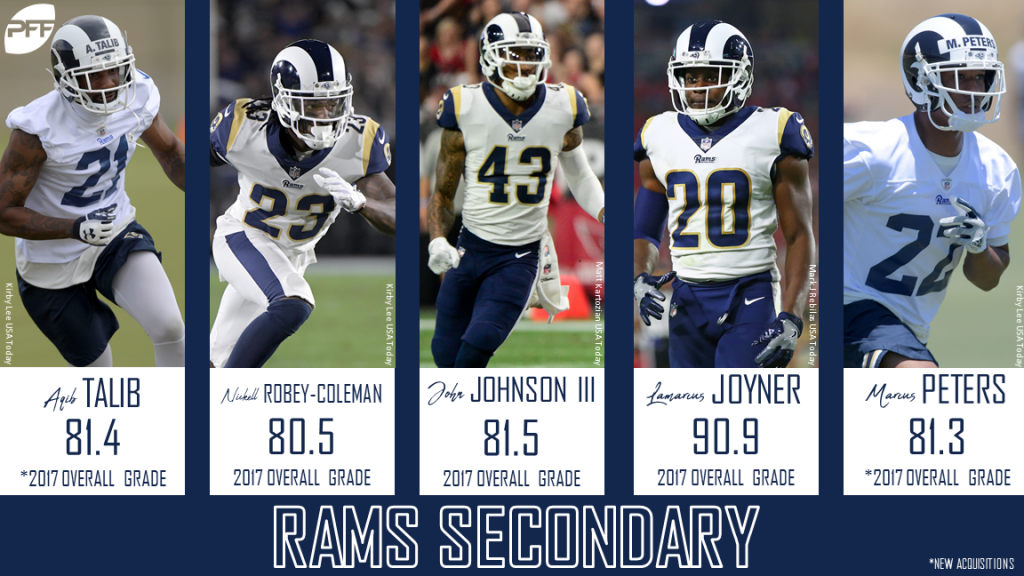 Lamarcus Joyner (90.9 overall grade in 2017), John Johnson III (81.5) and Nickell Robey-Coleman all graded above 80.0 and ranked in the top-25 at their positions last year. The long-term loss of Talib and the possible absence of Peters this week will test the Rams' depth, nonetheless. The injuries also come just four days before one of the most potent wide receiver pairings in the league come to Los Angeles.
Diggs and Thielen have combined for 69 targets through three games, which ranks behind only Antonio Brown and JuJu Smith-Schuster for most targets by a wide receiver pairing through the first three weeks of 2018. Thielen lines up in the slot on 68.2 percent of his routes, so he will see a lot of Robey-Coleman, but he'll also see his fair share of Shields and Hill, as will Diggs. With that kind of receiving talent lining up against them on Thursday night, the Rams will find out quickly just how much depth they have in their secondary.