In his debut season, things couldn't have gone much worse for Oakland Raiders first-round offensive tackle Kolton Miller, who was considered a reach by PFF and others following the 2018 NFL Draft.
Injury struck early and often for Miller in his rookie campaign, which, combined with an already steep learning curve ahead of him coming out of UCLA, dragged his overall grade down to 48.2 for the year, ranking 67th among the 70 offensive tackles with 400-plus offensive snaps. Of the 85 rookie offensive tackles with 400-plus offensive snaps in their first NFL seasons in the PFF era (2006-Present), Miller's 48.2 overall grade ranks 81st and his 44.1 run-blocking grade ranks last.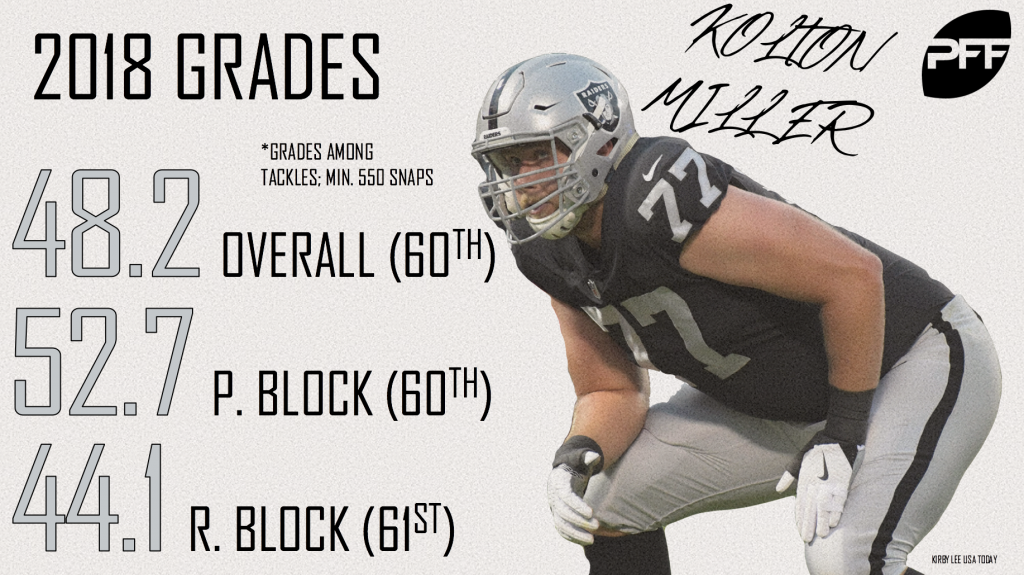 Miller allowed 65 total pressures in pass protection on the year, 22 more than any other rookie offensive lineman and one fewer than the NFL's leader in pressures allowed (Houston Texans' Julie'n Davenport). His 93.2 pass-blocking efficiency ranked 67th among the 69 offensive tackles with 250-plus pass-blocking snaps in 2018, which was largely pulled down by the league-high 16 sacks that he allowed.
Former Detroit Lions offensive tackle Jeff Backus and his 17 sacks allowed in 2007 saves Miller from owning the PFF record for most sacks allowed in a single season, but it's not a second-place trophy you want to call your own, either. His 93.2 pass-blocking efficiency also stands as the fifth-worst single-season mark for a rookie in the PFF era.
Miller's start to the season, however, wasn't as bad as the rest of the year. He came out of the gates playing well above expectation, as he allowed just five total pressures and zero sacks through his first 117 pass-block snaps in Weeks 1-3.
The rest of Miller's season didn't follow suit. He suffered a Grade II MCL sprain against the Cleveland Browns in Week 4 and played through it, allowing seven total pressures in the process. He then re-injured the knee and injured his elbow in the team's Week 9 bout with the San Francisco 49ers, both of which he played through the following week and until the end of the season.
The results of playing through injury? Removing his strong start (Weeks 1-3) from the equation, no offensive tackle allowed more pressures (60) or sacks (16) than Miller in Weeks 4-17. He allowed pressure on a league-high 12.5% of his pass-blocking snaps and ranked dead last in pass-blocking efficiency in the 14-week span.
His run blocking suffered, as well. Only New York Giants' Chad Wheeler had a lower run-blocking grade (38.2) than Miller in Weeks 4-17.
Never given an opportunity to get healthy and develop his skill set at 100%, Miller struggled mightily. But, as Pro Football Focus' Senior Analyst Steve Palazzolo often says, players don't bust; teams do.
Miller is a 6-foot-8, 309-pound specimen with outstanding athletic ability chock full of potential – a project player by all means. His first-round pedigree doesn't change that, nor should it change the fact that Miller needs time and working limbs to reach his potential.
Yes, things couldn't have gone much worse in Year 1 of Miller's NFL career, but few expected him to blow the doors off the league in 2018. Jon Gruden picked Miller for his potential, for his future. Picking Miller as high as he did was a risk, but picking Miller himself was not.