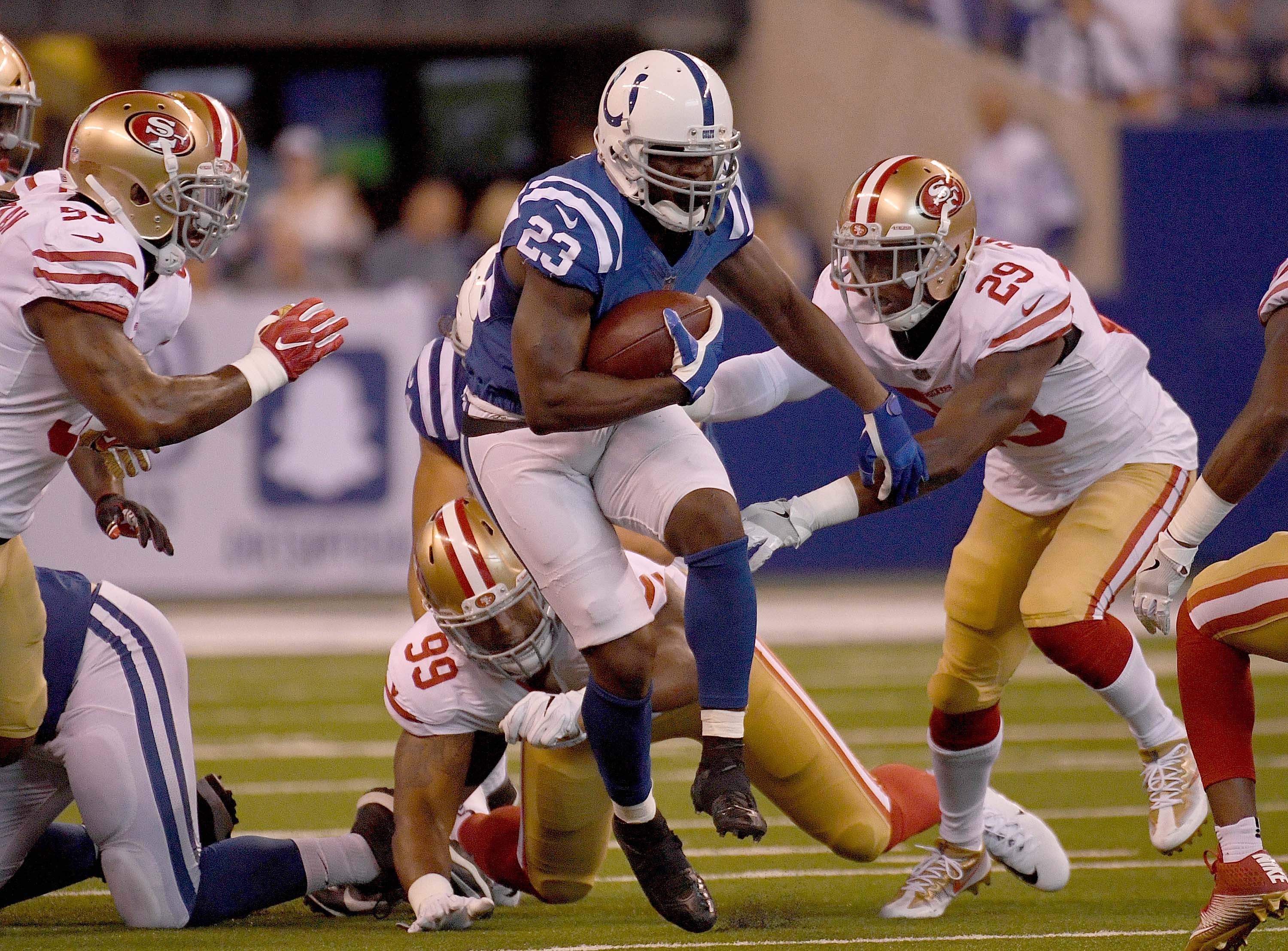 INDIANAPOLIS, IN - OCTOBER 08: Frank Gore #23 of the Indianapolis Colts runs the ball during the first quarter of the game between the Indianapolis Colts and the San Francisco 49ers at Lucas Oil Stadium on October 8, 2017 in Indianapolis, Indiana. (Photo by Bobby Ellis/Getty Images)
In a game not soon to be forgotten, NFL history was made when Indianapolis Colts HB Frank Gore ascended to seventh on the all-time rushing list with a first quarter carry, and the Colts were well on their way to give the future Hall of Famer a victory to cap the day with a 23-9 fourth quarter lead. That story was soon put on the back-burner however as the Colts lead evaporated as the Brian Hoyer-led San Francisco 49ers stormed to push this contest into overtime.
On the heels of two Hoyer touchdown passes in the final 8:00,  the Colts would again be in position to put the ball away with a first and goal from the eight-yard line on their first possession of overtime. QB Jacoby Brissett would be intercepted however, and the Colts defense forced to step up and hold San Francisco without points to finish Gore's Cinderella story. After doing so, and seemingly fitting for the narrative, Gore's heir-apparent, Marlon Mack, carried the ball for 35 yards, putting Indianapolis in range for a game-winning 51-yard Adam Vinatieri field goal and an exciting 26-23 victory. With that, we give you our PFF exclusive takeaways from the contest for each team.

Top 5 Grades:
DI Al Woods, 86.2 overall grade
HB Marlon Mack, 85.4 overall grade
DI Jonathan Hankins, 78.8 overall grade
DI Henry Anderson, 78.5 overall grade
QB Jacoby Brissett, 78.5 overall grade
Performances of Note:
Although Brissett failed to find the end zone through the air, he littered the field throughout with a number of Big Time Throws down the field and intermediate timing routes outside the numbers. Brissett found big plays down the field to T.Y. Hilton on both a scramble deep post and an out and up in OT. Brissett had a crucial mistake throwing an INT to Ray Ray Armstrong in OT, but he was able to bounce back and lead the offense to field goal range for Vinatieri. Brissett was at his best while under pressure, going 7-11 for 139 yards and a 107.2 passer rating.
WR T.Y. Hilton, 78.9 overall grade
Hilton had a monster day hauling in seven of his nine targets for 177 yards, good for 25.3 yards per catch. Brissett and Hilton showed good chemistry down the field, connecting on gains of 63 and 46 yards. Hilton did have two drops on the day that held his numbers and grade back a bit, one on a perfectly placed deep corner route in the first half.
DI Al Woods, 86.2 overall grade
Woods is a good fit at nose tackle in the Colts' defense. He wrecked the 49ers zone scheme consistently Sunday afternoon. Woods managed an 87.4 run defense grade, disrupting San Francisco's double teams on a consistent basis. He also registered a hurry and batted pass, making his presence felt regularly as a pass-rusher.
LBs Jon Bostic, 37.4 and Antonio Morrison, 39.6 overall grades
Shanahan is an expert at exploiting the intermediate level between linebackers and the secondary in zone coverage. He runs numerous flood concepts and in breaking routes off hard play action. Indianapolis' linebackers could not cope. They were off balance throughout the game, either reacting too slowly or finding themselves out of position. Between them, they allowed 85 yards on 10 targets and a touchdown. Linebacker is an area of huge concern for the Colts.

Top 5 Grades:
Performances of Note:
LT Joe Staley, 43.6 overall grade
The struggles up front have forced Kyle Shanahan into a quicker passing game. With the lack of talent on the roster, the 49ers are desperate for consistent performances from left tackle Joe Staley. Against the Colts, however, Staley lost his contest with Jabaal Sheard, coughing up a sack and two hurries. He really struggled against inside moves and stunts, also allowing quick penetration on a number of run plays. With their anchor playing poorly, the 49ers OL toiled all day.
It looks like San Francisco finally has some balance in the receiving corps. Garçon is outstanding on intermediate routes and is complemented nicely by Goodwin's speed. The former Redskin managed eight receptions for 94 yards, while Goodwin hauled in five catches for 116. He made an outstanding grab downfield, earning 56 yards on a single play. The pair represents building blocks for the 49ers' limited offense.
The big plays in the passing game were not at the expense of Robinson, who was the top graded 49er on the day. Robinson was targeted six times, allowing just one catch for 15 yards. Robinson was able to get his hand on throws for two passes defensed on the day, including a big play to break up a pass intended for T.Y Hilton on 3rd and goal inside the five at the end of the first half.
Armstrong was solid against both the run and the pass on Sunday, and he was responsible for one of the biggest plays of the game in overtime. With the Colts threatening to end the game with a touchdown, Armstrong sat in his zone and leaped to intercept a Brissett pass to keep the game alive for the 49ers with a nice return as well. Armstrong allowed just two catches for seven yards in coverage and totaled four tackles and a solo stop.
PFF Game Ball: Jacoby Brissett, QB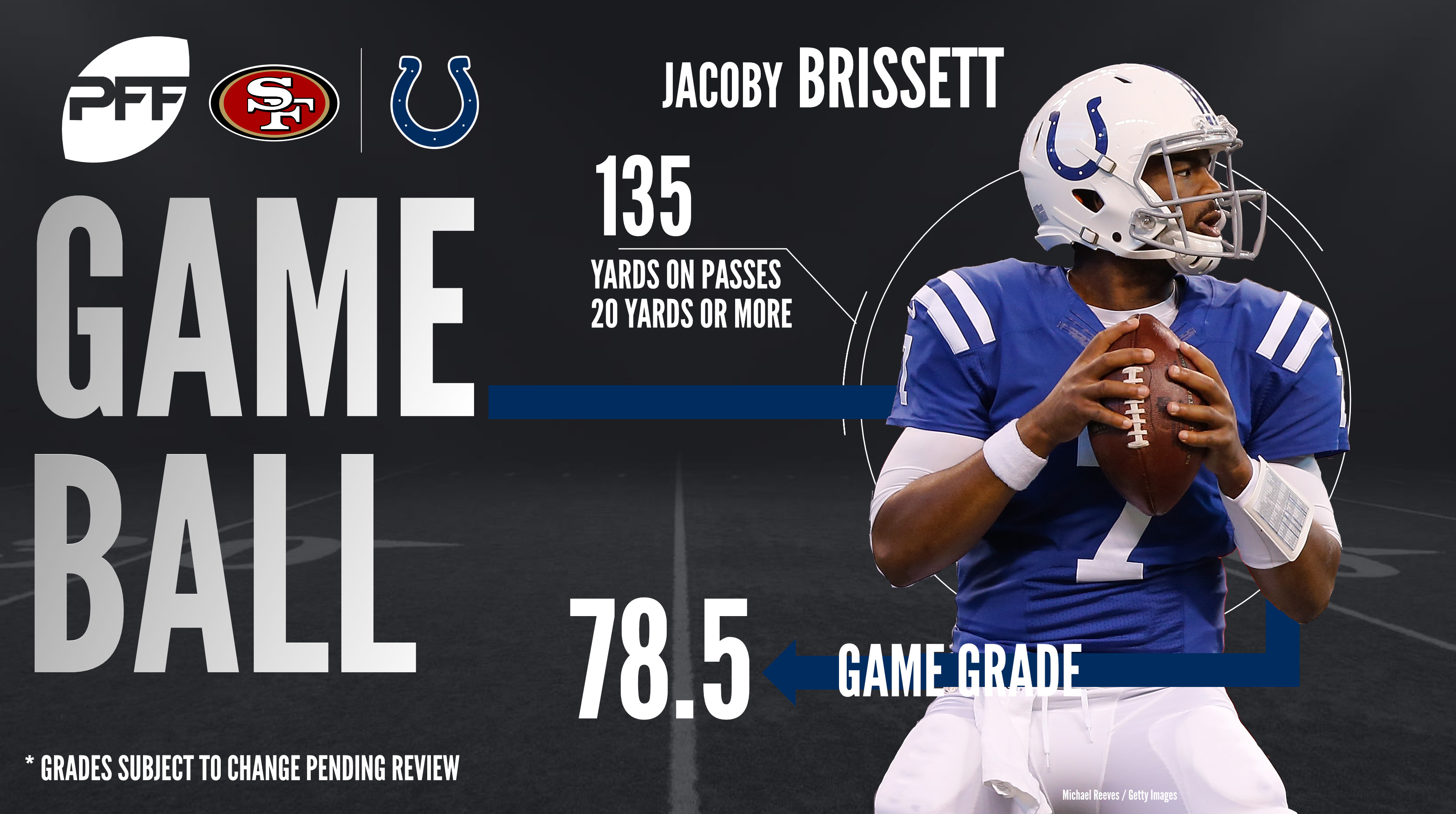 *Grades are subject to change upon review