The 2017 NFL season felt worse than many others with regards to how many key players got hurt and saw their season's thrashed through injury. 2018 is a new year however, and expectations will be high that these players can return from injury and make a big impact for their team and across the league this coming season.
We already highlighted five players who could make a serious push for Comeback Player of the Year, but the list of players coming back from injury is so long, we wanted to expand on that.
From stars on defense, to signal-callers and road-graders on offense, here are some key players looking to rebound from injury and make a big impact this season:
There are two big questions that remain unanswered when it comes to Andrew Luck, and both are massively important both for the player and the Colts 2018 season. Is he going to be ready to start the season? Can he get back to his best?
Back in 2016, Luck posted a career high 91.6 PFF grade, entering the elite group of quarterbacks in the NFL for the first time. He had success throwing downfield, ranking fourth in the NFL with 1,161 yards on passes travelling 20-plus yards downfield.
The fact that the Philadelphia Eagles were able to win a Super Bowl without their starting quarterback is a true testament to the coaching job by Doug Pederson, along with the overall strength of their roster. Wentz getting back on the field should make them even tougher to stop in 2018, with the former North Dakota State quarterback ranking fifth at the position with an 87.6 PFF grade last year.
The Patriots came close to winning another Super Bowl last season and managed that without one of Tom Brady's top targets in Edelman. Back healthy, Edelman is poised to once again dominate from the slot. Back in 2016, Edelman ranked first among wide receivers with at least 30 targets from an inside alignment with a 2.42 yards per route run average.
Robinson is attempting to rebound from a season-ending injury in 2017 and dominate on a new team after a down year in 2016. Back in 2015, he looked ready to break into the elite group of wide receivers in the NFL though, producing a PFF grade of 87.5 in just his second season in the league. Robinson ranked first in the NFL with 672 yards on deep passes that year and is ready to bounce back with Bears QB Mitchell Trubisky.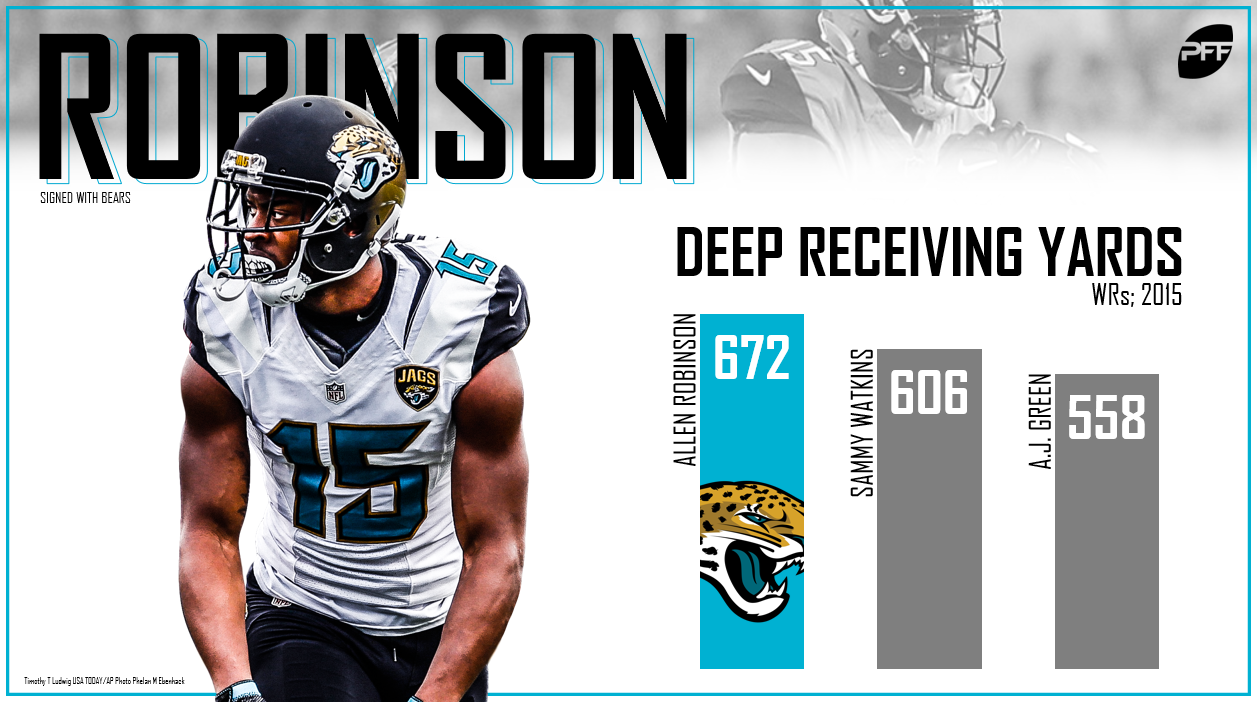 If he's healthy again in 2018, Olsen gives the Panthers one of the top receiving options at his position. In 2016, he dropped just two of the 82 catchable passes thrown his way, while averaging 2.08 yards per route run, ranking fourth in the NFL among tight ends. Both a safe, reliable pair of hands and a tough mismatch weapon in the red zone, Olsen makes stopping the Carolina offense that much more difficult for opposing defenses.
Smith has battled injuries since the middle of the 2016 season and it has really impacted his level of play, with PFF grades of 84.8 and 79.7 over the past two years. When healthy though, he is one of the most naturally gifted offensive linemen in the league. Go back to the 2015 season and he allowed just 22 hurries across the season, while dominating as a run-blocker.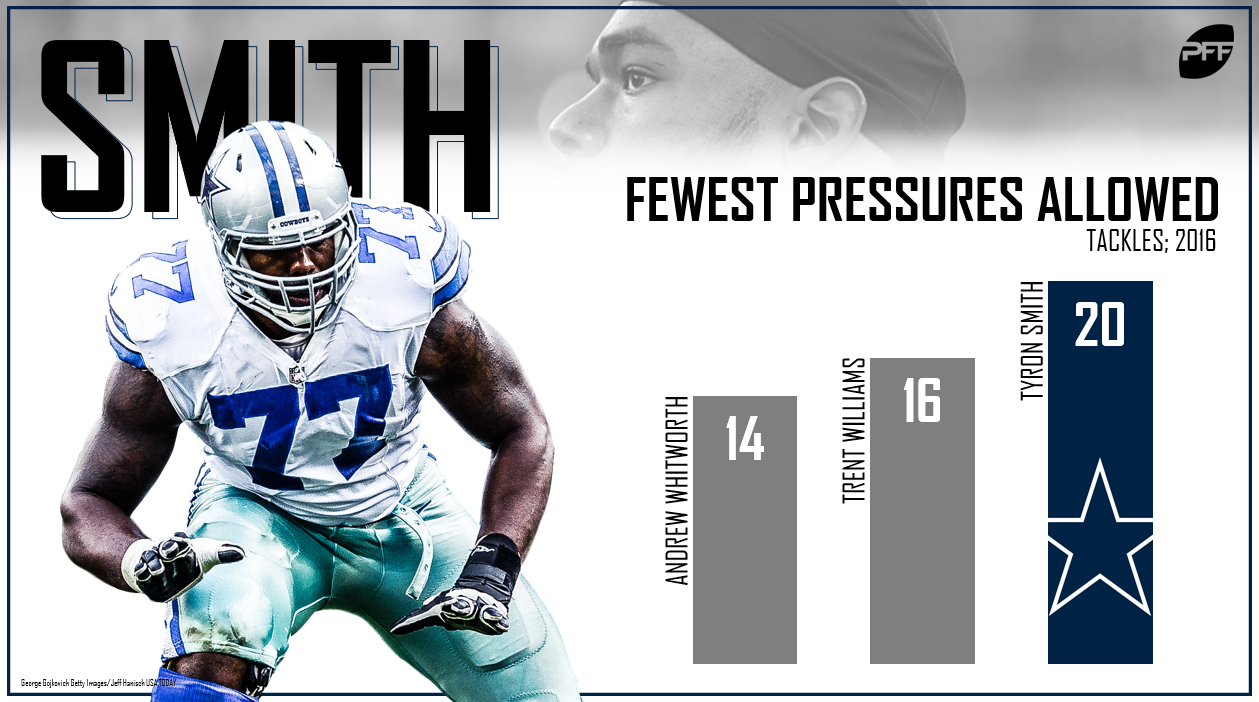 From 2011 to 2016, Yanda produced a PFF grade of 90.0 or higher every season. That level of dominance is rare and when you combine Yanda's power in the running game and his work in pass protection, where he allowed just six hurries from 611 pass-blocking snaps in 2016, it's easy to see why his name is so often mentioned among the elite in the NFL.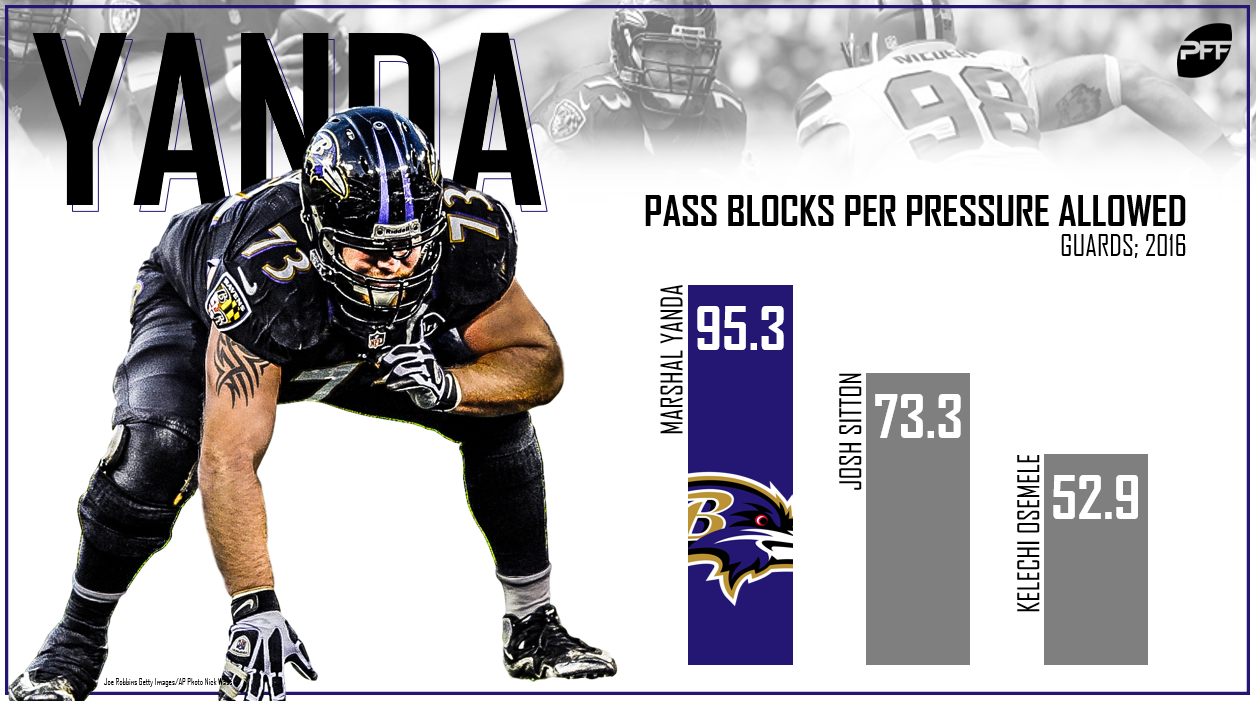 Not only coming back from injury but switching teams, Sherman will be looking to make an impact in the same division as his previous team. Sherman is now 30 years old, so questions will be asked with regards to his skillset declining and his comeback from injury, but let's not forget that this is a cornerback who has allowed an NFL passer rating of just 53.0 on throws into his coverage since entering the NFL.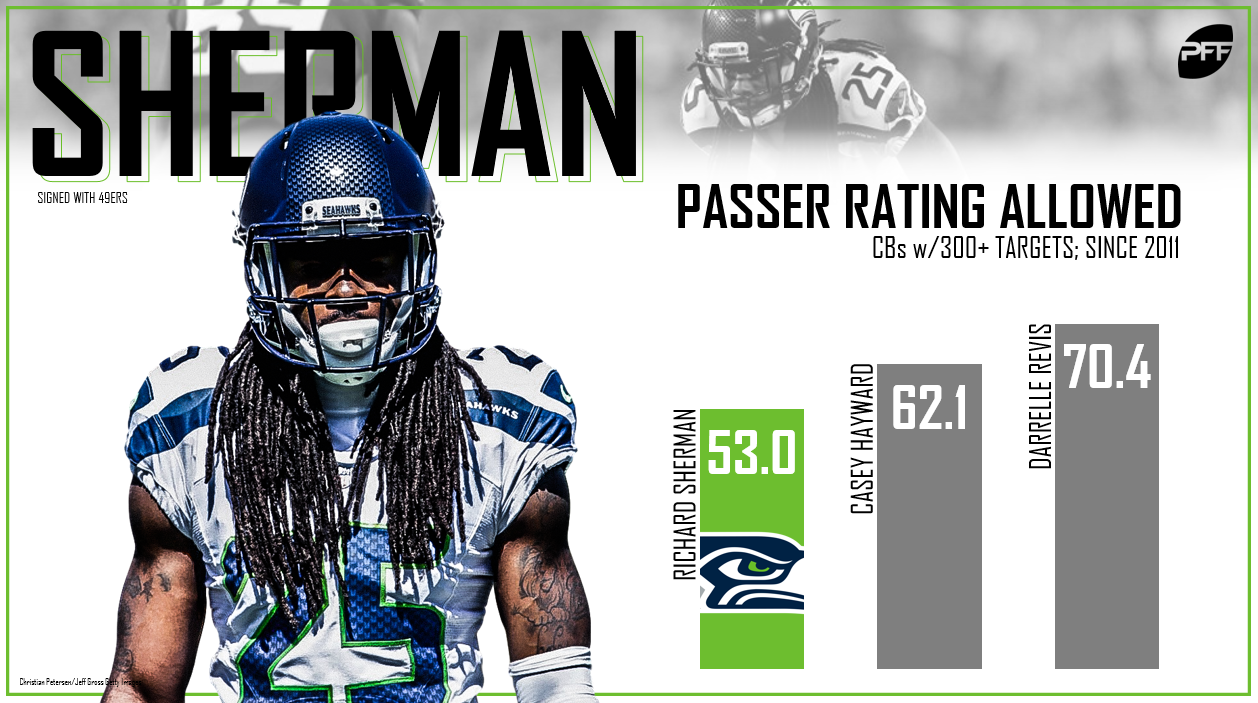 Berry has bounced back on his return before, so there's no reason not to expect one of the most complete safeties in the NFL to do the same again in 2018. Back in 2016, he was our fifth-ranked safety with a PFF grade of 89.2, impressing both against the run and in coverage. Allowing just one touchdown in primary coverage, Berry picked off four passes and broke up two more.