It's hard to believe, but this season might be the best we've ever seen from New England Patriots quarterback Tom Brady in his 17-year, Hall of Fame-worthy career — at the age of 39 years old.
It's impressive to think that Brady could continue to improve the nuances in his game, particularly after a career that already has him sitting along the all-time greats, but that's just what he's done, as we highlighted during the season. His pocket mobility is better than ever, and he's made a conscious decision to extend plays and create later in the play like never before. Brady has even refined his deep passing in recent years, correcting a career-long criticism that he was a magician in the short and intermediate ranges but not much of a deep-ball thrower.
From throwing short or long, pressured or blitzed, within the flow of the offense or outside of it, Brady has had no discernable weakness this season, and it all added up to this: a 99.3 overall grade that represents the best regular-season grade for a quarterback during the PFF era, which dates back to the 2006 season.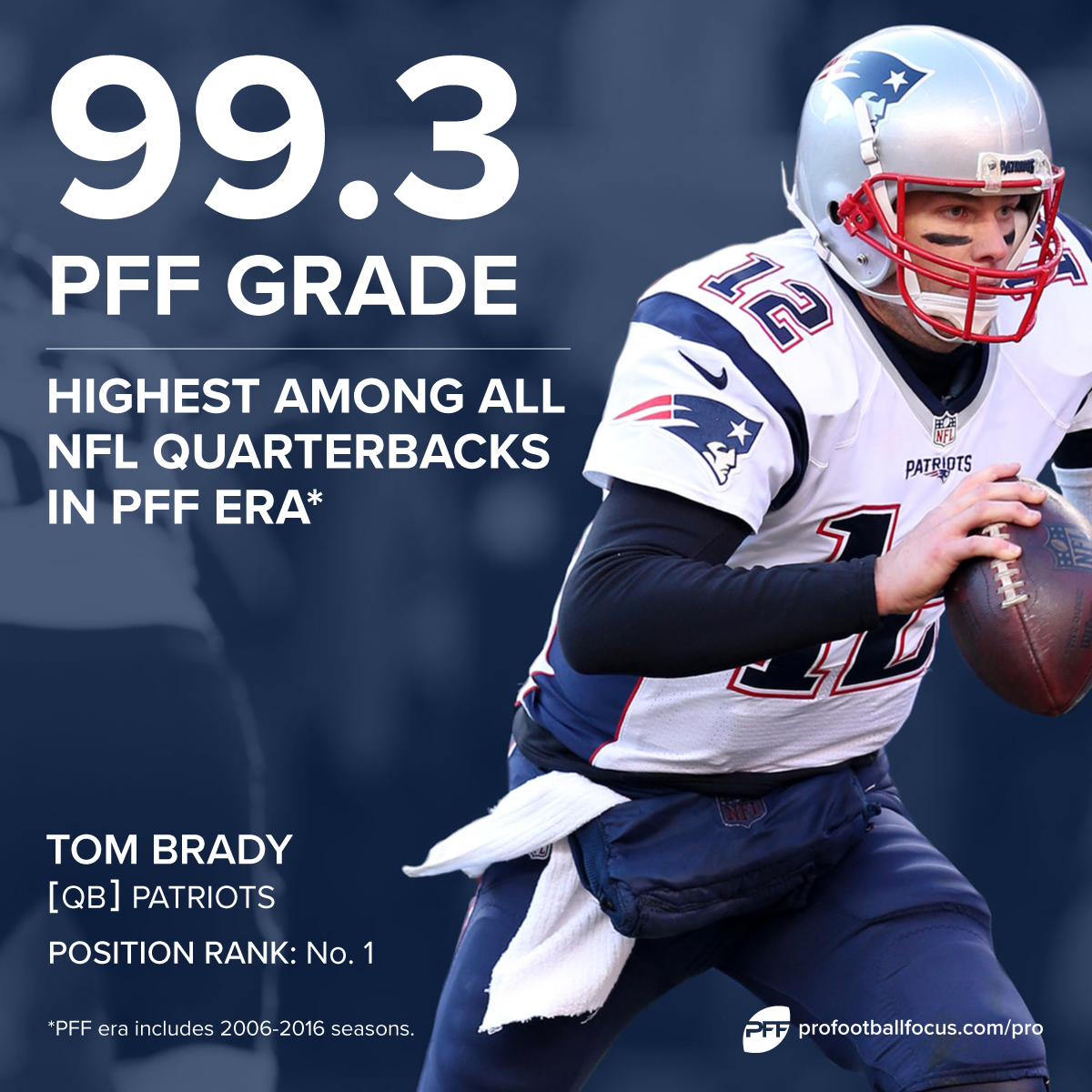 Wait, Brady was better than his 2007 season that saw him light up the NFL with 50 touchdowns and only eight interceptions? He was better than 2010 when a 36-to-4 touchdown-to-interception ratio netted another MVP trophy?
Yes, throw for throw, he has been better this season, combining nearly flawless decision-making with precision passing to all levels of the field. Those other seasons were fantastic, obviously, but did include some Randy Moss superhuman efforts among those 50 touchdowns in 2007, and he had some interception luck that helped his cause in 2010.
Let's have a look at how he's done it:
Brady vs. the field
The PFF grading system takes into account all elements of the throw from the quarterback, from timing to accuracy to game situation, all while crediting the quarterback even when the receiver is unable to haul in the pass. Likewise, poor decisions and throws into coverage that should be intercepted are downgraded harshly whether the defender comes up with the turnover or not, and all incompletions consider whether it was the quarterback's inaccuracy or something the receiver or defender did to render the pass incomplete.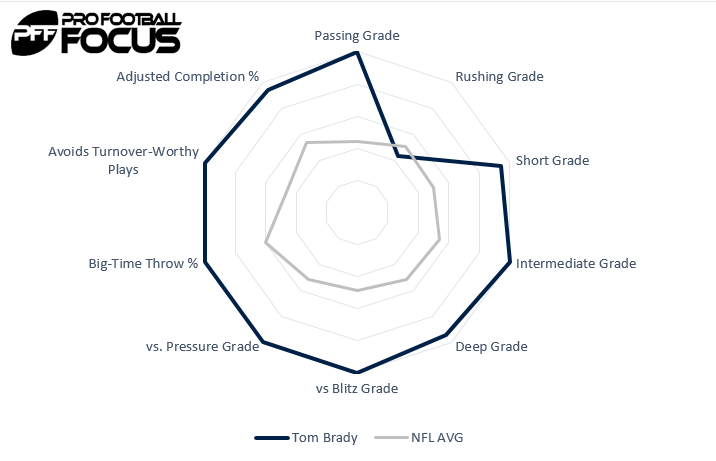 That's the reason Brady graded higher than Matt Ryan of the Atlanta Falcons this season despite Brady finishing second to Ryan in both passer rating (112.2) and yards per attempt (8.2). Ryan had more explosive plays from his receivers on "easier" — or more expected — passes, while also having some interception luck, as he had far more turnover-worthy plays than his seven interceptions would suggest. Brady did not receive as much help from his playmakers and his impressive interception total of two was a legitimate indication of how well he took care of the ball this season.
Brady dominated the grading in every major situation this season. In PFF's play-by-play grading, he sits atop the list when pressured, against no pressure, against the blitz, against no blitz, on third down, and on intermediate (10-19 yard) throws where he is dominating the field and has a 152.2 passer rating (a perfect passer rating is 158.3).

Another way of measuring quarterback performance is the #BigTimeThrow — also the namesake of PFF's Quarterback Podcast, the Big Time Throwcast — consisting of the highest-graded throws in the PFF system. These throws earn the higher grade due to great timing and accuracy, and they're usually thrown downfield or into a tighter window. Brady has the highest percentage of big-time throws (BTTs) this season by a wide margin, and he actually ranks third in total big-time throws despite missing four games to start the season due to his suspension.
On the opposite end of the spectrum is the turnover-worthy throw — a play so hideous that no podcast would ever dare name itself after it — which are the lowest-graded plays in the PFF system, and per the name, passes that should become turnovers due to a poor decision or dangerous throw into coverage. Brady is also miles ahead of the field here, as he has only four turnover-worthy throws on the season — including his two interceptions — and he had the lowest percentage of turnover-worthy throws in the PFF era at 0.81 percent.
The combination of big-time throws and turnover-worthy throws is usually a great indicator of a quarterback's success, as it combines big-play opportunities with ball security, and not only does Brady lead in both areas, his ratio of 8.25 BTTs to TWTs is also a PFF-era record.
A few of Brady's BTTs:
TE Rob Gronkowski gets a step and Brady puts it right on his hands like a long handoff.
#BigTimeThrow of the week, Brady to Gronk up the seam#BTT pic.twitter.com/lLHaVS94jK

— Steve Palazzolo (@PFF_Steve) October 27, 2016
This play was negated by penalty, but Brady avoids pressure and creates enough space to hit WR Julian Edelman with a pinpoint downfield pass.
Brady with #BigTimeThrow, breaks the pocket to find Edelman down the field, play negated by penalty@Zac_Robinson5 pic.twitter.com/O4NOtsHnx0

— Steve Palazzolo (@PFF_Steve) November 3, 2016
On the very next play, Brady throws one of his best deep passes of the season with an #InStride toss to WR Chris Hogan.
Another #BigTimeThrow from Week 8 pic.twitter.com/Gu8PxadBub

— Steve Palazzolo (@PFF_Steve) November 4, 2016
Facing 3rd-and-25, Brady puts the ball where only Edelman can catch it to convert; this is a big reason Brady has the top third-down PFF grade and passer rating in the NFL.
Brady and Wilson went back and forth, this #BigTimeThrow came on 3rd-and-25 pic.twitter.com/usz5sKBx02

— Steve Palazzolo (@PFF_Steve) November 17, 2016
Brady hits the deep post to WR Malcolm Mitchell in stride, and it takes a defensive pass interference to force the incompletion.
Brady was great vs. Jets, best throw perhaps this pass interference. 51 yards from line of scrimmage, #InStride #Patriots #BigTimeThrow pic.twitter.com/1zGe8gW4XQ

— Steve Palazzolo (@PFF_Steve) December 29, 2016
Key areas of improvement
If there's one thing Brady has shown, it's his ability to succeed in numerous environments throughout his career. Yes, he's been in the same offensive system his entire career, but the elements around him have been ever-changing. During his tenure as Patriots starter, the offense has had many iterations, whether it was a two-back look, a spread look that revolutionized the NFL, or a two tight-end set that created mismatches like few offenses in NFL history, all while incorporating no-huddle and uptempo elements that gave Brady full control over the game like few quarterbacks in history.
Brady has now managed to add versatility to his skill set, something a 25-year old quarterback struggles to do, but Brady has done so while approaching the age of 40. We covered it in more depth earlier in the year, but he began focusing on extending plays and creating more offense late in the down in 2014, and we saw the fruits of that labor this year as Brady's 112.0 passer rating on plays lasting at least 2.6 seconds ranked second in the league.
As recently as 2013, Brady ranked 30th in this area, and the number has grown steadily ever since. The newfound vigor to extend plays led to Brady's average time to throw in the pocket landing on its highest mark since the 2011 season as he averaged 2.49 seconds per dropback, eighth-lowest in the league. It's a category in which Brady usually ranks among the top three, and he still makes his fair share of quick-hitting throws, but the ability to extend plays has allowed him to find extra big plays throughout the season while also allowing him to limit those turnover-worthy throws by getting rid of the ball and not forcing the issue when receivers are covered.
This can be seen in his excellence on third down, as he ranks No. 1 in the league in QB rating after posting an 11-to-1 TD-to-INT ratio:

Final word
Just as important as the final PFF grade is the construction of the grade and figuring out how number comes to be. Some quarterbacks have a high percentage of positively-graded throws but also a high percentage of negatively-graded throws, while others play a more conservative brand of football that involves safer throws and fewer extremes in the grading scale.
Brady has found the Holy Grail this season, showing capable of making pinpoint downfield throws while also taking care of the football and posting the lowest percentage of negatively-graded throws in the NFL. A great career became even greater here in 2016, all at the age of 39 when many former quarterbacks are generally on the decline or out of the league entirely. Brady added yet another chapter to his Hall of Fame career, and if he can put the cherry on top with another run through the postseason, it'll be another feather in the cap for his case as the greatest signal-caller of all-time.
At the very least, he'll have his 99.3 overall grade — the best we've seen at PFF in our 11 seasons.