With all our looks back at the first half of the season, sometimes we don't always highlight the 'good' on each team. We're going to change that in this article, as we take a look at the highest-graded player from each team in the league.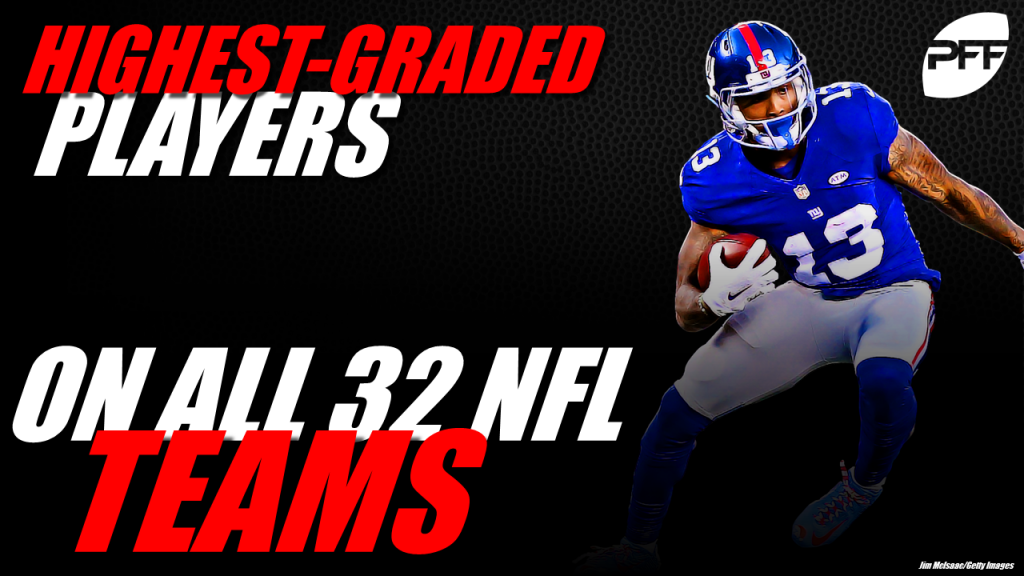 Seemingly the forgotten man on the Patriots squad, Flowers is tasked with carrying the Patriots' pass-rush all on his own – and he does. His 35 total pressures are the eighth-most in the NFL despite missing some time with injury during the season. It hasn't been a bad contract year for the former fourth-round pick.
Even after 36 years on this planet, Cameron Wake is still a terror for right tackles around the league. Wake's 10.5 pass-rushing productivity still ranks third among all edge defenders in the NFL. He's seen his snaps cut back this season, but his effectiveness hasn't gone anywhere.
If Cameron Wake's play suggests he isn't aging, then Lorenzo Alexander's suggests he's Benjamin Button. The 35-year-old is in the midst of a career year through his first 307 snaps of 2018. He's second in the NFL in pass-rushing productivity and has been outstanding so far in coverage this season. On 52 snaps dropping into coverage, he's allowed only 27 yards, picked off a pass and broken up another.  
Few safeties in the NFL are tasked with as difficult a role as what Adams does in New York. He's basically asked to play any given position in the defense depending on what's needed for the call. Adams has taken 179 snaps as a deep safety, 61 snaps as a box safety, 213 from a linebacker position, 69 as a slot corner and 21 as an outside corner. Trying to guess where he's going to line up on a given play is a fool's errand, and the fact that he's their highest-graded player from all those positions is nothing short of remarkable.
There's no one better at the catch point in the NFL today than Hopkins. His 15 contested catches this season are the most in the NFL while his 43 catches without a single drop are 17 more than the next closest receiver with zero drops. Oh, and he also leads the league in catches that have gone for 15-plus yards with 26. We've always wondered what he could do with a real quarterback, and now he's showing us.
While no one on the Jags' defense seems to be quite themselves this year, Campbell has experienced the least drop-off from a season ago. Even Campbell, though, has taken a significant step backward as a pass-rusher, as he's on pace for 23 fewer pressures than he had a season ago. However, as a run defender, he's still one of the best in the league. His 16.8 run-stop percentage is the highest among all defenders in the NFL.

Casey continues to do the thankless jobs in the middle of the Titans' defense. He currently owns the third-best run-stop percentage among all interior defenders in the league and sits 11th in pass-rush productivity. The Titans defense is just now starting to become good, but Casey's been a star there for a while.
He doesn't quite look all the way back to his 2016 form just yet, but after taking over a year off from even throwing a football, I'd say his spot here is incredibly encouraging. My favorite stat from him so far this season – and one that bodes well for his health long term – is this: In his last two healthy seasons, Luck had the fourth and fifth-longest times to attempt in the NFL (2.68 in 2014 and 2.72 in 2016). This season, he's had 19th-longest at a swift 2.45 seconds.
He's slowed down a tad of late, but JuJu's sophomore campaign has been the perfect encore to his strong rookie outing. He currently sits 24th among all receivers in the league averaging 2.00 yards per route and is on pace for over 1,300 yards so far this season. More surprising than his solid performance is that all those numbers outrank that of number one receiver, Antonio Brown.
Death, taxes and Geno Atkins' bull-rush. Atkins will be sliding guards into quarterbacks laps while he's in the nursing home. The 30-year-old hasn't seen his play slip one iota in his ninth season and is actually on pace for the most pressures he's had since 2015.
Even with some injuries this season, Pierce is still on pace for the best season of his short career. He's always been one of the most dominant run defenders in the league, but he's seen improvement as a pass-rusher this season. His 71.0 pass-rushing grade would be the best of his career.
The 22-year-old former number one overall pick is on a superstar trajectory in Cleveland. You'd love it if he could take some plays off, but being as effective as he's been on an absurd amount of snaps just makes it that much more impressive. Garrett's 621 snaps this year are 83 more than the next closest edge defender.  
I'm not sure there are any superlatives left to describe Mahomes so far this season. My favorite stat, though, is that he's put up these absurd numbers and still has had the sixth-most dropped passes of any quarterback in the NFL.
We're finally seeing what Rivers can do behind a halfway decent offensive line. Rivers has been under pressure on only 33.7 percent of his dropbacks this season compared to 37.4 a year ago. And with less quick pressure, he's actually been more effective when defenders have gotten to him. Rivers 112.7 passer rating under pressure is the best in the NFL this season.
The rest of the Broncos' defense has changed over the years, but Chris Harris Jr. is still the cornerstone of the secondary. His 0.65 yards per coverage snap are the sixth-best of any cornerback in the NFL, and he's only allowed a passer rating of 60.8 in his coverage. If you don't know how good Harris is at this point, there's not much more we can do to help you.

The Raiders' offensive line has gone in the tank since they were one of the best in the league a short two seasons ago, but don't point the finger Hudson's way. He's quite easily the best pass-protecting center in the NFL and has given up all of two pressures all season long.
All Swearinger has done over the first half of the season is lead all safeties in interceptions (4) and finish sixth among all safeties in coverage stops (6). Not a bad start for someone that was seen as a bust early in his career.
The stats that Jones is on pace for this season are beyond ridiculous. Extrapolating out his eight games, he's on pace to allow only 30 catches for 338 yards and zero touchdowns. Why did he ever move to safety again?
Most years, it's a coin flip over who has the higher grade between Cox and Brandon Graham. This year, though, Cox has taken his game to another level. Cox is on pace for 21 more pressures than he's had in any other single season for his entire career.
The man just gets open, even if his quarterback doesn't always find him. Beckham's 19 broken tackles are the most of any receiver in the league and he's dropped only one pass on 62 catchable targets.
If Damon Harrison is the best interior run defender in the NFL, Hicks is currently a close second. In fact, Hicks' 13.6 run-stop percentage is second to Harrison among interior defenders in the league. He's also held his own as a pass-rusher with 26 pressures – 14th-most at the position.
No one has been better at moving the chains this season. Thielen's 51 catches that have resulted in a first down are five more than the next best receiver in the league and quarterback Kirk Cousins has a passer rating of 119.2 when throwing Thielen's way.
The results haven't been nearly up to Rodgers' lofty standards so far this season, but when he's let the ball rip down the field, he's been as accurate as ever. On passes targeted 10-plus yards down the field, Rodgers has a grade of 99.5 and a yards per attempt of 13.8 despite eight dropped passes from his receivers.
It took a while, but the former second-round pick has developed into a force against the run on the interior of the Lions' defense. His 11.4 run-stop percentage is eighth-best among interior defenders.
The only player you'll find with a higher grade on this list is one Aaron Donald. That's how good Brees has been. Everyone likes to point out how Brees'  76.3 completion percentage is inflated by short passes. Well if you limited Brees to only throws 10-plus yards downfield, he'd still be completing 68 percent of his passes.
Might as well just pencil in Kuechly here every single year. He's currently second among all linebackers in run-stop percentage at 12.9 percent. And while his grade is at 84.8 overall at the moment, you can bet it will be above 90.0 by the end of the year. He's ended up above that threshold in each of his last four seasons.
He may have only just gotten into the end zone this past week, but Jones has been the fuel driving the Falcons offense all season. Jones is once again leading the NFL with 3.18 yards per route. This would be the fourth season in a row he's done so as well as the fourth cracking 3.00 yards per route – a threshold no other receiver has gone over since Andre Johnson averaged 3.02 back in 2012.
The only thing holding Howard back from joining the elite tight ends in the game at the moment is playing time. His 2.46 yards per route is third-best among tight ends in the league, but currently, 15 other tight ends have run more routes. Howard is on pace for only 676 snaps this season.
Donald is playing a different game from every single defensive lineman in the NFL. He is every bit what J.J. Watt was in his prime. His 28.7 percent win rate as a pass-rusher is 5.3 percentage points clear of the next best defensive lineman (Carl Lawson who was a pass-rush specialist). That's the same difference between Lawson and the 18th most effective defensive lineman in the league (Myles Garrett).
While people love pointing out tackle numbers, there are so many more things that go into being an effective linebacker than racking up hits on ball carriers. Wagner only has 21 tackles versus the run, 32nd most among linebackers, but has been given positive grades against the run on the highest percentage of plays because of how well he executes his assignment.
Kittle has swiftly vaulted himself into 'best tight end in the game' conversation with his play through the first nine weeks of the season. He currently leads all tight ends averaging 2.70 yards per route and is on pace for 1,230 yards this season. It also doesn't hurt that he owns the third best run blocking grade of any tight end in the league.  
This should come as little surprise to anyone who has watched a Cardinals game this season. Peterson continues to hold his own while the rest of the team crumbles around him. He owns the NFL's second-best passer rating when targeted (57.1) and has allowed all of 189 yards all season long.