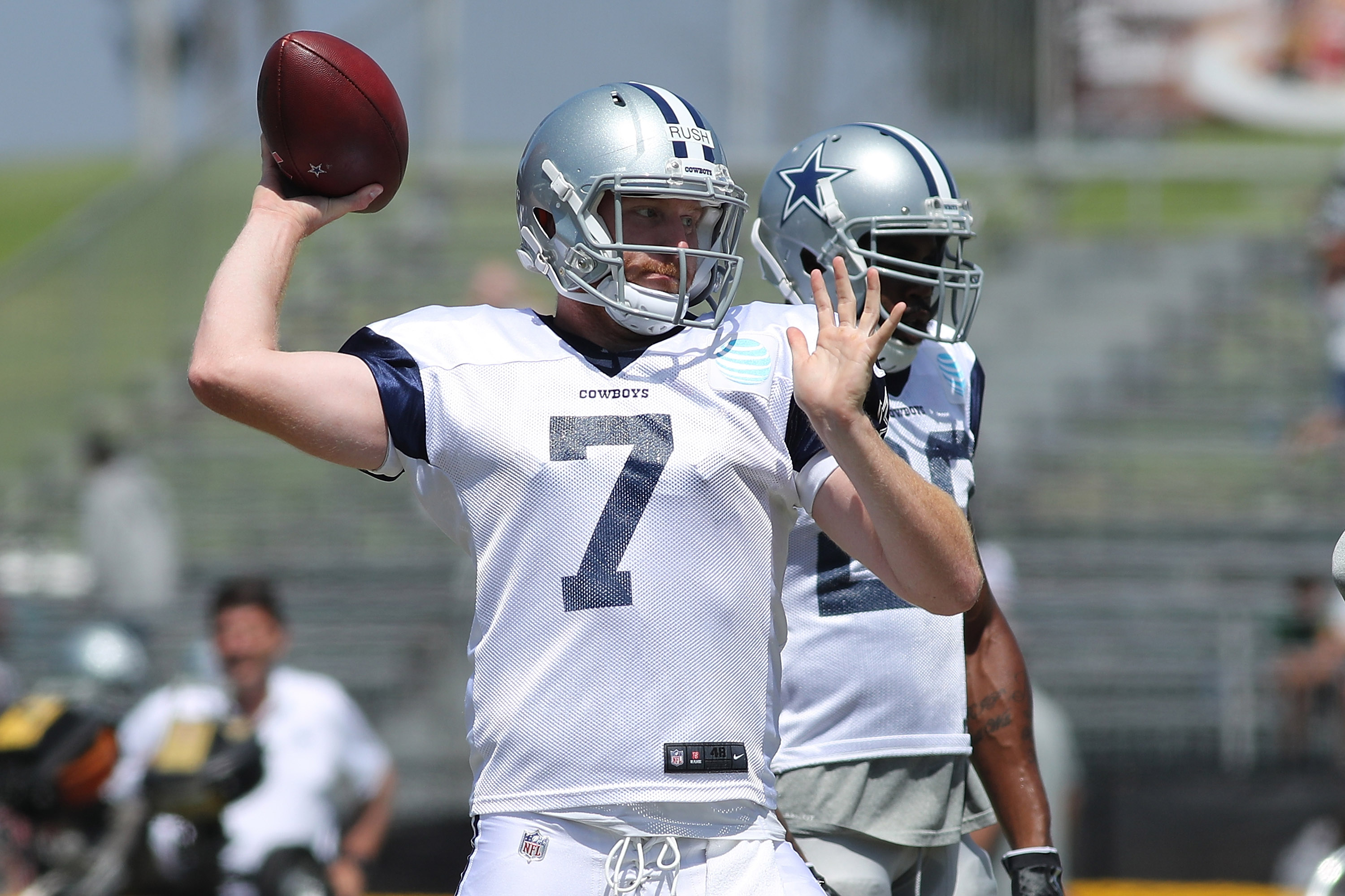 OXNARD, CA - JULY 27: Cooper Rush #7 of the Dallas Cowboys passes the ball during morning practice on July 27, 2017 in Oxnard, California. (Photo by Josh Lefkowitz/Getty Images)
The NFL preseason officially kicks off tonight with the annual Hall of Fame game in Canton, Ohio. Arizona Cardinals and Dallas Cowboys fans will get the first taste of real, live game action for the 2017 season when the two NFC teams clash.
Arizona returns one of the league's all-time great wide receivers in Larry Fitzgerald heading into 2017, however it is unknown how much, if any, we will see of him in tonight's game. Rather, prepare to see glimpses of who else can catch passes from veteran QB Carson Palmer this season, and which rookies the Cardinals may have to count on this season.
Dallas returns one of the league's up-and-coming QB-RB duos in Dak Prescott and Ezekiel Elliott, and much like Fitzgerald, it is not known how much, if any, we will see the second-year pros. The Cowboys will have a much different defense this fall, and that should be something to watch all preseason for fans.
With that, our 2017 Hall of Fame Game preview highlights athletes to watch, position battles for a regular season starting slot and rookies who may look to impress from the get go.

WIDE RECEIVER
The Cardinals wide receiver battle will arguably be for the fifth wideout spot, and feature nine receivers to fill that spot behind Fitzgerald, John Brown, Jaron Brown and J.J. Nelson.
Hailing from division II schools, Chad Williams is a big-bodied WR who can get the ball while Krishawn Hogan lit up the NFL Combine. Larry Clark is another big bodied WR from Colorado State-Pueblo while the only rookie WR from a FBS school is Carlton Agudosi, who struggled in his final season at Rutgers, fielding just a 43.6 passer rating when targeted, 88th among 106 Big 10 receivers with at least a single targeted pass their way.
Veteran WRs Aaron Dobson, Brittan Golden and Jeremy Ross will also be in the mix for playing time this preseason. Dobson didn't log a regular season snap last year, but hauled in nine receptions last preseason with the Patriots. Dobson saw just a 61.2 passer rating when targeted last preseason (126th of 175 qualified WRs), so he'll look to improve that to make the Cardinals roster.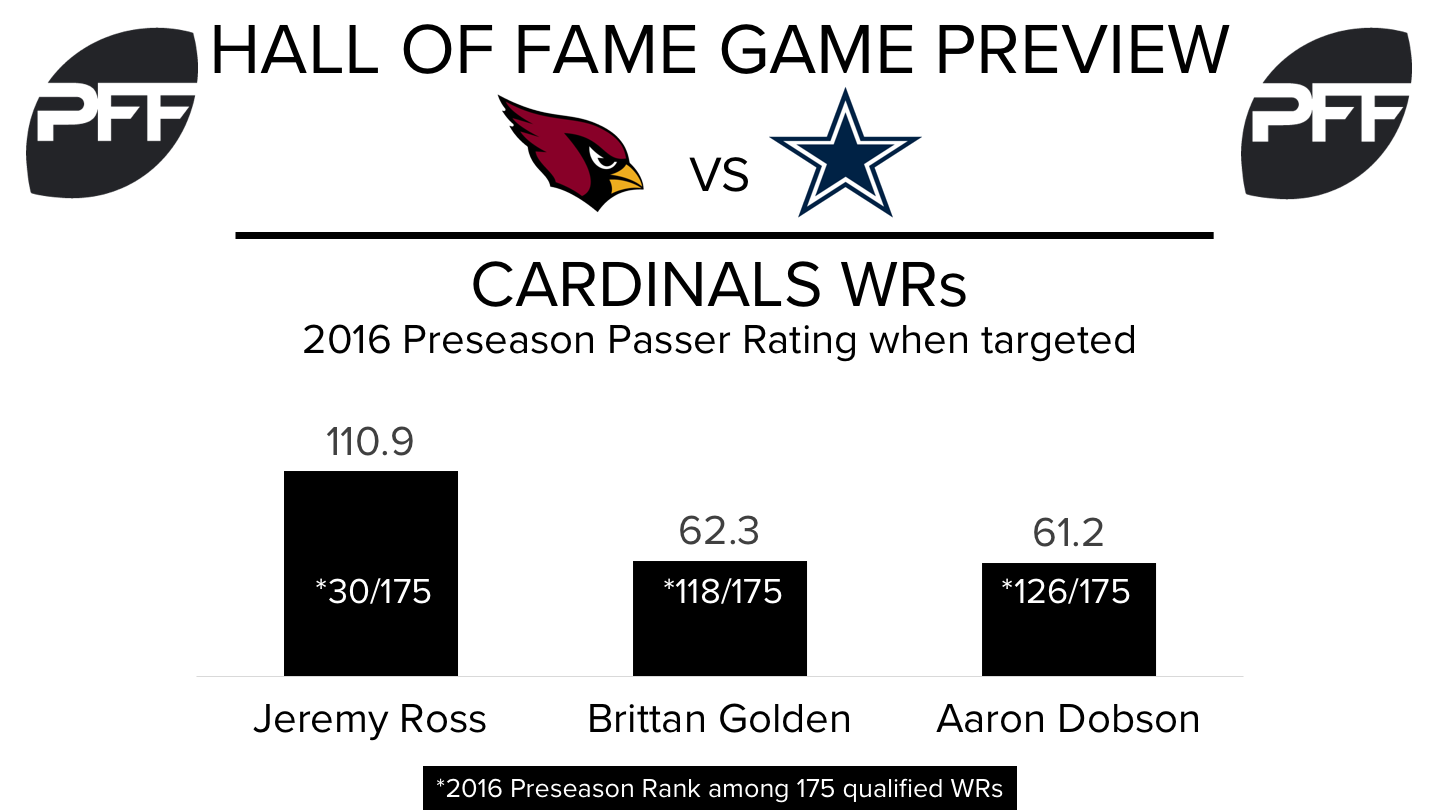 Golden didn't fare too much better last preseason with the Cardinals, seeing just a 62.3 passer rating when targeted – 118th. In all likelihood, it's an uphill battle for either of these players to see significant playing time in the regular season, unless their preseason play stands out.
Seals-Jones is transitioning from WR at Texas A&M to TE on the big stage with Arizona. He ran the third-most routes from the slot WR position a season ago  among SEC wide receivers, however he hauled in just 23 receptions and registered a yards per route run total of just 0.85, which ranked him 18th among 23 wide receivers with at least 108 routes run from the slot.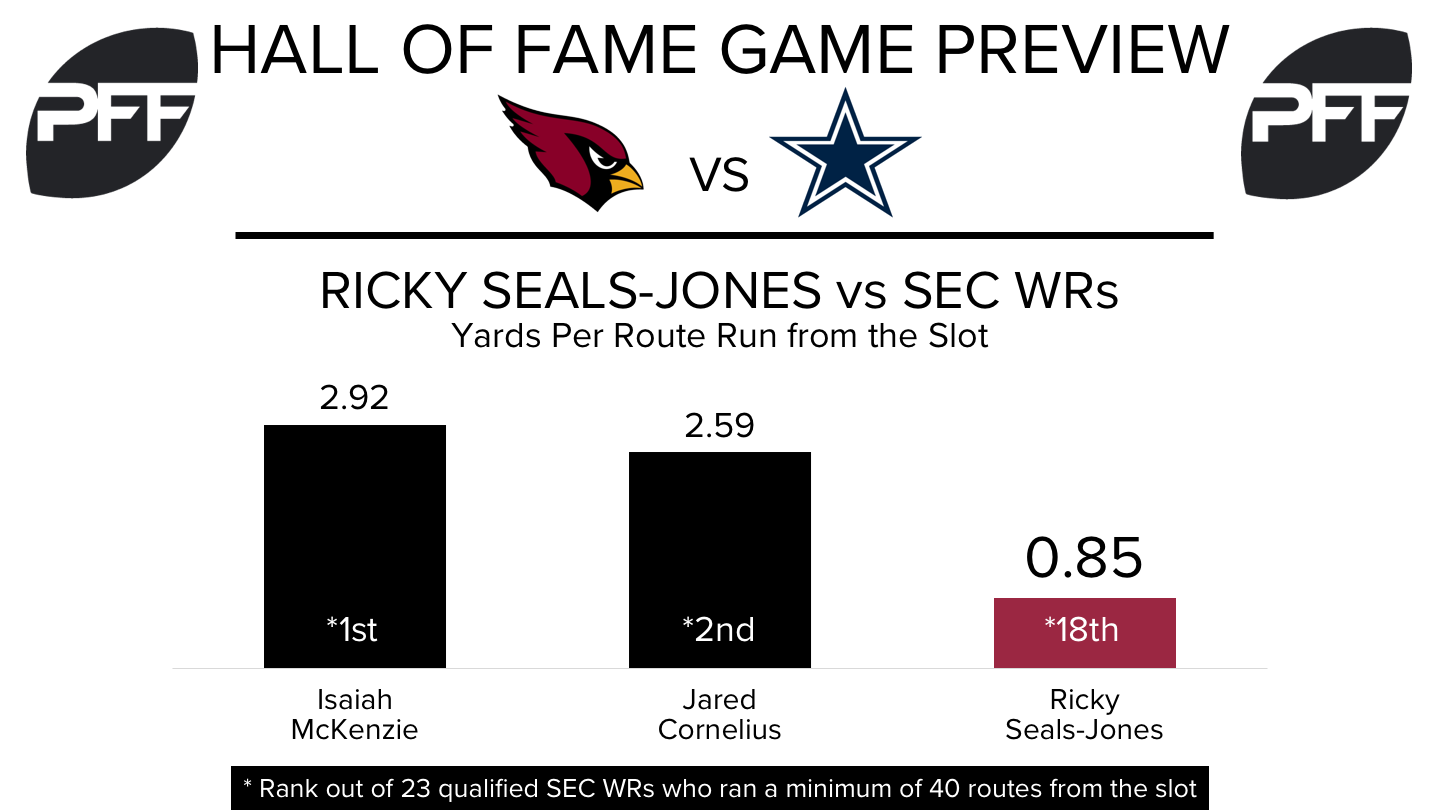 The speedster from North Carolina was a combine freak and he also was hard to tackle last season for the Tar Heels. Logan forced a total of 34 missed tackles and registered an elusive rating of 66.9, seventh in the ACC. Logan will look to add depth to the backfield in Arizona as yet another pass-catcher as he registered the sixth highest yards per route run out of the backfield among ACC RBs last year (1.63).
The veteran trio of QBs that will suit up for the Cardinals this preseason start with Palmer (15 years) and include Drew Stanton (10 years) and Blaine Gabbert (7 years). Knight will look to raise his place in the quarterback rotation in Arizona with a strong preseason. The former Texas A&M Aggie saw the SEC's fourth lowest accuracy percentage at 65.2 percent last season. He struggled throwing it deep, tossing the most interceptions (5) on passes that were targeted 20 yards or more downfield.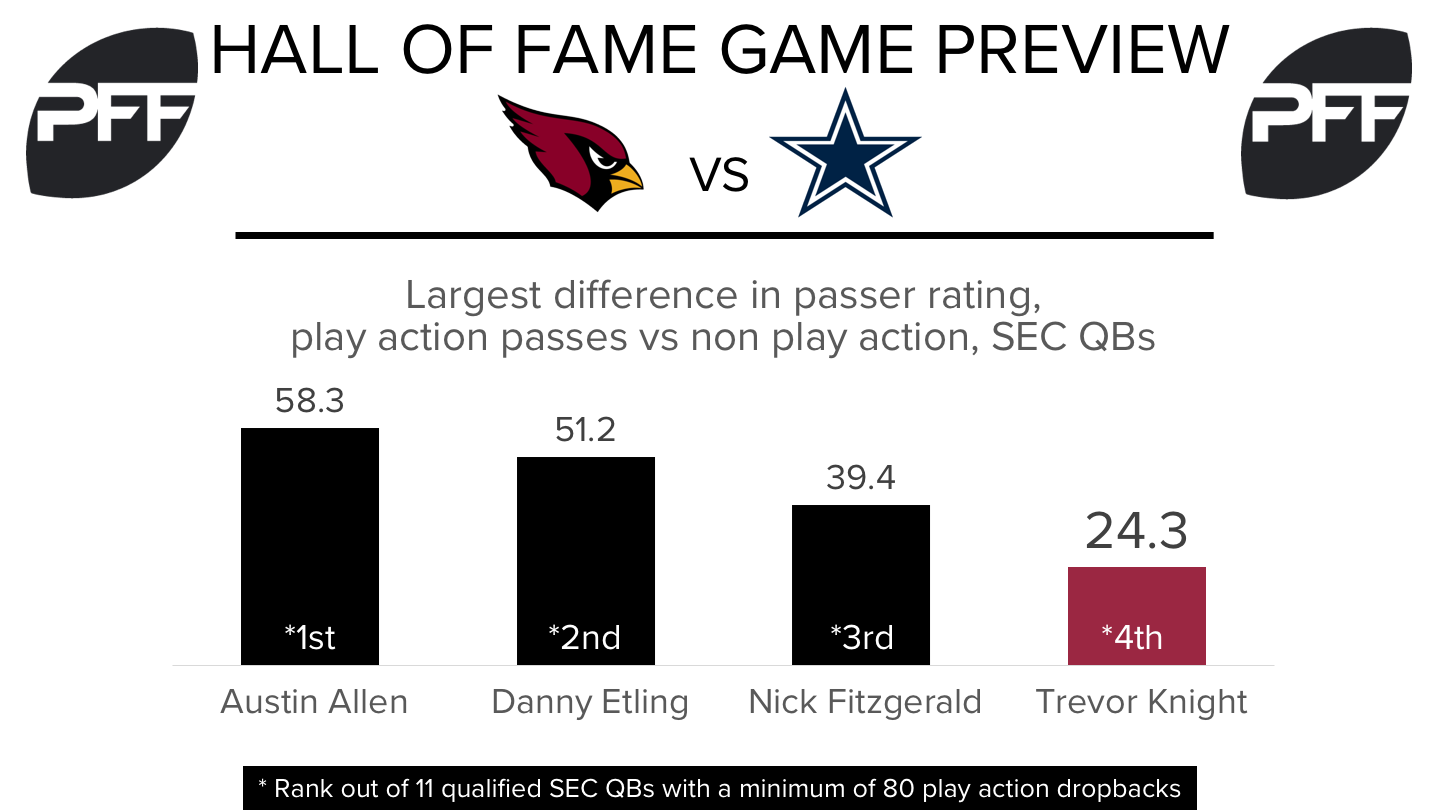 A great backfield might help Knight in his development at the next level as he was much better off play action last season, fielding a passer rating of 97.8 with play action, compared to just 73.5 with no play action. He also completed passes at a 6.1 percent higher rate following a play fake.
Mr. Do-It-All for the Washington Huskies last year, Baker lined up all across the defense, and similar to how the Cardinals utilize Tyrann Mathieu, Baker's versalitiy across the defense may prove to be extremely useful. Baker is a solid tackler, finishing with the 10th highest tackling efficiency mark in run defense among all Power-5 safeties last year.
Gallon was an impressive, do-it-all himself non-Power 5 player last season as well. Like Baker, Gallon lined up at linebacker, cornerback and safety on a bevy of snaps, but impressed as an inside linebacker. He recorded 33 run stops for Georgia Southern last year, 11th among Sun Belt ILBs. However, if he wants to make the Cardinals roster, he'll have to tighten up his tackling as he missed an FBS-high among inside linebackers 18 tackles in run defense a season ago.
Much could be said about Reddick's pass-rushing skills, but arguably as good against the run, the former Temple standout racked up the tied for 13th most stops against the run among edge defenders last season with 25. His run stop percentage of 8.7 percent saw him finish 16th among 3-4 outside linebackers a year ago.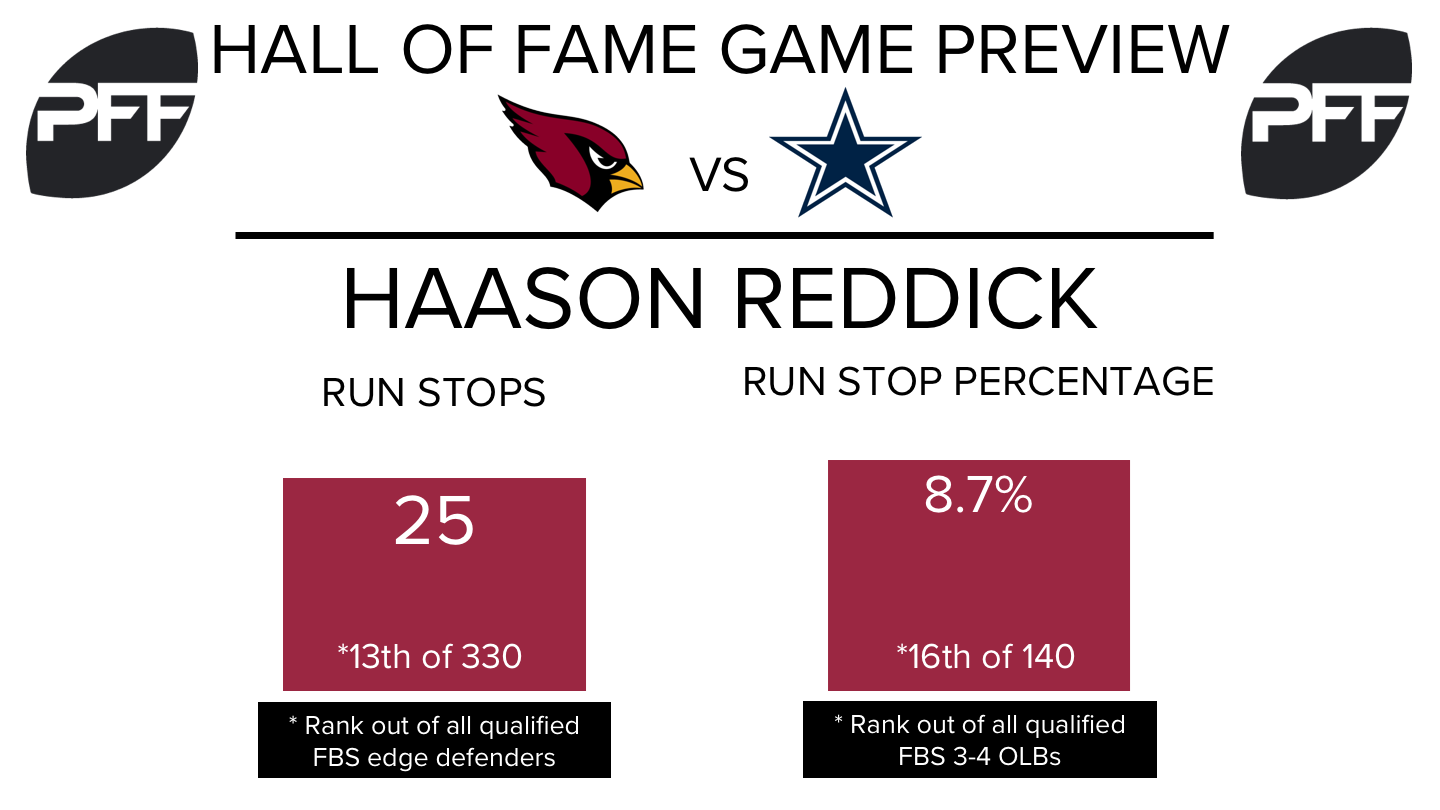 His run-stuffing could help him see an even bigger role than anticipated if he can perform that well in the preseason.

Freshly-signed Hillman will have to battle with incumbent backups McFadden and Morris for playing time, and maybe even a spot on the final roster. Hillman forced only three missed tackles last season during a 23-carry stint with the Chargers, while he didn't force a missed tackle in 18 carries with the Vikings in 2016.
McFadden & Morris each struggled a year ago behind Elliott, Morris' six forced missed tackles on runs were a clear career-low while McFadden only played in the final four games of the season for Dallas. One of these three will impress enough to spell Elliott, it just remains to be seen who, which is why this will be interesting to watch unfold this preseason.
It's just a matter of time before the former Central Michigan quarterback will see the field during the preseason. Rush fielded the 24th highest accuracy percentage (70.8) among non-Power 5 quarterbacks a year ago and was terrific after a play fake. He threw for 1,093 yards on play action passes, ninth best among non-Power 5 quarterbacks.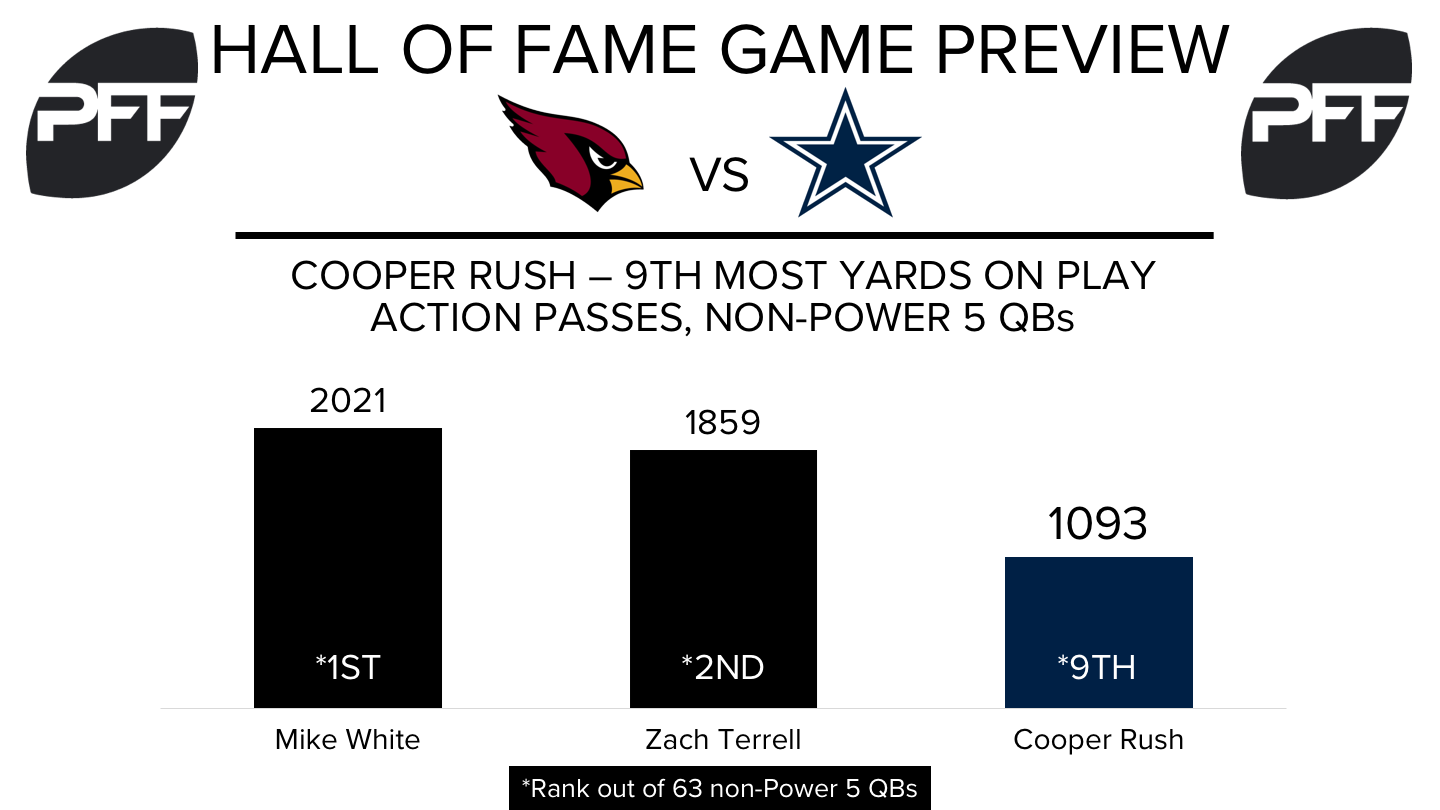 Wide Receiver #5
Behind Dez Bryant, Cole Beasley, Terrance Williams and more-than-likely Ryan Switzer (who you will not see in action on Thursday), the battle for the fifth WR spot in Dallas will come down to a veteran in Brice Butler and a slew of rookie or second-year players. Rookie Noah Brown makes the most compelling case to make the team as the former Ohio State Buckeye hauled in 32-of-49 targeted passes for 402 yards, seven touchdowns and a 130.3 passer rating when targeted, the 10th highest mark among all Power 5 wideouts with at least 36 targets last year.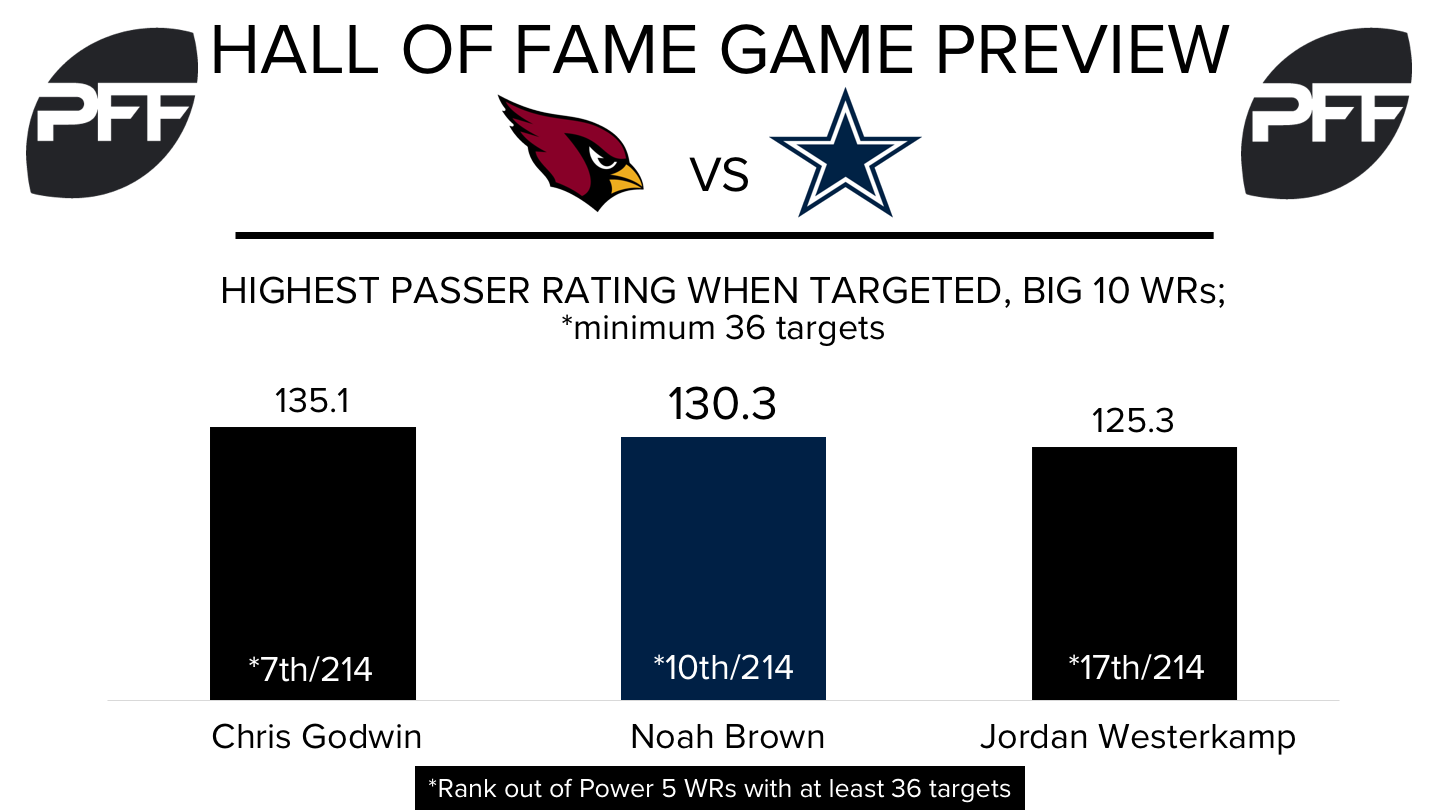 Charlton was a menace to opposing quarterbacks with his pressures last season, however he also played well enough against the run to field the 22nd highest run-stop percentage (7.5) among 4-3 defensive ends in the Power 5 last year. His 19 stops in run defense saw him finish 18th among that same group. His ability to rush the passer and stop the run will give him plenty of action this preseason with hopes he can translate that over to the regular season as a book end for the Cowboys defensive line.
Awuzie was great in coverage last year for Colorado, as was Lewis for Michigan. However, both of them will have to tighten up their tackling efficiency to make great strides into the NFL. Awuzie ranked 140th and Lewis ranked 178th out of 260 qualified Power 5 cornerbacks in terms of tackle efficiency.