In today's binary debate culture, there exists little room for nuance. Player A is either better or worse than player B. They can't both have their respective strengths and weaknesses – no, one has to be better. That's why I try to highlight, as often as possible, instances where good coaching can scheme to a player's strengths and mask their weaknesses.
Few players in the history of the NFL have ever exemplified this better than Los Angeles Rams running back Todd Gurley. One doesn't need to look very far to find plenty of instances of people writing him off after a disastrous sophomore campaign. They had good reason, though. By every single measure of productivity, Gurley was atrocious. He became the first back in 15 years, and only the sixth back since the merger, to average less than 3.2 yards per carry on at least 275 attempts. Of the 19 backs that had at least 200 carries last year, he was 17th in yards after contact per attempt. Yes, the run-blocking was bad, but we graded five other NFL teams worse in that regard, and none had running backs experience the futility of the former first-rounder.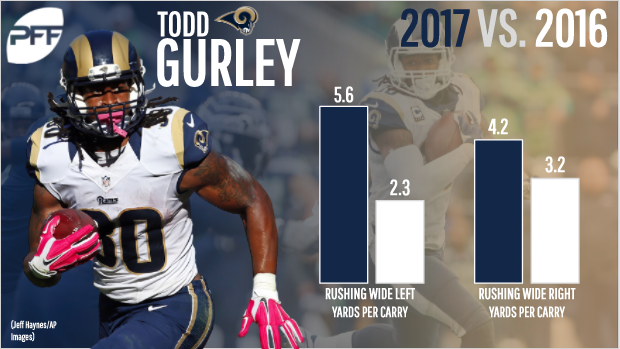 Fast forward to the present, and the public perception of him couldn't be more different.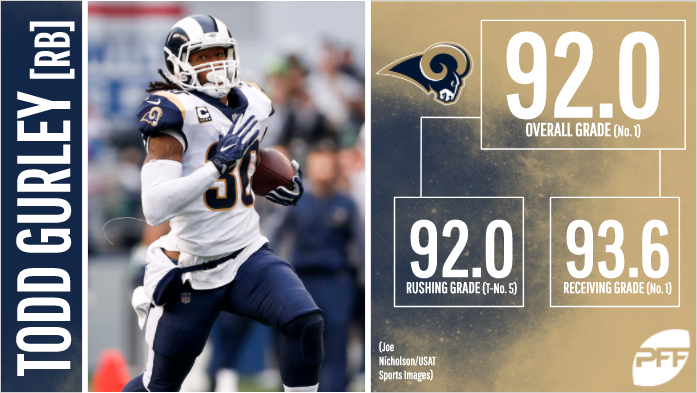 Logically, it's impossible for me to believe his abilities as a running back have significantly improved in any way, shape or form over the course of the offseason. He hasn't been injured since a mild turf toe late in his rookie year and was two years removed from an ACL tear in 2016 – so health wasn't an issue.
The issue was purely utilization (along with an improved offensive line). Standing 6-foot-1, 231 pounds, Gurley was employed as Jeff Fisher's modernized version of Eddie George – pounding him straight at the line of scrimmage play after play. The running back's biggest strengths, though, are counter-intuitive to his stature. It's his speed and open-field vision that make him so dangerous, not his ability to stick it between the tackles and push the pile.
Even with his gaudy stats this season, Gurley still quietly struggled as a 'between-the-tackles' running back. On 148 inside zone and duo runs this season, Gurley averaged only 3.9 yards per carry. On 161 such carries a season ago, he averaged 3.4 yards per carry. That half-yard difference can easily be accounted for by improvements along the offensive line, but where does the rest of Gurley's improvement stem from?
Subscribe to PFF Edge to continue reading
Already have a subscription? Sign In