Three full weeks of the NFL preseason schedule have been completed, giving us a larger sample size to delve into just how each of the 2018 NFL Draft first-round picks has fared in their respective action so far.

Through three weeks, here are how each of the 32 first-round rookies from the 2018 NFL Draft has graded in their first professional action:
2018 preseason Grade:81.4
The Browns may be sticking to their plan to start quarterback Tyrod Taylor in Week 1 of the regular season, but make no mistake about it, Mayfield is the future of this franchise. From Week 1 to Week 4 of the preseason, Mayfield played 147 offensive snaps, by far the most among rookie quarterbacks in that span, and he completed 35 of his 61 pass attempts for 501 yards and two touchdowns, en route to an overall grade of 81.4 – the second-best mark among qualifying rookie quarterbacks. In his time under center for the Browns, Mayfield excelled from a clean pocket and notched a passer rating of 121.5 when he was kept clean from defensive pressure, the best mark among rookie signal-callers this preseason.
2018 preseason Grade: 75.8
Barkley was limited to just to just six preseason snaps, but he still performed well enough on those limited snaps to rank among the top-10 preseason running backs. His first and only game of the preseason came Week 1 against the Browns, where he carried the ball four times and racked up 43 rushing yards, with 39 of those yards coming after contact.
2018 preseason Grade: 74.8
After the Jets traded quarterback Teddy Bridgewater to the New Orleans Saints, all signs now point to former-USC quarterback Sam Darnold starting for the New York Jets in Week 1 of the regular season, and after his promising preseason campaign, it looks like the team will be in good hands. Through four weeks of the preseason, Darnold's adjusted completion percentage of 79.5 percent ranks first among all rookie quarterbacks and just one of his 45 pass attempts was deemed to be 'turnover-worthy.'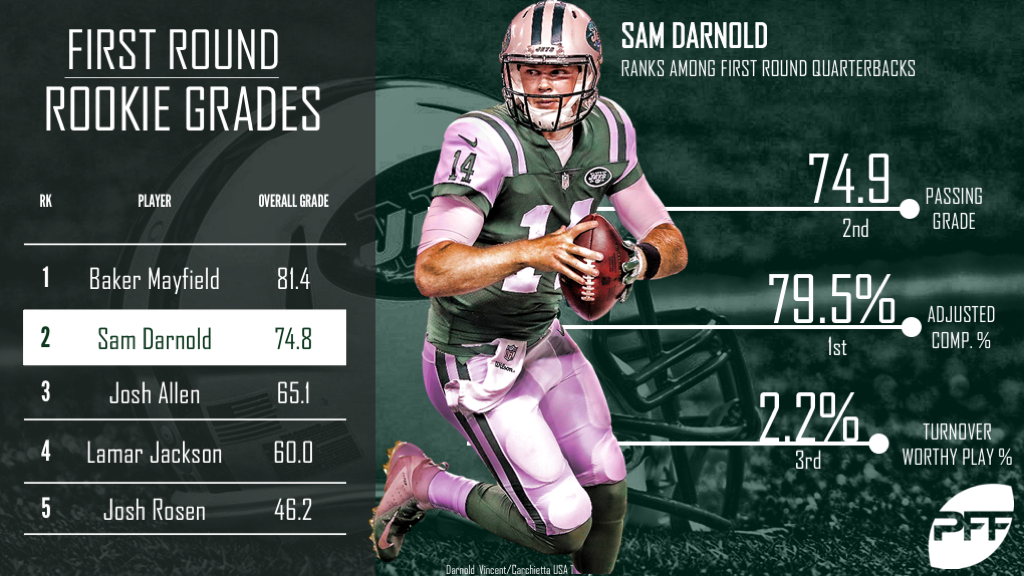 Subscribe to PFF Edge to continue reading
Already have a subscription? Sign In