[Editor's Note: This article was written and published on Oct. 20, 2018. Marshawn Lynch's trip to the Injured Reserve hadn't been announced prior to publish.]
Beast Mode's tenure in Oakland (well, at least on Oakland's football team) may have already come to an abrupt close.
Per NFL's Ian Rapoport, the Oakland Raiders' Bay Area-bred running back, Marshawn Lynch, has "a strong possibility" of landing on the Injured Reserve and will miss at least a month with a groin injury. Lynch said prior to the season that he likely wouldn't follow the team to Las Vegas in 2020, and his contract expires after this season, making it all the more likely that he has broken his last tackle in a Raiders uniform.

Lynch rushed for 376 yards, 21 first downs and three touchdowns on his 90 carries with Oakland in Weeks 1-6, recording 23 missed tackles and 311 yards after contact in the process. Among running backs with 50-plus carries in the same span of weeks, Lynch ranked first in forced missed tackles per attempt (0.26) and sixth in yards after contact per attempt (3.46), making up for at least some of the woes along Oakland's offensive line.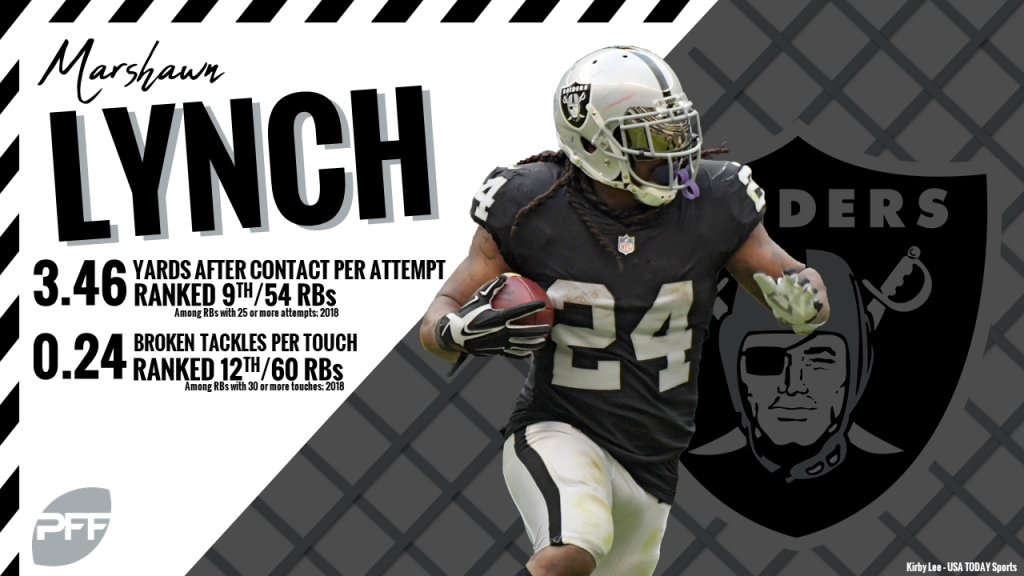 The Raiders' front-five has been decimated by injuries to start the season, as all five of the team's current starters have either missed time (Brandon Parker, Kelechi Osemele) or battled through ailments (Kolton Miller, Rodney Hudson, Gabe Jackson) in Weeks 1-6. Of course, results (not grit) are all that matters in this league, and the results up front haven't been pretty.
All of Oakland's offensive linemen have combined for a 57.0 run-block grade this season, ranking 20th in the NFL. Also, Raiders running backs have averaged 0.87 yards before first contact per attempt, which currently ranks 27th.
Running behind the Raiders' makeshift offensive line, Lynch averaged just 0.72 yards before first contact per attempt before going down with injury, the sixth-lowest mark among qualifiers at his position. As a result, 72.2% of his yards came after contact, which was good for the fifth-highest percentage in the NFL.
Next in line to replace Lynch, Jalen Richard and Doug Martin, haven't been as successful earning yards after contact for Oakland in 2018.

Martin has had limited success complementing Lynch so far this season and is 42nd in yards after contact per attempt (2.44), and 54th in forced missed tackles per touch (0.07) through Week 6. The 30-year-old back's woes aren't a surprise, either, as he ranked dead last among the 54 NFL running backs with 100-plus touches in forced missed tackles per touch (0.06) a year ago.
Richard, though he's only carried the ball 11 times this season, does have a track record for creating extra yards with his elusiveness, but he's not beastly enough to fill even half of Lynch's shoes. The former Southern Miss product ranked third among running backs in PFF's elusive rating (90.7) in 2016, but his usage, and therefore his impact, has dwindled since.
Third-year running back DeAndre Washington, who entered the league with Richard as a fifth-round pick out of Texas Tech, should see his first snaps of the 2018 season with Lynch out. However, he too hasn't shined since his rookie campaign and has been a healthy scratch all season long.
Running backs are often replaceable, and the loss of Lynch won't even affect the win column as much as the injuries to Oakland's offensive line has this season. But the situation, specifically the rushing offense, has surely gotten much worse.