Regardless of which of the two teams hoists the Lombardi Trophy on Sunday, a number of both New England Patriots and Philadelphia Eagles players will move on from their respective teams following Super Bowl LII.
Between the Patriots and Eagles' rosters are 27 players on pace to become unrestricted free agents this offseason, while another four will don either restricted free agent or exclusive rights free agent statuses. Of the talent-ridden bunch, six stand out as potential marquee losses for the two Super Bowl contenders and, in the same vein, gains for franchises currently on the outside looking in.
Here, we take a closer look at the aforementioned six impending free agents suiting up in the big game on February 4.
2017 grade: 90.6
Elite Stat: Among cornerbacks with at least 325 coverage snaps in 2017, Robinson ranked 17th in passer rating allowed (70.1).
Robinson's career-high 90.6 overall grade in 2017 leaps off the page as an outlier when compared to the rest of his NFL career, as he failed to eclipse an 80.0-plus overall grade in any of his previous seven seasons. Playing a career-high 73.8 percent of his coverage snaps from the slot last season, Robinson stole the show in his new role as the Eagles' primary slot corner, ranking third in passer rating allowed (65.2) and second in catch percentage (54.5) from the slot.
Identifying whether the 30-year-old's successful 2017 campaign at slot cornerback is a feat he can reciprocate moving forward or simply an anomaly will be a million-dollar question for evaluators this offseason.
Dion Lewis, RB, New England Patriots
2017 grade: 87.4
Elite Stat: Among the 28 running backs with at least 165 attempts in 2017, Lewis ranked No. 1 in PFF's elusive rating (73.2), which factors in forced missed tackles and yards after contact.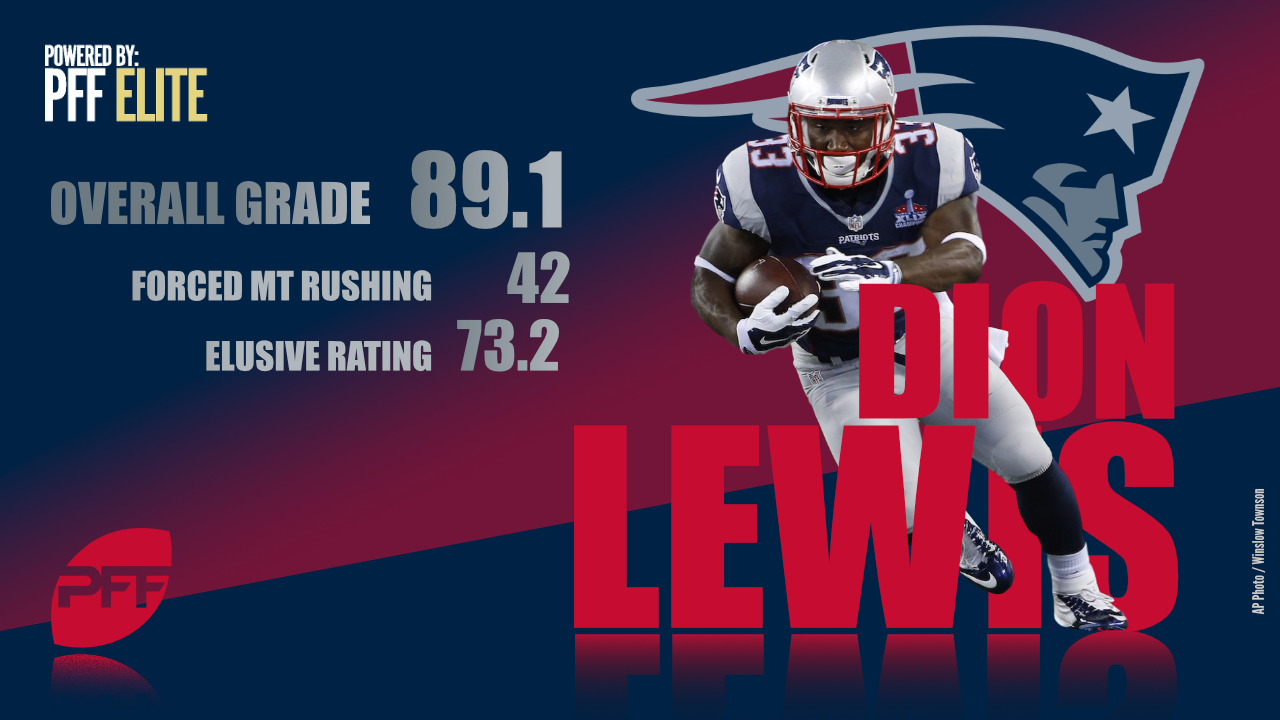 Undoubtedly the bell of the ball within this array of Super Bowl-bound free agents, Lewis should draw significant interest from teams hoping to equip their offenses with a dynamic back capable of thriving both as part of a committee or in a feature role.
Finally ditching the injury bug in 2017, Lewis rushed for 896 yards and six touchdowns on 180 attempts (5.0 yards per carry) as the Pats' lead back. He also forced 49 total missed tackles across his 212 touches and averaged 3.17 yards after contact per attempt to earn a league-leading 73.2 elusive rating during the regular season.
While previously considered a gadget receiver out of the backfield with upside on the ground, Lewis' 2017 season proved he can handle all of the duties awarded to a No. 1 back. However, one year of prominence has far from proved Lewis' divorce with the injury bug is permanent, as the 27-year-old back has suffered multiple severe lower-leg injuries in his six-year career. As such, his clean bill of health this season as the lead back on the AFC's representative in the Super Bowl should land him a decent contract this offseason.
2017 grade: 82.2
Elite Stat: Bradham fielded both the league's best mark in yards allowed per coverage snap (0.62) and coverage snaps per reception allowed among 4-3 outside linebackers.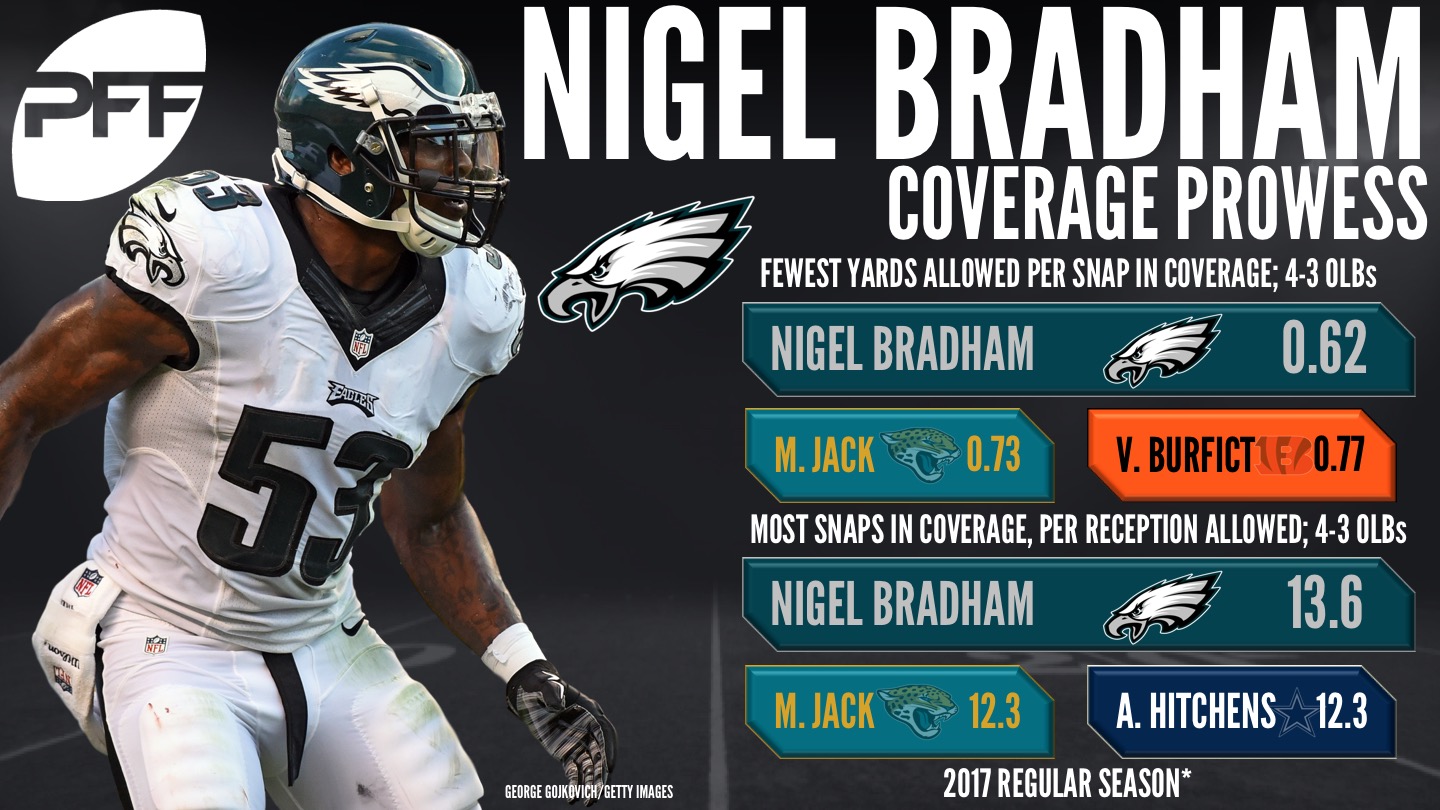 Coming off two career years, Bradham will find plenty suitors with pen & contract in hand if he indeed tests free agent market, especially within what is shaping up to be a lackluster crop of free agent linebackers. The 28-year-old Florida State product earned 85.8 and 82.2 overall grades in 2016 and 2017, respectively.
Bradham's recent successes are largely products of his elite coverage ability. In 2017, he allowed just 0.62 yards per coverage snap and ranked No. 2 among all qualified off-ball linebackers in coverage snaps per reception allowed (13.6). What may keep Bradham's asking price from skyrocketing on the open market could be his underwhelming run-defense, as he ranks 60th in run-defense grade and 33rd in run-stop percentage (7.5) this past season.
2017 grade: 78.1
Elite Stat: Among offensive tackles with 178-plus pass-blocking snaps, Fleming ranked tied for 28th in pass-blocking efficiency (95.5), allowing 10 total pressures (six hurries, zero hits, four sack) on 191 pass-blocking snaps.
Filling in for the injured Marcus Cannon late in the season, Fleming made a name for himself as New England's starting right tackle down the stretch. His career-high 78.1 overall grade is a byproduct of his admirable efforts in pass protection and serviceable play as a run-blocker. While allowing just 10 total pressures in the passing game, he earned a positive grade on 8.3 percent of his run blocks, which is just above the league average for offensive tackles with at least 150 offensive snaps through the postseason.
With Cannon expected to reclaim his starting role when healthy, Fleming's price tag may be a bit too high for the Patriots to re-sign him as a backup, making it that much more likely Sunday will be his last game with Brady & Co.
[Editor's note: For all PFF Edge and Elite subscribers, the first ever Free Agent Guide is available. Including scouting reports, signature stats, grades and much, much more on hundreds of upcoming free agents, download yours now. Not a member? Sign up for Edge or Elite now.]
2017 grade: 77.4
Elite Stat: Graham ranked tied for 16th in yards allowed per coverage snap (0.35) among safeties with at least 164 coverage snaps last season.
A former fifth-round pick in the 2007 NFL Draft, Graham has far exceeded his draft status to become one of the league's most consistent defensive backs over the last decade, earning overall grades of 77.0 or higher in all of his previous six seasons.
While he may not have the same level of athleticism he had coming out of New Hampshire in 2007, Graham still manages to hold his own in coverage, allowing just 0.35 yards per coverage snap this past season. Also, Graham's versatility is a coveted aspect of his game, as he played significant snap counts at linebacker, strong safety, slot cornerback and free safety. He'll celebrate his 33rd birthday this offseason, so his track record should have teams feeling confident in another short-term deal if he so chooses to return to football.
Nate Solder, T, New England Patriots
2017 grade: 75.1
Elite Stat: Solder ranked tied for 44th in pass-blocking efficiency (93.7) among tackles with at least 337 pass-blocking snaps in 2017.
As evidenced by both his low pass-blocking efficiency rating and pass-blocking grade, Solder struggled as quarterback Tom Brady's blindside protector in 2017. However, the seven-year veteran kept his overall grade from falling with his efforts in the run game, as Solder earned an 83.4 run-blocking grade which ranked seventh among offensive tackles with at least 300 run-blocking snaps in percentage of positively graded blocks (10.8).
Turning 30 this offseason, Solder's days as a top-end pass blocker may be behind him, but his experience paired with his strong run-blocking prowess should be enough for him to pen a short-term deal with a tackle-needy franchise come March.
Super Bowl LII
---
Super Bowl LII Analysis Notebook: How to stop the Eagles' RPO attack
PFF's ultimate Super Bowl LII visual preview
52 observations for Super Bowl LII
Super Bowl LII against the spread picks
Youthful Impact: Potential young stars to watch in Super Bowl LII