From prop bets to commercials to halftime shows, there's plenty of ways to make the Super Bowl more exciting, but what about watching the trenches? Isolating an individual matchup? The game within the game will determine the outcome of Super Bowl LII and these are the key individual matchups that set the tone for the evening.
Eagles running backs Jay Ajayi and LeGarrette Blount vs. Patriots linebacker Elandon Roberts
From personnel at running back to a strong offensive line to a creative run scheme, the Eagles have one of the best run games in the NFL. Jay Ajayi and LeGarrette Blount make it even scarier, as they can make defenders miss and create yards beyond the line and the scheme, ranking first and seventh respectively in missed tackles per carry during the regular season. When they get going downhill, a lot will be on Elandon Roberts' plat, as he has to be in the right place and finish plays for the Patriots' defense to succeed. At his best, Roberts is a downhill thumper in the run game, though New England has had him covering more ground sideline-to-sideline against the run this year, often to poor results, as he has a 40.9 grade against the run. If the Patriots' defensive line can do their job, it'll be Roberts' job to finish plays and that will be one of the biggest challenges when two of the best tackle-breaking running backs are getting to the second level.
Patriots WR Danny Amendola vs. Eagles CB Patrick Robinson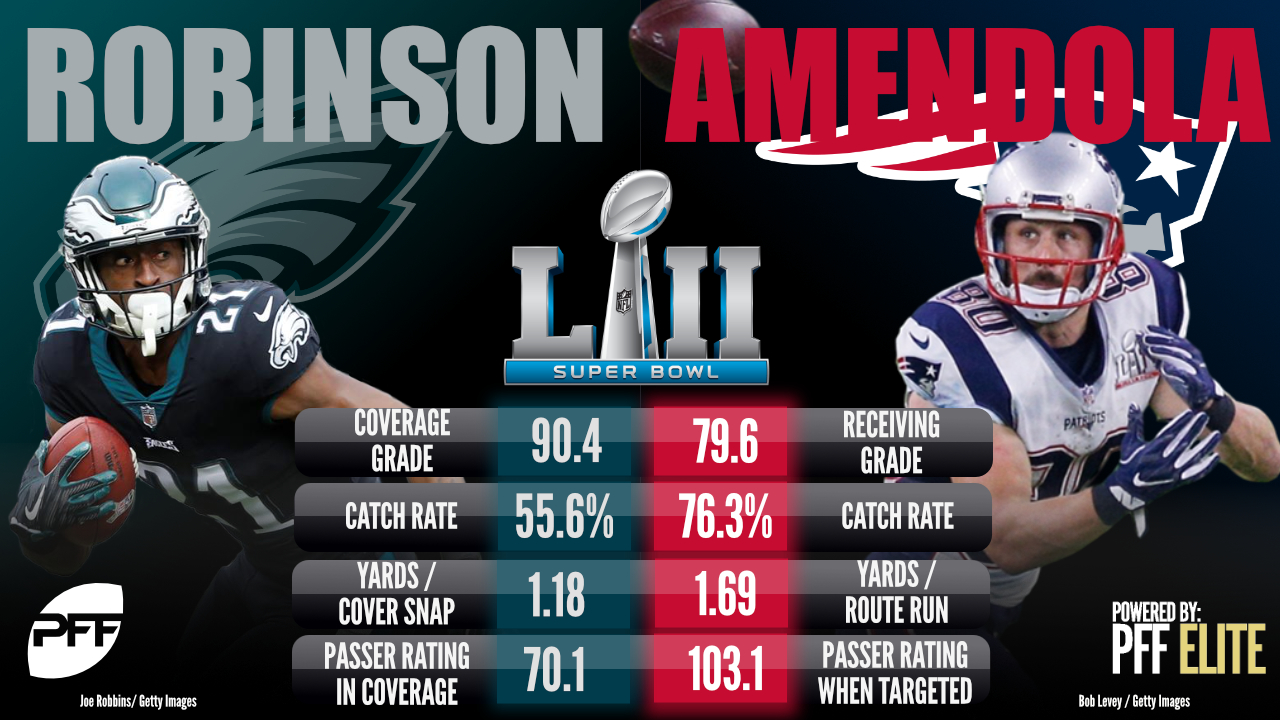 When TE Rob Gronkowski went down with a concussion in the AFC Championship, Danny Amendola took the reins as the go-to guy in the Patriots' offense and he delivered with two fourth quarter touchdown receptions, including the game-winner. He's been a key cog in recent New England playoff runs, but he'll be facing one of his bigger challenges of the season when matched up against Patrick Robinson, who currently ranks fourth among cornerbacks at 90.6 overall grade. He's rewarded the Eagles' one-year flyer with the best season of his career, allowing the third-lowest passer rating when in slot coverage at 65.2. That number has been even better in the postseason, as his 31.0 passer rating in the slot is by far the best in the league, so something has to give in this matchup with Amendola.
It won't always be 1-on-1 man coverage, as the Eagles play a variety of coverages on the back end, so keep an eye on Robinson's tackling when Amendola gets the ball on quick, underneath passes. He's missed a career-high 10 tackles this season, while Amendola can make defenders miss when given space in the short game.
Eagles' DI Fletcher Cox vs. Patriots' G Joe Thuney and G Shaq Mason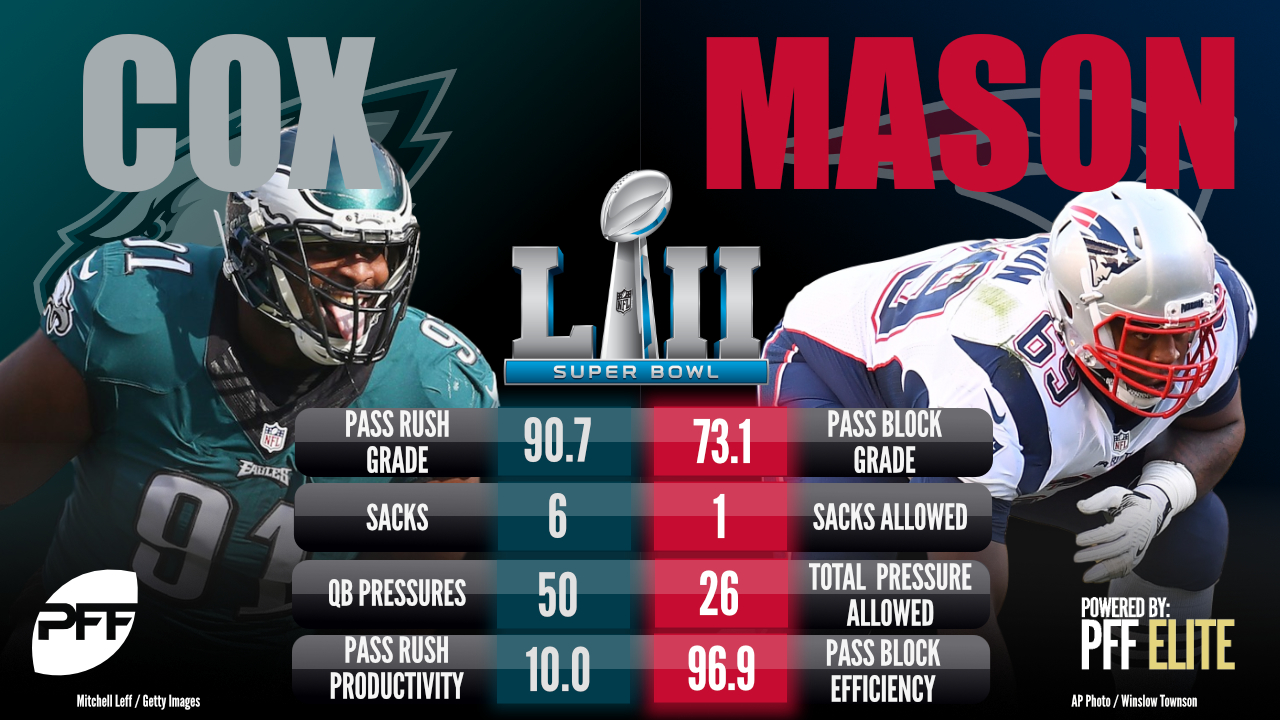 The Eagles have one of the deepest defensive lines in the NFL, but they're also armed with two stars in DI Fletcher Cox and edge Brandon Graham. Cox is tied for the second-best overall grade among interior defensive linemen at 91.5, and he's also second with a 90.7 pass-rush grade. Creating interior pressure is generally first on the list when blueprinting the way to slow down Patriots QB Tom Brady and the pass game, so Cox's performance is one of the most crucial in Super Bowl LII.
On the season, Cox has 60 pressures on 499 rushes, as his combination of strength and quickness is too much for most guards around the league. He's spent 500 of his 735 season snaps at 3-technique (over the shoulder of the guard), meaning he'll likely be matched up with right guard Shaq Mason for most of the game. Mason is a powerful run-blocker, ranking seventh in the NFL at 84.7, but he's always been a step behind as a pass-protector since coming out of Georgia Tech's option-heavy attack, and his 73.1 grade ranks 33rd among guards.
Another matchup the Eagles could look to exploit is on the other side of the center, where Patriots left guard Joe Thuney has struggled mightily against bull rushes in his two years in the league. A ridiculous 60 percent (league average is 25 percent) of Thuney's pressures allowed have come via the bull rush (26 out of 43), while Cox has picked up 24 of his pressures (40 percent) from bull rushes, so there's a potential matchup advantage for the Eagles if they choose to take it.
Patriots Edge Trey Flowers vs. Eagles left tackle Halapoulivaati Vaitai
New England does not create much pressure up front, but Trey Flowers is one of the best young edge defenders in the league and by far the most consistent presence along the defensive line for the Patriots. He's been dominant in the two playoff games and now has 72 pressures (eight sacks, 23 hits, 41 hurries) on his 537 rushes this season. Flowers will line up all over the formation, including a few snaps directly over the center as a pass-rusher, but Halapoulivaati Vaitai may be the most favorable matchup when it comes to creating pressure. He's surrendered nine sacks, 12 hit, and 22 hurries including the playoffs, and that performance sticks out on one of the league's best lines. Overall, Vaitai has had a number of impressive games in place of All-Pro tackle Jason Peters, but he's certainly not at Peters' level and the Patriots may see what their best pass-rusher can do against him in must-pass situations.
Eagles edge Brandon Graham vs. Patriots right tackle(s) LaAdrian Waddle and/or Cameron Fleming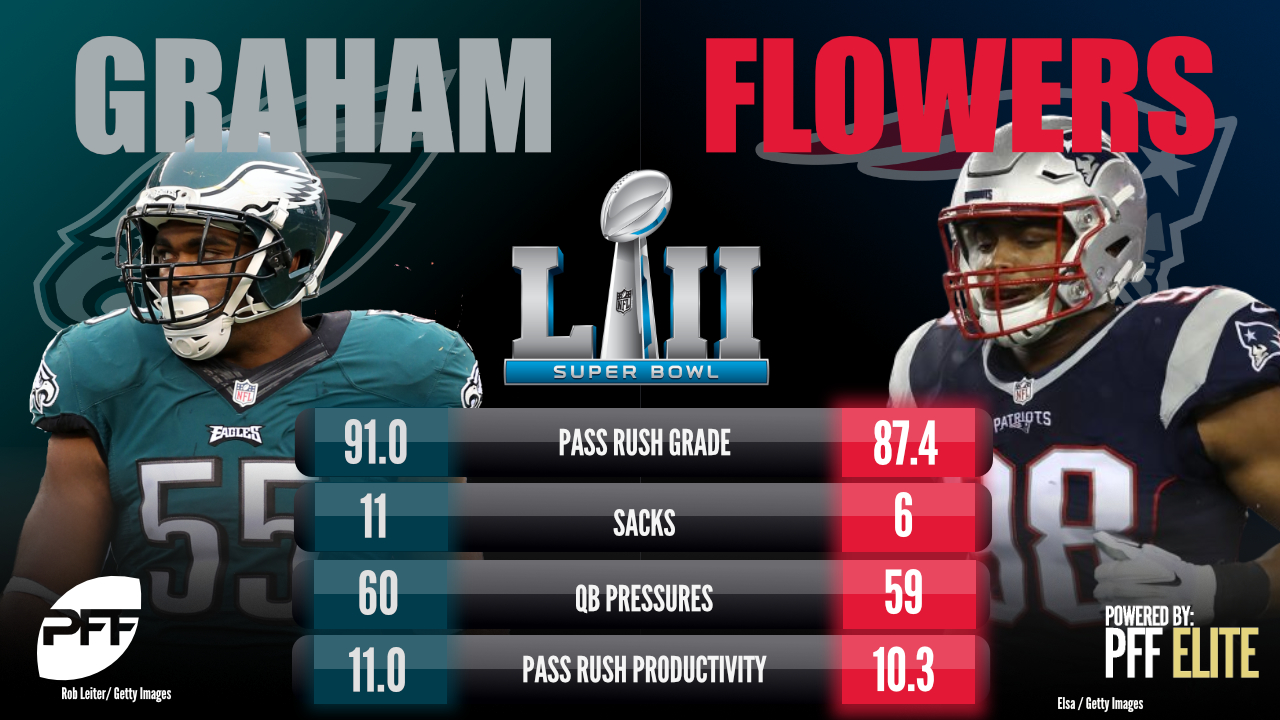 The other star on the Eagles' defensive line is Brandon Graham, who has posted his second straight 'elite' PFF grade, currently ranking ninth among edge defenders at 91.0. He'll kick inside for a handful of pass-rushes against the guards, but most of Graham's work will come off the left edge against the Patriots' right tackles, LaAdrian Waddle or Cameron Fleming. Waddle has been battling injury and remains questionable to start, while Fleming has performed admirably down the stretch in Waddle's place, allowing only four pressures over the last three-and-a-half games. If Waddle plays, he's had a bit more trouble as a pass-blocker, allowing 17 pressures on only 225 attempts this season. Waddle has struggled when blocking some of the league's best pass-rushers this season, and Graham is certainly in that league, as he has the No. 9 pass-rush grade among edge defenders. He's always been a menace when it comes to creating pressure off the edge, but this season finally saw some of those pressures converting to sacks, as Graham picked up his first 10-plus sack season. His matchup against one or both of the Patriots' right tackles is crucial as the Eagles look to create pressure from all angles against Brady.
Super Bowl LII
---
Super Bowl LII Analysis Notebook: How to stop the Eagles' RPO attack
PFF's ultimate Super Bowl LII visual preview
52 observations for Super Bowl LII
Super Bowl LII against the spread picks
Youthful Impact: Potential young stars to watch in Super Bowl LII