Philadelphia Eagles 29, Cleveland Browns 10
Here are the top takeaways and highest-graded players in the Eagles' win over the Browns:

Quarterback grade: Carson Wentz, 86.5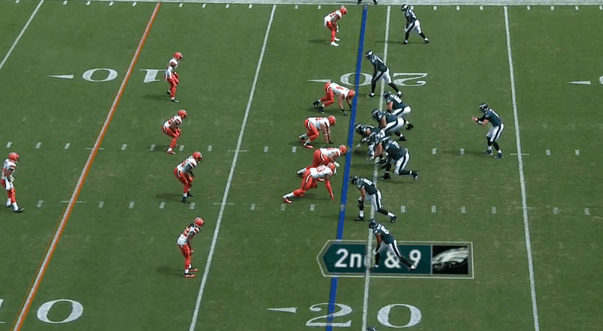 What a start for a rookie who missed almost the entirety of preseason. Wentz enjoyed a superb display, throwing accurately on 22 of 28 attempts for 267 yards and a pair of touchdowns. The two scores were marvelous throws, arced with touch into small windows. It is only one game of course, but Wentz showed everything that could be asked of a rookie quarterback. He was composed, he limited mistakes and he made amazing plays in key moments. The Browns preferred a hatful of rookies to one potential franchise quarterback — time will tell if that was a wise decision.
Top offensive grades:
QB Carson Wentz, 86.5
LG Allen Barbre, 81.0
RT Lane Johnson, 80.1
RG Brandon Brooks, 79.5
TE Zach Ertz, 76.4
Cohesion developing on Eagles' offensive line
The potential suspension of Lane Johnson appeared a disastrous blow to an offense lacking in reliable, experienced pros. His performance provided a reminder of his prodigious talent, even if he was facing less-than-stellar pass-rushers. Johnson gave up the solitary hurry from 42 dropbacks, and topped the Eagles with an 83.8 run blocking grade. Guards Allen Barbre and Brandon Brooks also allowed only a single pressure each, resisting any attempts to collapse the pocket from the interior. Along with strong run blocking grades, the pair appear well-suited to Doug Pederson's more varied ground game schemes. The five up front should be the strength of Philadelphia's offense.
Top defensive grades: 
MLB Jordan Hicks, 87.0
DE Brandon Graham, 82.0
LCB Jalen Mills, 81.7
SS Rodney McLeod, 78.5
LCB Leodis McKelvin, 75.8
Revamping secondary reaps early reward
While Rodney McLeod came in with the biggest reputation, the Eagles got a number of key contributions from some less-heralded arrivals. Jalen Mills, a seventh-round pick, surrendered only one catch on three targets for 11 yards. After winning a starting job in training camp, Leodis McKelvin increased his grip on the position with an impressive overall display. He allowed only two catches on four targets for 11 yards. McLeod, meanwhile, had the aforementioned interception, and tackled well in the open field.

Quarterback grade: Robert Griffin III, 41.7
Erratic start for RG III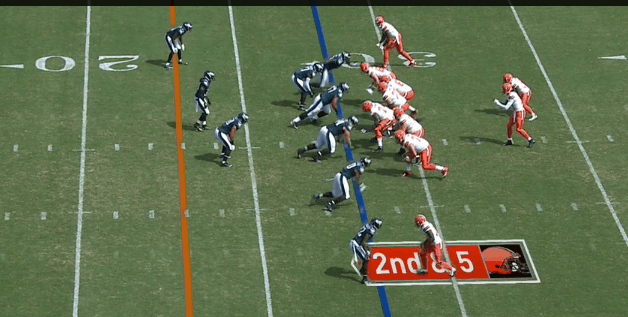 In exchange for stockpiling resources at other positions, the Browns were committed to rolling with a re-tread at quarterback. The Hue Jackson-RG III partnership could still flourish, but the first test proved a failure. Two long completions aside – both more to do with receivers at the catch point than RG III's location – the Browns struggled to move the football. Even discounting the four dropped passes and a throwaway, Cleveland's new quarterback was accurate on just 12 of 21 attempts. He failed to notice an Eagles' linebacker lurking underneath on a crucial red-zone turnover, with the Browns down just a field goal. Jordan Hicks diverted the flight, and Rodney McLeod sealed the takeaway with a diving grab. Cleveland, and RG III, never recovered.
Top offensive grades: 
LG Joel Bitonio, 81.1
RG John Greco, 77.0
LT Joe Thomas, 76.3
WR Terrelle Pryor, 75.5
HB Isaiah Crowell, 72.9
Veteran lineman run the show
Although not quite at his usual elite level, Joe Thomas still stood out as one of the Browns' top performers. He loves to get his hands dirty in the run game, earning a 78.8 grade in that facet of play. Thomas did give up a rare sack to Connor Barwin, but emerged from the rest of the game largely unscathed. Additional physicality is provided from the interior by guards John Greco and Joel Bitonio. Each also earned a grade of 78 during their run blocking assignments, generating vertical movement at the line of scrimmage. Together, they could form the backbone of an outstanding.
Top defensive grades: 
Chris Kirksey, 83.2
Demario Davis, 78.9
Jordan Poyer, 76.4
Joe Haden, 75.9
Danny Shelton, 72.7
Interior should be improved
New pair of inside linebackers Demario Davis and Chris Kirksey made a strong start to their career as a tandem. They were both aggressive attacking the line of scrimmage, nullifying any potential yardage after contact. The pair finished with four stops apiece, limiting the Eagles' run game considerably. In coverage, they allowed only four catches from six targets for 24 yards. The apparent improvement of Danny Shelton is also encouraging. He was highly disruptive in his 42 snaps, even if he wasn't always able to finish plays. As well as the new haul of rookies, the development of draftees from previous season will also be key.
Get access to grades for every NFL player, complete with positional rankings, in our NFL Player Grades tool.