All the pressure was on Mazda Mitch last night to lead the 1-1 Chicago Bears to victory after they had to witness their NFC North division rivals all win this weekend (Packers 3-0, Lions 2-0-1 and Vikings 2-1). Just like last year, the Chicago defense, A.K.A the Monsters of the Midway, bailed him out with five forced turnovers and allowed the 'Bisk to pick up the win.

On the other hand, the Washington Redskins showed once again that they have the murkiest future of all NFL teams (yes, even more so than the Dolphins – at least we know they are tanking). The only optimistic part of this offense is the breakout out of rookie wide receiver Terry McLaurin and the hope that first-round rookie Dwayne Haskins turns out to be a reliable starter in the NFL.
At the end of the night, Chicago did show some really great play from other positions other than quarterback, while Washington had a whole lot of negatives. Washington may have made us watch some bad play all-around, but who cares? It's great football, it's bad football, it's like pizza baby – it's great no matter what! 
Nevertheless, using PFF's unique grades and advanced database, here are five takeaways from Week 3's edition of Monday Night Football in the nation's capital.
[Editor's Note: All ELITE subscribers can access all PFF's advanced stats and grades in Premium Stats. Subscribe today and dive into the grades yourself.]
Chuck Pagano is making this defense not skip a beat
Players on the Chicago defense have praised defensive coordinator Chuck Pagano for being vocal and adamant that he is going to play this defense to the player's strengths. This is exactly what we saw happen last night, forcing quarterback Case Keenum move off his first read over 25% of the time.
Pagano dialed up some things in the pass-rush that we never saw under previous defensive coordinator Vic Fangio (who is now the head coach of the Denver Broncos). Last night, Pagano had a heavier emphasis on trusting his top-tier secondary to hold down the fort while he sent a blitz Keenum's way. Over 36% of Keenum's dropbacks (including those wiped by penalty) had a blitz, and it generated a pressure over 50% of the time. Linebacker Danny Trevathan was the breadwinner with three pressures on his five blitzes. Not to mention, he may have had one of the savviest pass-rush maneuvers of the year with his stop-and-go trick that made Washington right guard Brandon Scherff practically blackout.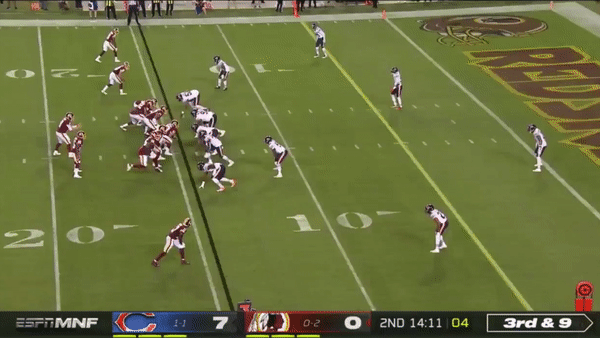 Along with the enhanced blitz package, Pagano threw in stunts that clearly gave the Redskins a headache. Moreover, Keenum faced stunts on 27% of his dropbacks, and this is where edge rusher Leonard Floyd found the most success. On those pass-rushes, Floyd came away with a 90.8 grade and 28.6% win rate (Mack had a 94.0 pass-rush grade and 56.3% win rate in a stunt). Along with that, Pagano pulled out a stunt design that we got a taste of last season under Fangio that is absolutely lethal and involves the two biggest Bears on the defensive front: interior defensive lineman Akiem Hicks and edge rusher Khalil Mack. Here, Pagano has Hicks lined up directly across from the left tackle and Mack just outside the left tackle having them side-by-side. Subsequently, this beautifully designed stunt resulted in a pressure and would've been more impactful if Keenum didn't have a checkdown to Chris Thompson available.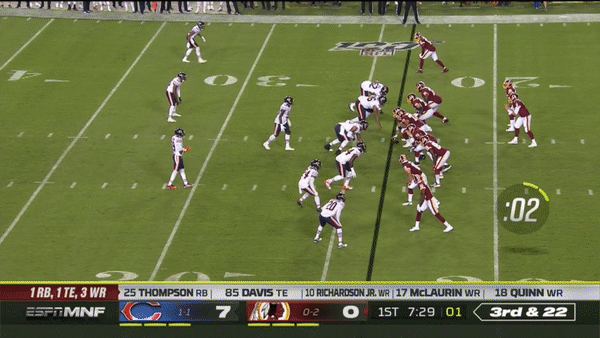 Out of the 57 dropbacks of Keenum's (these include plays with penalty), 11 had just a blitz, eight had a stunt and 10 had a stunt/blitz combo. Which really wasn't common last season.
Clearly, the loss of reliable safety Adrian Amos, who jumped ship to join forces with Chicago's biggest enemy (the Packers), is not one to sweat as first-year Chicago Bear Ha Ha Clinton-Dix looked like one of the best safeties in the league last night. Pagano had the Bears run a lot of Cover-1 against Washington and Clinton-Dix made a statement as the single-high deep safety in that scheme. On those plays, Clinton-Dix picked up two nterceptions (one was a pick-six) and recorded an insane 92.9 coverage grade. Furthermore, Pagano has shown a lot of Cover-1 thus far in 2019, but ultimately, he is not solely reliant on one package and is constantly mixing up his coverages based off opponent (for example, Chicago played in Cover-6 against Green Bay the most at 38% of plays and then ran 3 Seam against Denver at a higher rate of 18%). With that said, Pagano had Chicago play in Cover-1 and Cover-3 the most. Further, the Bears recorded the third-highest team defense grade in a single game since PFF started tracking coverage schemes in 2014 when playing in Cover-1 with an 89.6 grade. Nonetheless, it's pretty obvious this coverage was highly successful against Washington. Oh, and through the first three weeks, Clinton-Dix is the highest-graded safety in Cover-1 and Eddie Jackson is the fourth-highest.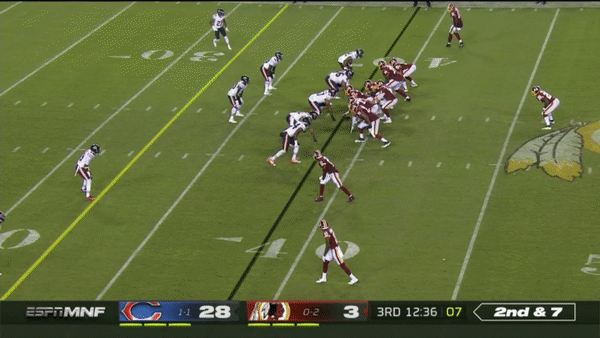 Over the course of the season though, the Chicago defense as a whole is going to regress a bit as they lost one of the most valuable players at one of the most valuable positions on the defense in slot corner Bryce Callahan and replaced him with one of the least valuable slot corners in Buster Skrine. Not to mention, they also forced an insane 36 turnovers last season that'll be difficult to top and they play one of the hardest schedules in the league. However, Pagano, Clinton-Dix, Jackson, Mack, et al., seem to be making this regression a marginal one and ultimately their success will be determined by the offense.
It's time for Dwayne Haskins to take over in Washington
Throw-for-throw, Washington quarterback Case Keenum was abysmal against the Bears. By the end of the night, Keenum had a poor 41.9 passing grade and just two big-time throws to a horrifying five turnover-worthy plays (he would've had six, but he got bailed out by a penalty). He tried making the big-time plays but had no luck with two-thirds of his passes 10-plus yards downfield being inaccurate. Moreover, Keenum targeted a tight window a good amount and, unsurprisingly, it did not go well. On those throws, Keenum completed five of his 13 passes with three interceptions, while recording a passing grade of 38.8, a passer rating of 37.8, 4.2 yards per attempt and an uncatchable pass rate over 69%.
As indicated earlier, Chicago's defense completely shut down Washington with their pass-rush and in coverage. Consequently, Keenum was under pressure a good amount, which didn't bode well. On his 18 dropbacks under pressure, Keenum had a 21.9 grade, 64.6 passer rating, averaged just five yards per attempt and threw over 42% of his passes uncatchable. Against Chicago's blitz overall, Keenum couldn't do anything with a 24.4 passing grade and zero big-time throws to three turnover-worthy plays. Against their stunts, Keenum earned a 17.5 passing grade and 45.1 passer rating.
With an 0-3 record and no signs of improvement from Keenum, it's time for Washington to debut their 2019 first-round pick, Dwayne Haskins. Literally the only optimistic part of this underwhelming offense is rookie wide receiver Terry McLaurin, who happened to be one of Haskins' receivers at Ohio State. The two have an established connection together, and the data clearly shows that as Haskins had a near perfect passer rating of 153.3 when targeting McLaurin in their final collegiate season together. It's time to give Washington D.C. some hope that this team isn't lost for good.
Trubisky's struggles remain despite the win
Based off the box score, one would think quarterback Mitchell Trubisky had a good showing, but it was rather flawed. First and foremost, we at PFF will admit that Trubisky did have an impressive big-time throw on the move to Taylor Gabriel that resulted in a touchdown, but that's about the only positive thing he did on the night. Let's not forget about the turnover-worthy play he had in the red zone that resulted in an interception and, if avoided, would've put the game out of complete reach of Washington. As a result of all of this, Trubisky ended the night with a 50.5 passing grade. 
It was obvious that Trubisky didn't have the green light to launch the ball downfield, as his average depth of target was just 5.5 yards. Nearly 50% of Trubisky's 231 passing yards came after the catch. Including plays negated by penalty, Trubisky threw the ball 10-plus yards downfield 11 times and completed just four of them, with 70% of those passes being completely inaccurate. Even when he was kept clean, Trubisky was not about to risk it with just a 5.0 average depth of target. We know he can make the short throws – nearly every NFL QB can – but you can't expect the defense to stabilize and bail you out every game to allow for the inaccurate downfield throws and low average depth of target. He can't be a game-manager as the starting quarterback – he either has to improve his intermediate/deep ball or else the Bears will have to look elsewhere.
Khalil Mack is still a game-wrecker
Khalil Mack had gotten off to a quiet but solid start in 2019, as he had just one sack and zero quarterback hits but had 10 hurries and the second-highest pass-rushing grade entering Week 3. Though last night, he made the game-wrecking plays we are all used to seeing that turned his 2019 start into a loud and solid one. 
Mack lined up all across the line last night but found the most success on the left side, where he recorded all three of his combined sacks and hits. In other words, he made right tackle Morgan Moses and right guard Brandon Scherff's job incredibly difficult (remember, Scherff was also the guy who bit HARD on Trevathan's move shown earlier – poor guy). Overall, Mack recorded nine pressures and would've had 13 in total if it weren't for penalties. This helped in forming his pressure rate of 24.3% and 31.1% pass-rush win rate. As said, the blitz was Chicago's best friend last night, and Mack was the star of it with a 93.1 pass-rush grade and absurd 47.1% pass-rush win rate. The impact of Mack on this defense is massive.
Nagy and Trubisky better utilized their offensive weapons
While he played rather conservatively, Trubisky and head coach Matt Nagy did a great job in incorporating more of their offensive weapons in the offense. In Weeks 1 and 2, Trubisky targeted a running back (mainly Tarik Cohen) or tight end on 37 of his designated targets (third-most in the league), while 33 of his designated targets went to a wide receiver (20 to Allen Robinson II, 7 to Taylor Gabriel, 3 to Cordarelle Patterson, 2 to Anthony Miller, 1 to Javon Wims). In Week 3, 12 of his targets went to a running back or tight end while 19 went to a wide receiver.
Now, both Tarik Cohen and Allen Robinson II are tremendous players and deserve a big role in this Chicago offense. However, the goal is to catch the defense off guard, not to give yourself up by making your offense predictable. Incorporating guys like David Montgomery, Taylor Gabriel, Anthony Miller and even Javon Wims will make Chicago's already hurting offense much better off, and that's what we saw Nagy and Trubisky do on Monday night.
Taylor "Turbo" Gabriel showed what he has in the tank last night in a performance that reminded us all of what he did back in 2016 for the Atlanta Falcons during their Super Bowl run. With a 74.8 receiving grade and perhaps one of the best catches of the season on his contested, tip-toe touchdown snag, Gabriel proved exactly why he is a better option over tight ends Adam Shaheen and Ben Braunecker, who combined had more targets than Gabriel in the first two weeks. He may have had an uncharacteristic drop, but his production made him the heart and soul of this offense last night. Gabriel recorded 2.59 yards per route run, five first downs/touchdowns and generated a passer rating when targeted of 150.9. In other words, we need more Gabriel.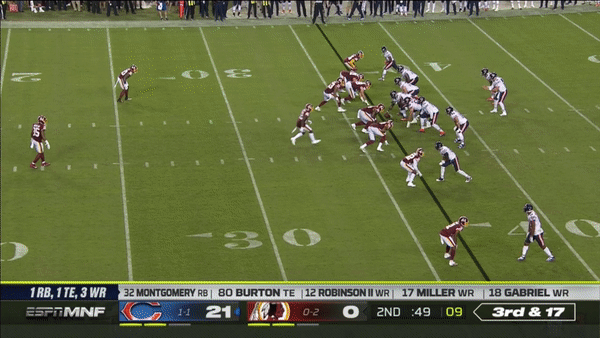 With his elusiveness he put on display at Iowa State, rookie running back David Montgomery has real potential to set himself apart from others at his replaceable position in the receiving game, and he finally got involved last night. Through Weeks 1 and 2, Montgomery had four targets on his 26 routes ran, and he ran 21 routes and was targeted four times against Washington on Monday. To no one's surprise, Montgomery showed how dangerous he was after the catch with two broken tackles and 7.3 yards after catch per reception.
Again, we don't want less of Robinson and Cohen, but more creative ways to include guys like Gabriel, Montgomery, Miller and Wims in the passing game to help bail out Trubisky.