The top of the 2015 draft class featured a handful of outstanding players. Although it will not be remembered for its depth, a handful of studs also went off the board in rounds two or three. As always, however, there were also a number of misses over the course of the three days.
Yesterday, we featured five offensive players drafted in the first round who's fifth-year contract option could be in jeopardy following this regular season. Today, PFF Analyst John Breitenbach highlights five defensive players selected throughout the 2015 NFL draft who are in need of a big season to cement their status as successful selections:

Dante Fowler Jr., ED, Jacksonville Jaguars
Suffering a torn ACL on the opening day of minicamp in the fall of 2015 could have scuppered Jaguars edge defender Dante Fowler's career before it had really started. The injury set him a year behind his fellow draft mates, and his remediation in 2016 did not go flawlessly. As the third overall pick, Fowler's 39 combined pressures were underwhelming in 2016.
He managed a pass-rush grade of only 58.8, and after free agency and the NFL draft his offseason, he'll have to compete in a defensive line rotation that includes the newly-arrived Calais Campbell from Arizona and former Temple standout Dawuane Smoot. Fowler's potential is high, but will have to take advantage of any and all opportunities in 2017.
Eric Kendricks, LB, Minnesota Vikings
For Vikings LB Eric Kendricks, athleticism goes a long way in the NFL, but it is not sufficient in isolation. Questionable instincts and subpar physicality have prohibited both Eric, and his bother Mychal's, NFL development. Shedding blocks is a weakness, in which is highlighted by a 64.9 grade against the run last season.
More positively, Kendricks proved to be an asset in coverage in 2016, limiting quarterbacks to a passer rating of only 85.3 into his coverage. He picked off one pass and deflected six more, boosting his playmaking production after an indifferent rookie year. His overall PFF grade raised from a 48.3 as a rookie in 2015, to an 80.3 in his sophomore season. Although Kendricks enjoyed a much more impressive second season, he'll need to develop further to nail down a long-term starting role in Minnesota.
See all player grades data when you sign up for PFF EDGE.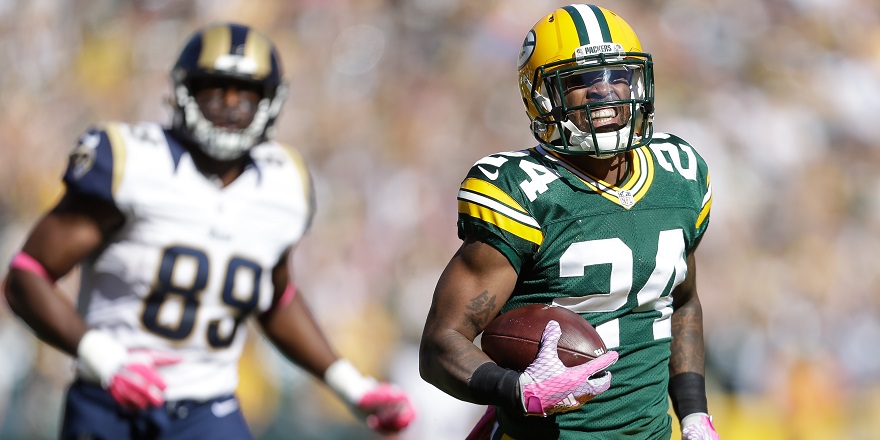 Quinten Rollins, CB, Green Bay Packers
Packers CB Quinten Rollins had a legitimately excellent rookie season, posting a passer rating of only 58.1 on 41 targets into his coverage. He amassed two interceptions and five pass deflections, while altogether preventing opposing receivers from reaching the endzone. With an expanded role in 2016, Rollins failed to produce an extrapolation in production. Rollins took a big stride backwards, managing only one interception and four pass deflections. He lost all reliability, giving up seven touchdowns and a passer rating of 133.8, both figures the second-worst among cornerbacks in the league.
The Packers secondary was a mess in 2016, and Rollins has to prove he can be part of the solution rather than part of the problem to cement his long-term status in the Green Bay secondary.
Henry Anderson, DI, Indianapolis Colts
Injuries have prohibited Colts DI Henry Anderson from fulfilling his prodigious potential. After tearing his ACL as a rookie, the Colts' third round pick lost further reps in his second season through a recurrent problem to the same knee. He has looked every bit an NFL player when his body has held up.
Anderson earned an overall grade of 77.0 last season, registering 15 combined QB pressures, two batted passes and 11 stops in only 308 snaps. Those numbers are pretty good when considering he was also apparently playing through pain. Production-wise, Anderson also managed 22 combined QB pressures, two batted passes and 23 stops as a rookie. Getting him on the field will be a priority for the Colts in 2017, and Anderson should hope to prove his production value in his third year.
Denzel Perryman, ILB, Los Angeles Chargers
Despite fielding a grade of 81.1 as a rookie in 2015, Chargers LB Denzel Perryman was immediately supplanted by rookie fifth-round pick Jatavis Brown as the Chargers' primary inside linebacker a season ago. Hamstring and knee injuries further curtailed Perryman's 2016 season in which he managed only 481 snaps.
That being said, the Chargers' appear to possess a much more balanced linebacking corps with the combination of Brown and Perryman. The former Miami Hurricane is at his best downhill, earning the league's best run stop percentage as a rookie at his position in 2015. Missed tackles became a minor issue last season as he missed 13 total tackles in 2016. His career passer rating allowed of 110.3 is also a little concerning, but with a good year in 2017, Perryman can provide some stability as the Chargers' specialised run-stuffer in the middle.