When PFF first started collecting college data for the 2014 season, we had no clue exactly what to make of the numbers. The NFL's mantra for years had been that college production doesn't translate to NFL production, but no one had attempted to quantify that in the way we're trying to before. Inevitably, there were going to be some misses, but it's difficult to think of a more egregious swing of the bat to date than Atlanta Falcons linebacker Deion Jones.
I'll put my hand up and say, even irrespective of his 41.7 overall grade in his last season at LSU, I didn't see him being anywhere near this good. He was undersized, disliked taking on blocks in the run game and slipped off a ton of tackles in space. When all was said and done, he came in at 250th on our 2016 draft board. Now, he's PFF's highest-graded coverage linebacker of the season and the key to a Super Bowl run for Atlanta.
It doesn't take more than a handful of plays to figure out what makes Jones so special. Listed as a linebacker, he might as well be a third safety for coverage purposes given his ability to cover ground in a hurry. It makes every window for opposing quarterbacks that much smaller. Ask Jared Goff about how difficult it is. The Falcons' defense was absolutely suffocating last weekend in Los Angeles. It seemed like every time Goff tried to check it down, it went nowhere. The Rams led the NFL in yards after catch per game at 6.7 going into Saturday's tilt, but Jones & Co. held their offensive unit to just a 2.3 average.
This is no coincidence. This is Atlanta's defensive ideology. They get freakish athletes – like Jones – and allow them to play even faster with simple, repetitive defensive concepts. The Falcons played cover-3 on 52.1 percent of their snaps this season. That means that snap after snap, Jones gets to execute the same technique and read the same keys. He's 'seen it all' so to speak and doesn't have to think through his responsibilities every time he drops back in coverage. He just reacts.
Jones' role in the Falcons' cover-3 is one of the 'hook' players – the name of the two middle zones of the four underneath zones in cover-3. That area is shown below: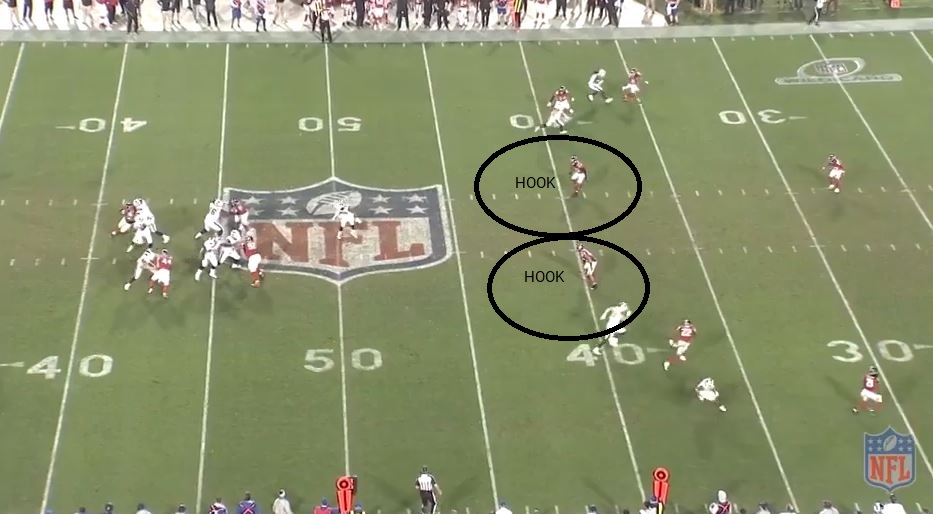 It's not the most difficult assignment from a pure acreage perspective – there are roles in cover-2 and cover-4 that ask linebackers to cover far more ground – but when played the way Jones can, the concept can shut down multiple aspects of an offense. The obvious one is the underneath passing game. Limiting a check down thrown four yards down the field to only four yards is crucial to keeping the defense on schedule. Here's a look at Jones doing just that last week against Rams wide receiver Cooper Kupp on a crucial drive at the end of the game.
and it's not just the splashy plays with Jones. He shuts down YAC as well as any LB in league. pic.twitter.com/gnvkm2R7hd

— Mike Renner (@PFF_Mike) January 12, 2018
Jones had 22 such coverage stops this season, the third-highest total of any linebacker in the NFL. While his ability in that regard is excellent, what truly separates Jones from a grading perspective is his ability to break on throws in or behind his zone. Jones led the league with nine combined pass breakups and interceptions. No play exemplifies that more than his game-ender against the Saints.
I don't think the Falcons defense is getting enough love. Allowing only 16.3 PPG over last 6 games vs. Saints x2, Rams, Panthers, Vikings, and Bucs.

Oh and Deion Jones is balling pic.twitter.com/Z06LoE169b

— Mike Renner (@PFF_Mike) January 12, 2018
This is game-changing ability. This is a different player than even the one Atlanta had a season ago. The Falcons' defense is a sleeping giant in the NFC playoff picture, and the Eagles will have their work cut out for them with Jones working opposite of their offense.