In four weeks, contracts will be getting handed out left and right as free agency kicks off. The week before that though, the talent pool available is set to take a big hit. Teams have until 4 pm on March 5th to decide whether they'd like to designate one of their impending free agents with the franchise or transition tag to keep them under team control. Let's examine the realistic franchise candidates and the best course of action with each.

[Editor's note: This article doesn't consider players who could be given a double tag.]
No Tag
After fellow Super Bowl MVP Joe Flacco supposedly fetched a fourth rounder from the Broncos yesterday, it should be a no-brainer that the Eagles tag and trade Foles, right? It's not quite that simple as there are key differences in the situation. The biggest is that the Ravens would have had to cut Flacco while Foles is becoming a free agent. That means that the Eagles, who have limited cap space and are unlikely to sign any free agents of their own, will almost assuredly get a third-round compensatory pick in 2020 for letting Foles walk. The other key difference is that if tagged, Foles is guaranteed $25 million in 2019 while Flacco's price tag is $18.5 million for the Broncos and can even be cut and take on only a fraction of that. Foles could hold the Eagles hostage to a degree and refuse to renegotiate the tag with trade partners, making him far less appealing to other franchises. In an already tricky cap situation, the Eagles don't need to expose themselves to any unnecessary risk here by tagging their QB.
Franchise Tag Earl Thomas
He's not going to like it, but there's a number of reasons why tagging Thomas over Clark is the play. The first is that, even at 30 years old, he's still an elite safety. Clark is a great edge defender in his own right, but he's a comfortable step below the upper echelon at the position and has never had a season grade above 80.0. The second is the price difference. The tag at safety will be just over $11 million while defensive end is over $17 million. The last big difference is simply the market. There are a number of options for teams in need of edge-rushers in free agency and even more so in a ridiculously deep draft. Clark's price will be pushed down by that as well as his domestic violence incident in college. There isn't a true single-high safety close to Thomas available in either free agency or the draft. He'll be a more coveted commodity on the market via trade even if he's unwilling to play in Seattle going forward.
No Tag
While they'd love to keep him in the fold, this decision comes down to cap space. They are projected to have around $15 million at the moment, and while they could make some space with cuts, fitting Flowers' $17 million franchise tag in there would get tight. Tag and trades sound great in theory, but unless you're the elite of the elite like Khalil Mack, teams balk at having to give up picks to pay big bucks. Jarvis Landry only fetched a fourth and a seventh rounder last offseason for the Dolphins. Flowers would more likely than not return a third-round compensatory pick for New England if he walks as they don't have the cap space to be buyers themselves.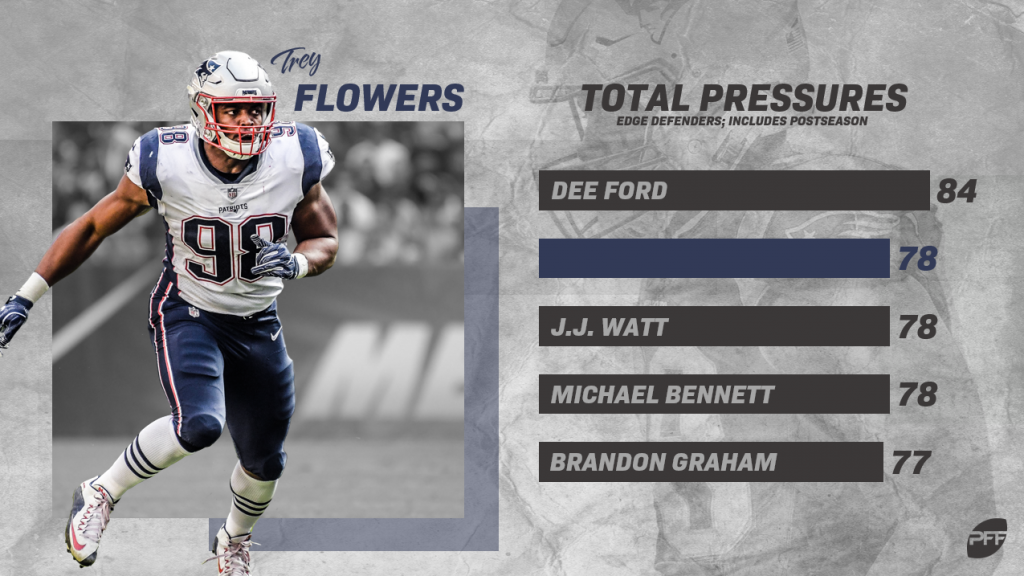 Franchise Tag
This one is a no-brainer. Clowney has improved as a pass rusher every year of his career and is a movable chess piece on their defensive line. Texans have the fifth-most projected cap space of any team in the NFL. Can't afford to bleed talent off a playoff roster.
Franchise Tag
Jarrett won't come cheap as the defensive tackle tag is a cool $15 million, but their defensive line would be one of the worst in the NFL without him. He's improved mightily over the course of his career and is coming off a 91.0 overall-graded season at only 25 years old. His 53 pressures led the Falcons and were 21 more than any other interior player in Atlanta. With $26 million in cap space, the Falcons have to bite the bullet if they have hopes of returning to the Super Bowl sooner rather than later.
Franchise Tag
Collins is also a prime candidate for the transition tag as the deep safety free agent class could give the Giants a discount. It may not be worth the possible ill-will though, and at only $11 million, the franchise is a small price to pay to retain their best defender. The window for the Giants might not be 2019, but at only 25, Collins should be a building block for whenever it does open up again.
Franchise Tag
As obvious a franchise tag candidate as it gets. Ford led all edge defenders in pressures in 2018. The former first-round pick was truly dominant at times, but he sustained it at a level he's never reached before in his five-year career. His 78 pressures were 25 more than his previous career high. With $26 million in cap space currently, they can easily make it fit. Ford simply has to prove it wasn't a fluke before pretty much anyone will commit to him long-term.