Prior to last season, the New York Giants signed Nate Solder to a four-year, $62 million contract, but before signing with the Giants, Solder had spent the first seven seasons of his career with the New England Patriots. During those seven years with the Pats, Solder earned an overall grade of at least 70.0 in all but his rookie season, and he surpassed the 80.0 threshold twice. Over that same period, his 83.1 overall grade ranked 18th out of 65 tackles who were on the field for at least 3,000 offensive snaps.
Today we'll look at how his first season in the Big Apple went.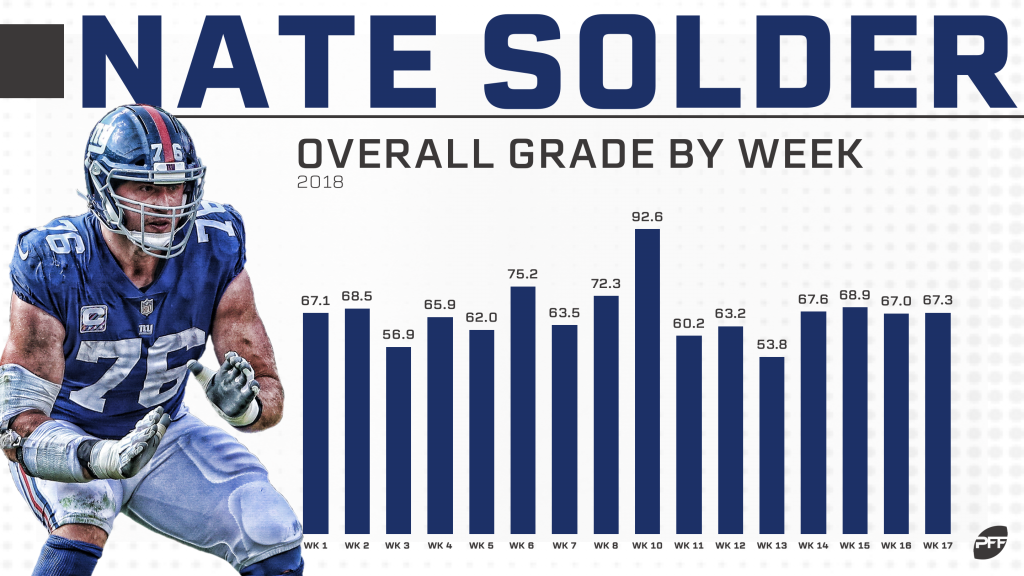 Solder was one of 17 players last season who logged at least 1,000 snaps at the left tackle position, and among that group, he ranked ninth with a 74.1 overall grade. While it wasn't the best season we've seen from him, Solder was a reliable pass-blocker; he was one of just nine players to log at least 500 snaps in pass protection at left tackle while surrendering a pressure rate no greater than 5.0%. Solder surrendered two or fewer pressures in ten different games last year, and the most pressures he allowed in a game was five. 
As a run-blocker, Solder ranked eighth out of those 17 players who saw at least 1,000 snaps at left tackle last season with a 63.4 run-blocking grade, but the veteran tackle had a bit of a volatile season when it came to run blocking. Out of the 23 left tackles who saw at least 300 run-blocking snaps, he ranked eighth with an impact run-block percentage of 8.6%, but he also recorded the seventh-highest negatively graded run-block percentage, at 12.5%.
For comparison, with the Pats from 2011-2017, Solder had an impact run-block percentage of 11.1%, and his negatively graded run-block percentage was just 7.4%.
Solder had a solid debut season in New York. He performed slightly above average compared to the rest of his career in terms of pass protection — prior to 2018 he allowed pressure on 6.0% of his pass-blocking snaps — however, the 2019 season will be even better if he can maintain that level of pass protection while getting back to the career benchmarks he set as a run-blocker while he was in New England.