From now until the kickoff to the Hall of Fame Game, all eyes will be on the 32 training camps that are currently underway across the country. In that time, close to 3,000 players will see at least some form of action with an NFL team; some will be a certain lock to make it to the final roster, while others may never play another down of football after August. It's during this very limited time where the under-the-radar players need to put as many good reps as possible on tape in an effort to prove their worth and win the position battles that are an annual occurrence at this point of the year.
Competition drives the NFL, and over the next month, players at every position will be competing for a spot on a 53-man roster. Here, in alphabetical order, is every NFL team's biggest training camp battle.

After missing the entire 2018 season with a torn ACL, Shipley looks to reclaim his starting spot at the center position. Mason Cole, who started all 16 games in his place, struggled mightily in pass protection last season, finishing with a pass-blocking grade of 41.9 while allowing 35 pressures. Prior to the injury, Shipley posted overall grades of 61.3 and 71.9 in two seasons with the Cardinals and should have the upper hand if he can return to form.

The Falcons made their offensive line a priority this past offseason, and the battle at right guard is a direct result of that decision. Brown, who joined via free agency, is coming off a disappointing season that included stints with two teams and an overall grade of 51.7. Still just 26 years old, Brown has shown stability at the right guard in previous seasons, never grading lower than 60.0 before 2018. Lindstrom will have a fair chance to win the job as the Falcons saw enough potential to select him 14th overall in this year's draft — his 91.6 pass-blocking grade during his final season at Boston College ranked second in his draft class at the guard position.
[Editor's Note: Early reports from Falcons camp have since confirmed Chris Lindstrom is earning first-team reps at right guard. Jamon Brown and James Carpenter are now competing for first-team reps at left guard.]

A lot of bodies are vying for the Ravens' left guard spot, and there's hardly a clear frontrunner. Last offseason, Hurst was re-signed to a four-year, $17.5 million deal, so there's some reason to believe the Ravens want their money's worth with him starting. But he's yet to figure it out in the run-blocking game with grades of 44.9 (89th) and 47.9 (72nd) in 2017 and 2018, respectively. Lewis has been less than impressive in Baltimore, and in 2018 he allowed the highest pressure rate (6.3%) among qualifying Baltimore offensive linemen. A few bright spots in Bozeman's rookie year — including two 70.0-plus grade weeks — put him firmly in this competition, but it's unlikely he'll come out on top. Powers is the lone rookie of the group, and he'll be battling on the back of earning the sixth-best pass-blocking grade (88.9) among college guards in 2018.

Ford will likely be given every chance to win the position seeing as the team traded up in the second round to acquire him. The Oklahoma product was elite in pass protection in college, giving up just 12 pressures across 716 snaps en route to three straight 80.0-plus pass-blocking grades. Nsekhe has played both guard and tackle during his time in the NFL, and he still flies under the radar somewhat despite playing at an extremely high level as a swing tackle throughout his tenure in Washington. Since 2015, Nsekhe has earned a 71.9 overall grade and a 77.2 pass-blocking grade across his 1,006 snaps at tackle, 49th and tied for 34th, respectively, among the 95 tackles who have played at least 1,000 snaps at tackle in that span. 

After playing all of 70 snaps as a rookie in 2017, Moton went on to play 1,054 snaps in 2018, with 594 of those snaps coming in pass protection at right tackle. He allowed just two sacks, one hit and 24 hurries and ended the 2018 season tied for fourth among the 30 right tackles who played at least 300 pass-blocking snaps with a pass-blocking efficiency of 97.6. Whether he can maintain that excellent standard at the opposite end of the line remains to be seen, and things won't be easier for him when he faces up against rookie left tackle Greg Little, who started three years at left tackle in the SEC and allowed only 46 pressures over that span.

Aside from the supremely talented Tarik Cohen, the Bears' backfield underwent a complete transformation this offseason. And with Jordan Howard now in the City of Brotherly Love, the Bears backfield competition now consists of Cohen, third-round rookie David Montgomery and fifth-year back Mike Davis. Cohen, who is a threat out of the backfield in the passing game, will likely take on the majority of the work on passing downs as he follows on from a year in which he led all qualifying backs in yards per route run (2.37) and recorded an impressive 111.0 passer rating when targeted. Montgomery, on the other hand, has every chance to carve out a role as the team's primary early-down back. The 5-foot-10, 222-pound third-rounder was a tackle-breaking machine at the college level; he forced 99 missed tackles and averaged 3.48 yards after contact per carry en route to an elite 91.1 overall grade in his final season with the Cyclones, making him one to watch as this competition heats up.

Carl Lawson, Carlos Dunlap the perennially excellent Geno Atkins form a formidable trio on the defensive line, but the team still needs to find that one last piece of the puzzle. Hubbard and Wynn both showed well in spots last year, earning overall grades of 67.4 and 66.2, respectively, but Hubbard's past performances as a pass-rusher could very well give him a step up in camp. In 2018, Hubbard topped Wynn in total pressures (29 to 21), pass-rush win rate (10.8% to 8.1%) and pressure rate (9.2% to 8.1%).

Denzel Ward's mightily impressive rookie season has rightfully cemented his spot as the Browns' CB1, but who will step up and secure a role on the opposite side of the field? Williams, the ninth player on PFF's 2019 NFL Draft Big Board, will likely be given every chance in the world to step into the role. Only 40.3% of passes were completed into Williams' coverage in 2018 — the lowest rate among draft-eligible cornerbacks who faced 60 or more targets. However, it won't be easy for the rookie corner, as Mitchell will bring experience to the competition. A sixth-year cornerback out Oregon, Mitchell played 1,577 snaps throughout his time in the NFL, and he's shown fashes too, notably in 2015 and 2016 when he earned overall grades of 80.3 and 74.2, respectively.

Connor Williams did not transition well to left guard after playing tackle in college. The former Longhorn never graded below 75.0 in any major category in college, but last season with the Cowboys, he only recorded two single-game pass-blocking grades above 75.0. McGovern did not grade nearly as well as Williams in college, but he allowed only 16 pressures last season at Penn State, and he was a quality run-blocker too, as evidenced by his impressive 72.5 run-blocking grade.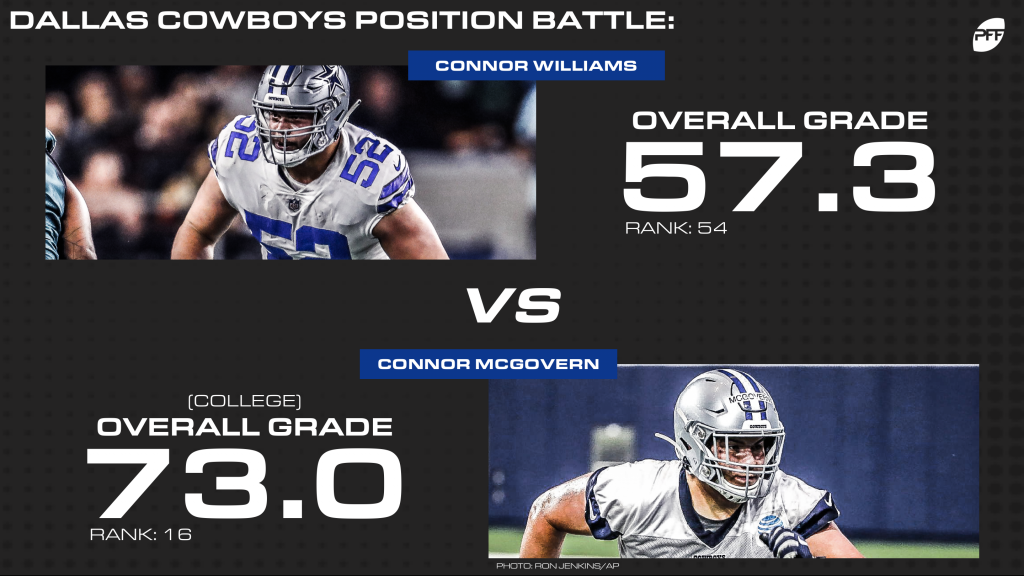 It's a who's who of B1G tight ends over in Englewood, and all four players at the position have a chance to make an impact in 2019 with Joe Flacco under center. Fant will obviously be at the forefront of the discussion having been drafted with the 20th overall pick of the 2019 NFL Draft, but the experienced Jeff Heuerman will be a tough body to move off the top of the depth chart, especially early doors. Heuerman has played 1,113 snaps since joining the Broncos in 2016, and he's coming off a season in which he recorded career-high marks in targets (44), receptions (31), receiving yards (281) and receiving first downs (13). Troy Fumagalli and Jake Butt will add competition, and both players will be eager to return to college form after they both suffered season-ending injuries last year. Troy Fumagalli is the under-the-radar player to watch in this one — from 2014-17, he earned an elite receiving grade of 91.5, and he averaged an impressive 1.73 yards per route run.

The Lions possess one of the league's most underrated players in cornerback Darius Slay, but there's a spot to be won opposite him. Teez Tabor is coming off a putrid sophomore campaign that earned a 32.2 overall grade and a 29.9 coverage grade, while Rashaan Melvin has been wildly inconsistent for the majority of his career, earning one overall grade above 75.0, and three overall grades below 66.0. We viewed Amani Oruwariye, a fifth-round pick out of Penn State, as one of the steals of the 2019 NDL Draft. At the Senior Bowl, he had the highest win rate of any corner in attendance, so if he can get ahead of the rookie learning curve, he could very well be worth keeping an eye on over the next month.

The Rodgers-to-Nelson, Rodgers-to-Cobb days are now gone in Green Bay, so one of these young, talented wideouts needs to step up to the plate in 2019. St. Brown was the best of the bunch a season ago, hauling in 21-of-34 targets for 328 yards, 13 first downs and 12 explosive plays of 15 or more yards, and he ended the season with an incredibly impressive 94-yard outing against the Jets in Week 16. Fellow rookie Marquez-Scantling also flashed in parts, mainly during the impressive five-week stretch between Weeks 5 and 10, when he caught 21-of-29 targets for 361 yards, ranking 13th in receiving grade (77.0), third in passer rating when targeted (137.3) and 21st in yards per route run (1.84) among the 54 receivers with at least 25 targets in that span. However, as good as the now-second-year receivers were in spots last season, the WR2 tag will likely go to the player with the most experience. Given Rodgers' documented tendency to draw plays up in the dirt, as it were, Allison's chemistry with Rodgers could give him the edge here. He's played close to 1,000 snaps in three years with the team and has earned a 77.4 receiving grade and a 123.6 WR rating when targeted by Rodgers in the scramble drill — both tops among the team's returning receivers.

Things did not go well for Julie'n Davenport at left tackle last year. Among the 32 left tackles who played at least 300 snaps at the position in 2018, Davenport's pass-blocking grade (53.9) ranked 31st, his pressure rate (10.9%) ranked 32nd and only Kolton Miller allowed more total pressures than Davenport's 52. It has to change to the Texans moving forward, as they simply can't afford to lose Deshaun Watson for another season. Matt Kalil, who is coming off a season-ending injury, will bring experience with him to Houston after playing eight good-but-not-great years with the Vikings and Panthers, but all eyes should be on the rookie tackle Tytus Howard. The Alabama State product held up very well in his time against FBS competition last year, pitching a shutout on 38 pass-blocking snaps against Auburn. He also had the highest win rate of any tackle in the 1-on-1s at the Senior Bowl.

You can go right ahead and throw Darius Leonard in as the clear-cut starter in this linebacking corps, probably for the next ten-plus years, but the job right next to him is still very much up for grabs at this point. Anthony Walker showed well in spots last, finishing four games with a 70.0-plus game grade (including one elite grade that came in Week 13), but he will need to improve on his consistency if he's to hold onto the job long term. Matthew Adams proved to be productive in the run game, finishing the year with a 73.8 run-defense grade that somewhat buoyed his subpar 39.7 coverage grade. Third-round rookie Bobby Okereke didn't break the top-20 in terms of overall grade in 2018, but his size and athleticism combine for a project worth taking on this summer.

The Jaguars didn't add any pass-catchers via the draft, but that doesn't make this competition any less interesting, as both Westbrook and Chark have the chance to crack the starting lineup. Westbrook is coming off his best year as a pro; he caught 66-of-96 targets for 717 yards and five scores and recorded a 70.0-plus single-game grade in four of his last six games to close out the year. Chark, on the hand, caught 14-of-31 targets for a lowly 45.2% catch rate, but quarterback play was partly to blame, as he generated a 49.7 passer rating when targeted, third-worst among receivers.

The running back position may not move the needle quite like it used to, but the serious supply of talent here makes this a battle to look out for. Damien Williams will likely head into the season atop the depth chart after he earned the third-highest grade among running backs from Week 10-17 this past season, but rookie running back Darwin Thompson has the potential to make some serious noise in this dynamic Andy Reid offense. Thompson's 2018 campaign is one of the best recorded in the PFF College era (2014-18). Among the 876 times an FBS running back has logged 100-plus carries in a single season, Thompson's 2018 campaign ranks tied for 10th in forced missed tackles per carry (0.32) and ninth in yards after contact per carry (5.1).

The 2018 season will be one that right tackle Sam Tevi will quickly want to forget. Since 2006, there have been 392 instances where a right tackle has logged more than 300 pass-blocking snaps over the course of a single season, and among that list, Tevi's 13.7% pressure rate and his 92.5 pass-blocking efficiency from last season both rank 392nd. The odds may be somewhat stacked Pipkins, who was the first Division II prospect taken off the board in this year's draft, but it's not as if he has an impossibly high bar to clear this summer.

One of the league's best offensive lines from a season ago has seen some considerable turnover over recent months. Andrew Whitworth and Rob Havenstein will remain as one of the league's best offensive tackle duos, but other than that, things remain fluid. Priority No. 1 is to find a replacement for left guard Rodger Saffold, who flew the nest in free agency. Noteboom has only 79 snaps worth of experience at the NFL, but its exactly 79 snaps more than both Evans and Edwards, who join the team as third- and fifth-round rookies, respectively. But the Rams have every reason to feel quietly confident about Noteboom heading into camp — he earned an 88.8 pass-blocking grade and allowed zero pressures playing a mixture of tackle and guard last season.

It's out of the frying pan and into the fire for second-year quarterback Josh Rosen. After a rookie year that saw him earn a 49.2 overall grade behind a historically bad offensive line, Rosen's subsequent jettisoning means that he'll spend the 2019 season in South Florida — behind what we've projected to be the worst offensive line in the league. Only time will tell if Rosen can shake off the nightmares of the constant pressure that he faced as a rookie, and not many quarterbacks have rebounded from a first-year sub-50.0 overall grade. To make matters worse for Rosen and his professional aspirations, the Magic Man Ryan Fitzpatrick will be bringing his vast experience and overall touches of brilliance with him as he gets set to take on training camp with his third AFC East team. Fitzpatrick ended an incredible 2018 season filled with astonishing ups and vertiginous downs with an average of 9.6 yards per pass attempt, which ended up being the best single-season figure by a quarterback in 13 years of grading. Fitzpatrick is volatile, but he is certainly capable of stringing together wins, making him the favorite to start Week 1.

A torn ACL cut Hughes' rookie season short, but prior to that Week 6 injury, he picked up an overall grade of 61.6 across 244 defensive snaps both inside at slot corner and at outside cornerback. The former UCF Knight saw limited action in the slot (46 of his 159 coverage snaps) last season, and he didn't fare too well, allowing nine completions from 10 targets for 125 yards and a touchdown, but he certainly showed flashes of playmaking ability from his snaps on the perimeter. Hughes' competition is a tough one, though, as Mackensie Alexander truly hit his stride in the slot down the stretch of the 2018 season. In Weeks 11-17, the third-year cornerback earned coverage grades above 70.0 in six of his seven games, and he allowed 10 or fewer passing yards in five of his last six games to close out the season. If Alexander can carry on his late-season form, the Vikings may be primed for a breakout 2019 campaign.

For the first time in a long time, the New England Patriots will suit up for training camp without the monstrous figure of Rob Gronkowski in the locker room, and the size of the hole his retirement has left in this receiving corps can not possibly be overstated. Trying to recoup some of those passing-down snaps will be Demaryius Thomas, who has graded above 70.0 in every year of his career, despite suffering from underwhelming quarterback play for the majority of it. N'Keal Harry will battle the veteran for playing time after he recorded 61 explosive plays — gains of 15 or more yards — in his final two years with the Arizona State Sun Devils, a mark that ranked tied for first with Buffalo's Anthony Johnson among draft-eligible receivers.

The Saints' offensive line has played a huge part in Drew Brees' recent dominance, but Max Unger's retirement has left a huge hole at center. Favorite to take the reigns for Week 1 is rookie center Erik McCoy, who allowed just seven total pressures (three hurries, four hits) across his 470 pass-blocking snaps in 2018 and ended the year tied for fourth among draft-eligible centers in PFF's pass-blocking efficiency (99.3). Among the 37 centers entering the 2019 NFL Draft with 600-plus pass-blocking snaps over the last three years, McCoy is tied for fourth in pass-blocking efficiency (99.3), having allowed just 19 total pressures across 1,445 pass-blocking snaps in the three-year span. Easton offers a veteran presence, having played 1,162 snaps across two seasons, but he's yet to record a pass-blocking grade above 70.0. The learning curve for rookie offensive linemen is a steep one, which means Easton is in with at least a shot, but the upside that McCoy brings to this outfit is undeniable.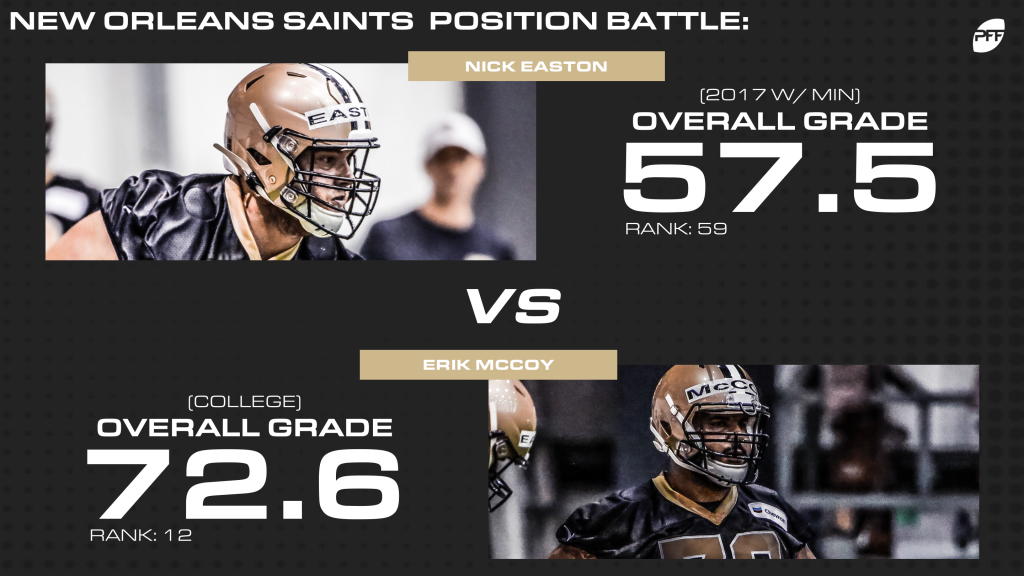 This will likely be a case of "you don't know what you've got until it's gone." The jettisoning of oft-criticized edge defender Olivier Vernon, a player who has recorded at least 45 quarterback pressures in three of the last four seasons, will leave a huge void in this pass-rushing group and it'll take some significant improvement from any one of these guys to even match Vernon's level of productivity. Martin, Carter and Golden all earned sub-65.0 game grades in 2018, and only Golden has managed to crack the 50-plus pressure total over the course of a season. Oshane Ximines is one to watch here —  he earned a 90.2 overall grade and a 91.7 pass-rush grade in 2018, ranking tied for seventh and third, respectively, among qualifying draft-eligible FBS edge defenders.

The Jets enter training camp with the makings of a promising defensive line, and while the interior spots are set with both Leonard and Quinnen Williams, the outside linebacker positions are seemingly up for grabs. At this point it seems likely that Brandon Copeland will lay claim to one of them — the third-year pro notched career highs in overall grade (67.4), snaps played (611) and total pressures (38) in 2018 — and it's worth keeping an eye on third-round rookie Jachai Polite in this one, as he came out of nowhere to notch the second-best pass-rushing grade among Power-5 edge-rushers in his final college season.

To say that the Raiders need someone to step up on the edge rotation would be an understatement. After trading away Khalil Mack prior to the 2018 season, Oakland's edge defenders combined for a 31st-ranked team pass-rush grade and a league-low 73 total pressures (Mack tallied 68 all by himself in Chicago). After an up-and-down college career, Key struggled as a rookie in 2018 and earned a 55.1 overall grade and a 56.4 pass-rush grade across 644 defensive snaps. He did have some promising performances — his two four-pressure games in Weeks 5 and 6, and his five-pressure-game against the Denver Broncos in Week 16 — but he still finished the season with only 31 pressures on 328 pass-rushing snaps and an 11.0% pass-rush win rate that ranked 41st among the 58 edge defenders with at least 300 snaps. To join first-round pick Clelin Ferrell, the Raiders selected Eastern Michigan edge defender Maxx Crosby in the fourth round of the 2019 NFL Draft. Crosby earned overall grades of 90.5 and 88.2 in 2017 and 2018, respectively —which blow Key's final two college grades (82.6 and 72.3) out of the water —  and only Sutton Smith tallied more quarterback pressures over the last two college seasons than Crosby's 112. Not only was he productive in the passing game, but he also proved to be mightily productive against the run, where he earned a two-year run-defense grade of 91.2 and made first contact with the ball carrier on 13.7% of his run-defense snaps — the 10th-best mark among FBS edge defenders over the last two seasons.

To try and add some life into the unit, the Eagles traded for Jordan Howard earlier in the offseason, a player who proved to be capable of a heavy workload during his rookie year by carrying the ball 252 times for 1,313 rushing yards, 752 yards after contact and a rushing grade of 79.5 that ranked sixth among qualifying players at the position. And while his overall grade has dipped each year since, Howard will now get a shot at reviving his early success with Philadelphia, who just so happen to run a ton of his favorite run concept: inside zone. Since 2016, no running back has logged more inside zone rushes than Howard (317), while his three-year inside-zone running grade of 75.0 ranks eighth among the 35 backs with at least 100 attempts in that span. Sanders, a second-round rookie out of Penn State, gives the team a tough, elusive runner who ranked inside the top 10 among draft-eligible running backs in forced missed tackles (47), yards after contact (845) and runs resulting in a first down or touchdown (38) last year. And he himself proved to be quite the bruiser on his inside zone rushes, as he earned the draft class' fifth-best rushing grade and averaged a class second-best 3.96 yards after contact per carry on such assignments last year.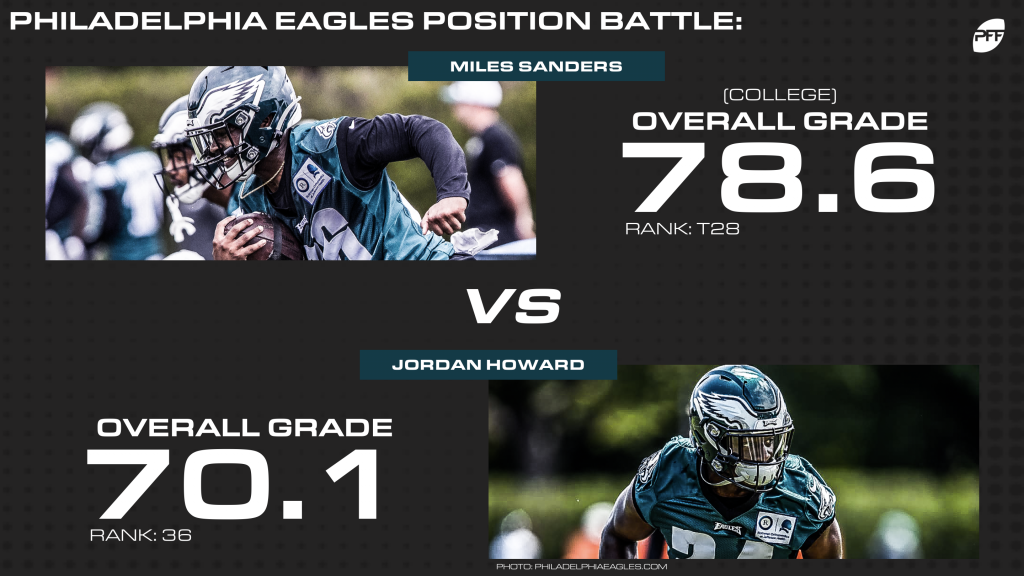 JuJu Smith-Schuster will patch as much of the AB-shaped hole as is physically possible, but there is still a significant role to be carved out in the Steelers' passing attack. Donte Moncrief has drastically underwhelmed in recent years, earning sub-63.0 overall grades in 2017 and 2018, but his career-best effort (73.4 overall grade in 2016) isn't really one to call home about. Battling Moncrief for that spot is also second-year pass-catcher James Washington, and he will be chomping at the bit to redeem himself after he produced one of the lowest receiving grades of any qualifying rookie wide receiver in the PFF era (2006-18). This summer, keep your eye on Diontae Johnson — the team's third-round pick out of Toledo — who has a real shot at making an impact in this Steelers offense. Among the 102 FBS wide receivers with 150 or more targets over the past two seasons, Johnson ranked tied for 22nd in receiving grade (85.9), 10th in yards per route run (3.01) and eighth in passer rating when targeted (126.8).

Seeing the Seahawks' ranked 31st on PFF's 32-team secondary rankings is jarring at first, especially as the team is no more than four years removed from having arguably one of the greatest secondaries of all time, but there is no debating the fact that this unit is now just a bare shell of its former self. Heading into camp, these four young safeties will be given the thankless task of stepping into Earl Thomas' shoes, if anyone can possibly do such a thing. Thompson took on that role last year and showed well in places, especially in his Week 5 game which we finished with a 90.3 game grade, but he also missed 11 of his 55 tackling opportunities throughout the year which is a cause for concern. Second-round rookie Marquise Blair may need time to develop, but he flies around the back half of the field with a recklessness you can't help but respect. He earned an 88.0 coverage grade this past season and can lay the boom with the best of them.

It's unfortunate for a player who so obviously possess the requisite talent required to take the field as a starter, but until it's proven otherwise, Jason Verrett simply can't be relied upon to be healthy for a full season. Verrett has played a grand total of 1,266 snaps in his career five-year career and is coming off an Achilles injury that he suffered less than a calendar year ago. In comparison, Ahkello Witherspoon has played 1,360 snaps in two seasons; he's had a hot and cold start to his career after a promising rookie season in which he earned a 74.5 overall grade and a 73.7 coverage grade, but he also followed that up with a clunker in 2018 that saw him earn a 39.8 coverage grade. If Verrett is healthy, it might not be much of a competition — Verrett's best season earned one of a handful of elite coverage grades in the past 10-plus years of PFF grading.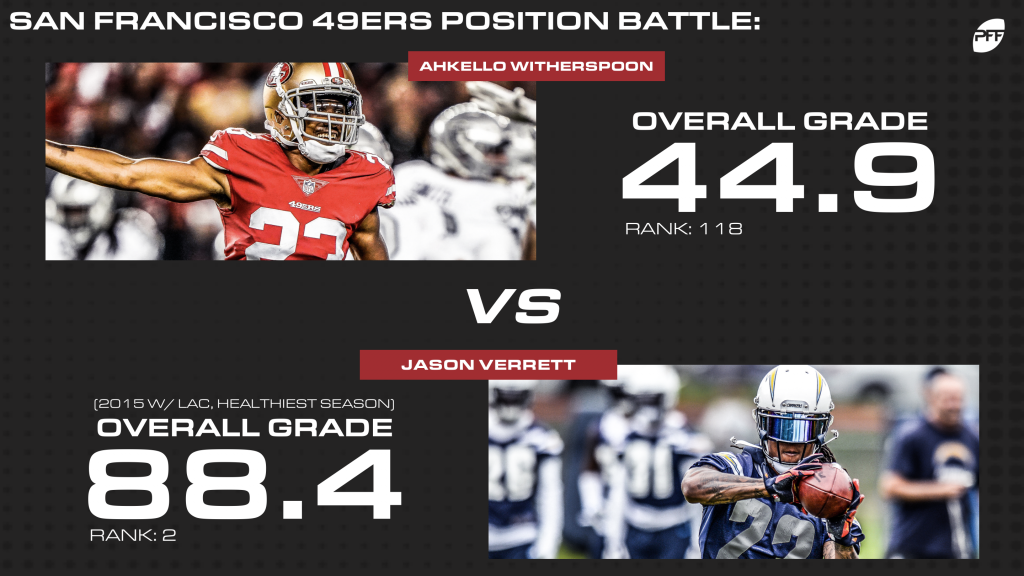 Things haven't quite worked out for former first-rounder Vernon Hargreaves in Tampa. Now three years into his career, he has given up four touchdowns compared to just one interception and missed 22 of his total 147 tackle attempts. Looking to steal time away from Hargreaves will be rookies Bunting-Murphy and Jamel Dean, who both ranked inside the top-10 of PFF's positional rankings and allowed two combined touchdowns in coverage all season (Bunting-Murphy allowed zero).

The Titans have been itching to revamp their receiving corps as the team's receiving grade has declined in each of the past four seasons — and Brown possesses the explosiveness to add new life into the unit. PFF ranked the Ole Miss standout second in the draft class behind teammate D.K. Metcalf, and he will likely fall into place behind Corey Davis in Tennessee. The 2019 second-round pick forced 17 missed tackles and amassed 600 yards after the catch in 13 games played last season. He played 58.5% of his snaps from the slot, and both Titans receivers who played 60.0% or more of their snaps in the slot last season (Tajae Sharpe & Darius Jennings) earned a sub-65.0 receiving grade.

It's a make-it-or-break-it year for Jay Gruden and the Washington Redskins, but an impressive — or rather, a fortunate — 2019 NFL Draft has set the Redskins up to survive their difficult quarterback situation in 2019 and beyond. By selecting Dwayne Haskins Pick 15, the Redskins secured one of the better quarterback prospects in the class. Overall, Haskins was fantastic when throwing from a clean pocket, grading at 90.7 to go with 46 touchdowns and a passer rating of 135.4, but he'll need to improve under pressure if he wants to lead this offense well in 2019. Favorite to take the reigns in Week 1 is journeyman Case Keenum, who is just one season removed from his career year in Minnesota and graded above Washington backup and fan-favorite Colt McCoy just last year. It will take smart football, and it will take smart coaching, but Keenum is far from a write-off and could turn heads once again if he's put in the correct situation this year.