When Damien Williams found himself with the opportunity to have a more prominent role in the Kansas City Chiefs' offense late last season, he did not waste it. An undrafted free agent from the University of Oklahoma, the now 27-year-old Williams has waited patiently in his career for a bigger role.  Prior to 2018, Williams spent four seasons barely seeing the field with the Miami Dolphins, where his career-high rushing attempts in a season was 46. However, his performance from the latter half of the 2018 regular season and playoffs, proved he was more than just a journeyman running back and earned himself the starting job going into 2019 with the Chiefs.
Williams did not see much action in the first half of the 2018 season, registering just three total snaps over the Chiefs' first seven games. However, once the team cut ties with running back Kareem Hunt, Williams stepped up in a huge way. Over the second half of the year (Weeks 10-17), Williams registered the third-highest overall grade (85.6) by a running back in the NFL, showcasing his talents in both the run and passing game. Over 47 rushing attempts, Williams scampered for 255 yards, 5.4 yards per attempt and four touchdowns, while averaging 2.68 yards after contact per attempt. It was his ability to gain large chunks of yards that set him apart, as his breakaway percentage of 45.9% ranked eighth in the NFL among running backs with at least 40 carries in the second half.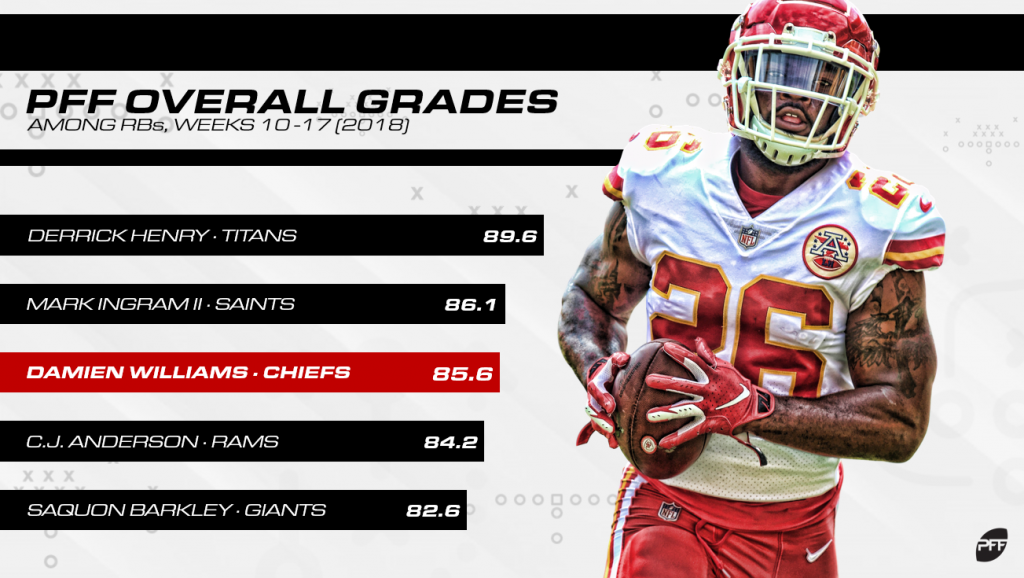 Williams' contributions in the passing game both as a blocker and a receiver truly make him a versatile weapon. Over 20 snaps as a pass-blocker in the second half of the season, Williams did not allow a single pressure and registered a whopping 87.5 pass-block grade, ranking fourth among running backs during that timespan. Hit pass-catching skills we're on display as well, as Williams caught 20 of his 21 targets for 142 yards, two touchdowns and a 126.6 passer rating when targeted. 
Williams' success didn't end in Week 17, as he performed well in the Chiefs' two playoff games. In total, he finished with 250 combined rushing and receiving yards and an overall grade of 72.2, ranking third of all qualified playoff running backs.  
Williams' resume from the back half of the 2018 campaign should have the Chiefs plenty excited as he proved to be one of the best at his position. His overall grade of 85.2 from Week 10 through the end of the playoffs was the highest of any running back. Williams showed the ability to not only gain large chunks of yards as both a runner and receiver, but to also have a nose for the endzone. He finished with 10 total touchdowns, all coming in Week 14 or later, while registering the fifth-highest red-zone grade by a running-back at 73.4. 
The 2019 season will be Williams' first season as a full-time featured running back, which is a test within itself. However, if he can pick up where he left off, the Chiefs will have one of the most versatile backs in the NFL.