Earlier this month, NFL Insider Ian Rapoport broke the news that the Washington Redskins and the Denver Broncos had agreed to terms on a trade that would send quarterback Case Keenum to Washington. The deal, which was then made official at the turn of the new league year and was greeted with an oh so familiar sigh of disdain from the fanbase, will see the teams swap sixth- and seventh-round picks, while Keenum's $7 million salary will be split evenly between the two franchises.
Despite the popular opinion among fans that this is just another lackluster move by a front office that doesn't particularly boast the best track record, the deal to trade for Keenum actually makes a great deal of sense for Washington. For the price of a sixth-round pick and a contract that will pay about as much as Chad Henne and Drew Stanton will make in 2019, the Redskins get a high-end backup/low-end starter who has certainly shown the ability to win games for his team. In fact, last season — a relatively poor one for Keenum — he still graded out better than all Redskins quarterbacks not named Alex Smith, and the gap between Smith and Keenum wasn't that big at all.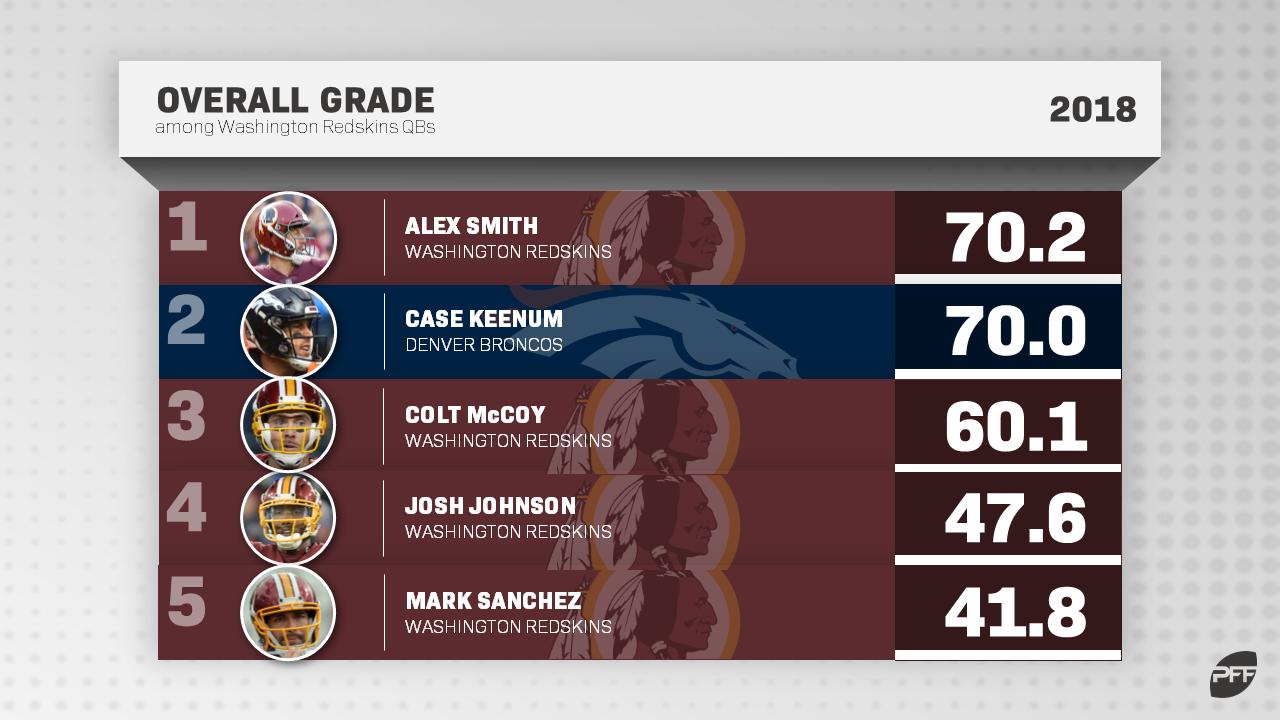 The most important thing to note here is that this should in no way impact Washington's draft strategy. As things currently stand, there's almost no chance at all that Smith suits up in 2019, and that leaves a massive hole at the position, one that needs to fixed, long-term, via the draft. Yes, they've acquired a quarterback with starting experience. Yes, they've acquired a quarterback who showed the capability of high-end play in his 2017 season with the Minnesota Vikings. They've also acquired a quarterback who has bettered backup Colt McCoy in almost all of our advanced metrics over the course of their careers; Keenum's career overall grade of 73.1 beats out McCoy's mark of 61.6, his 70.3 passing grade beats McCoy's mark of 62.3, Keenum's career adjusted completion percentage of 73.2% bests McCoy's 70.9%, while his 98.0 passer rating from a clean pocket — the most predictable evaluator of quarterback success — tops McCoy's career mark of 85.0. Yet, that doesn't mean that the team should ignore the quarterback position during the 2019 NFL Draft.
That being said, if the Redskins choose to either draft a quarterback and sit him for a year, or if they take the risk of not addressing the position at all, there are ways that the team can win with Keenum at the helm. Like all quarterbacks in the league, there are areas of play that he performs better in than others, and there have been situations around him that have elevated his play. Some may be glaringly obvious to anyone who watches the game, others maybe not so much, but here is how the Redskins can get the best out of Keenum should they give him the reigns for Week 1 of the 2019 season.
Subscribe to PFF Edge to continue reading
Already have a subscription? Sign In