When the Baltimore Ravens traded back into the first round to draft former Lousiville QB Lamar Jackson, the narratives wrote themselves. The end was nigh for Joe Flacco in Baltimore, Jackson was going to take the job for himself and it added the excitement that the Ravens offense had so sorely been lacking. That would have been great for pageviews around the NFL, but based on what we've seen so far this summer, and from Flacco in the second half of 2017, we're not quite there yet.
Yes, Jackson is absolutely the expected future franchise quarterback in Baltimore.
Yes, Flacco's time will come to an end.
It's just a case of it being more likely that the change happens ahead of the 2019 season rather than now.
Flacco against the Rams
It may only be preseason, but what we saw from Flacco against the Los Angeles Rams in the Ravens second preseason game was solid, and more importantly, featured throws downfield. From his eight dropbacks, Flacco scrambled once and threw the ball away on another snap. On those six plays where he threw a targeted pass, he completed five for 71 yards and a touchdown. The key takeaway though was that half of those targeted passes travelled 10-plus yards downfield, with Flacco going 2-for-3 for 42 yards. From a limited amount of work, he produced a PFF passing grade of 74.5 on the night.

Flacco 2017 second half goes against the narrative
On one hand, you don't want to put too much stock into a preseason performance that consisted of less than 10 dropbacks, but on the other, the Flacco we saw against the Rams was not dissimilar to the quarterback we saw in the second half of 2017. If you look at Flacco's passing grade for the full year, he ranks 20th among all quarterbacks with at least 100 dropbacks. Flacco dealt with a back injury throughout the summer, so if you look at just the first seven weeks of the season using week-by-week filters in PFF Premium Stats, he ranked 27th among the 32 quarterbacks with at least 100 dropbacks, with a PFF passing grade of just 61.1.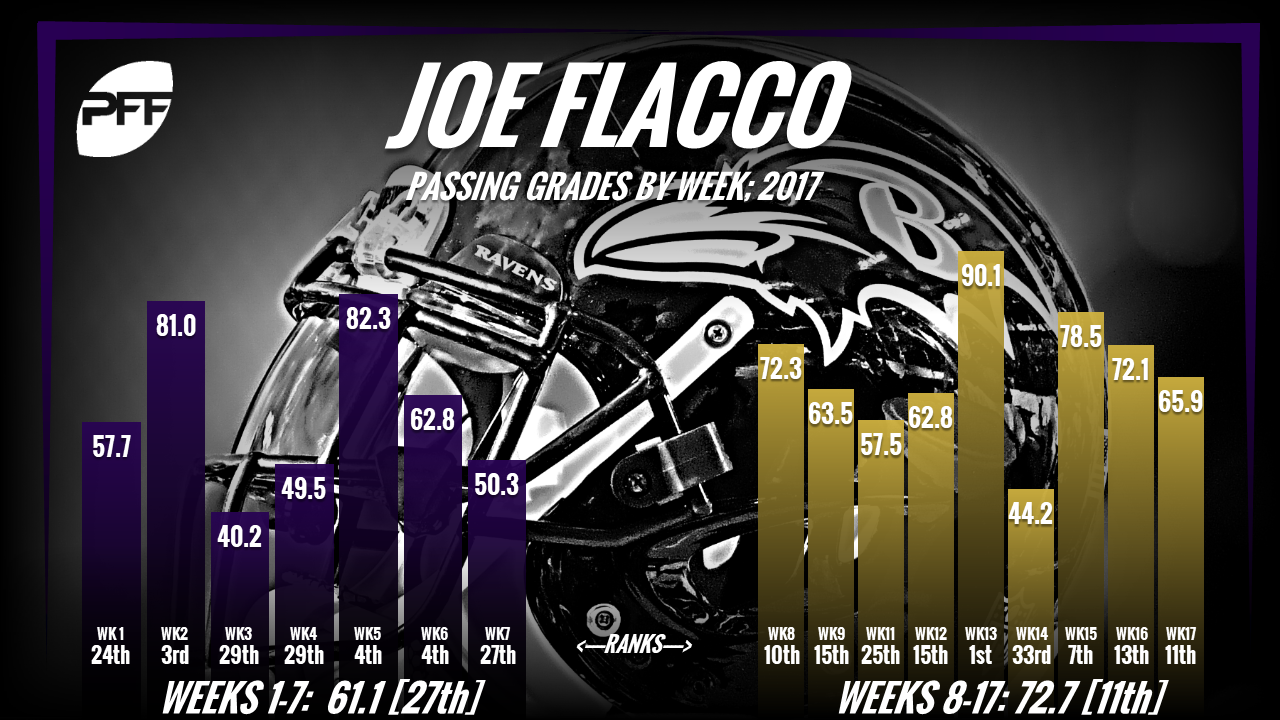 When you change it up and look at just his final nine games of the year, Flacco ranked 11th with a PFF passing grade of 72.7. His PFF passing grade on throws from a clean pocket also ranked 11th over that span, something which bodes well for 2018 considering that performance from a clean pocket is a more stable metric than under pressure.
This is not to say that Flacco is going to have another run like he had in 2012 when the Ravens won the Super Bowl, rather that it's not necessarily unrealistic that he could grade out as a top-15 quarterback if he can stay healthy in 2018. Let's not forget that he gets Marshal Yanda back to help keep him free from pressure on the offensive line, and that the Ravens appear to have upgraded at their top three wide receiver spots with Michael Crabtree, John Brown and Willie Snead.
Lamar Jackson's struggles and flashes of success
In flashes, we have seen exactly why the Ravens traded back into the first round to draft Jackson back in April. The speed and quickness that helped him win the 2016 Heisman Trophy also helped him to his first rushing touchdown of the preseason in the win over the Rams as well as the display of his velocity to get the ball downfield with just a flick of the wrist. While the direction of this article is that he doesn't look ready to start right now, the skillset that made him the 19th-ranked player on our final 2018 NFL Draft big board has been on display this August, so Ravens fans shouldn't be too dishearted with his struggles.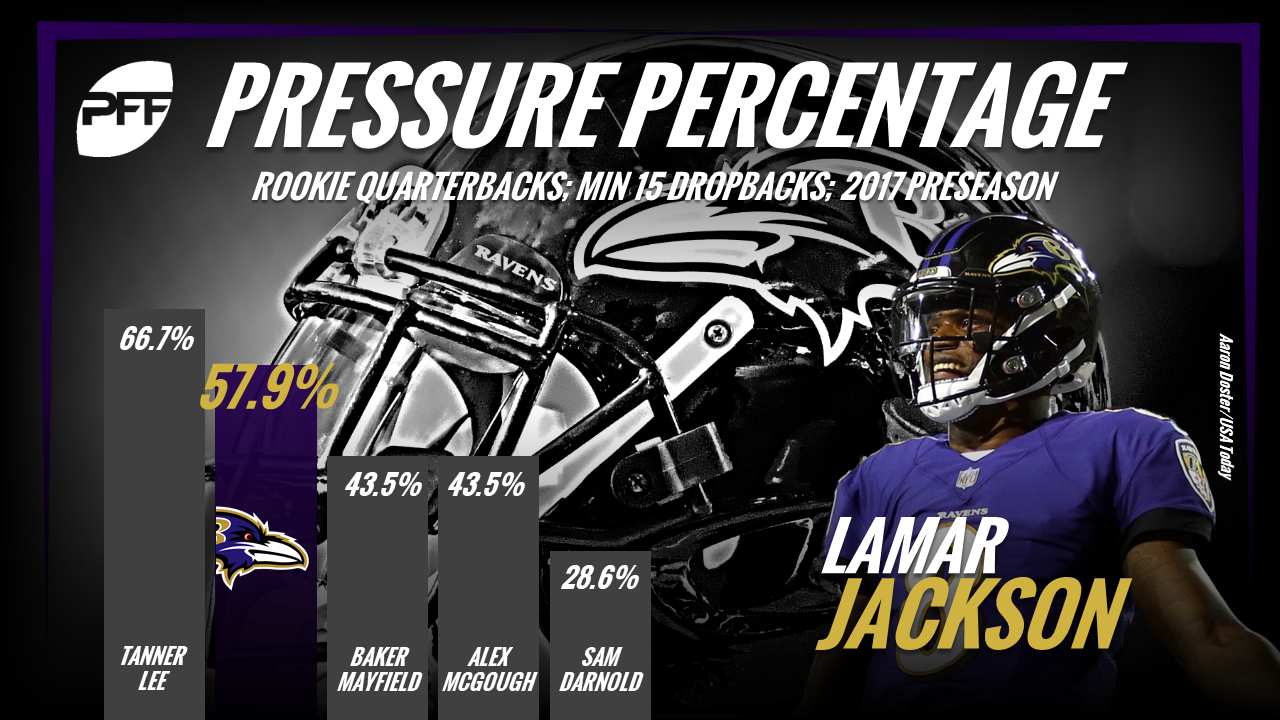 The biggest struggle for Jackson so far has been his consistency. We've seen plays where he has delivered the ball exactly where it needs to be and we've seen plays where he's used his feet to get himself out of trouble. The problem is that he hasn't done this on a play-to-play basis yet. Among rookie quarterbacks to see at least 10 dropbacks so far this preseason, Jackson ranks 10th in PFF grade at 52.2. Through two games, Jackson has an adjusted completion percentage of 56.3 percent, with just two drops from his receivers so far. He has completed just one of the six passes he has attempted travelling 20-plus yards downfield, and is just 4-of-13 for 86 yards on throws travelling 10-plus yards downfield.
In Jackson's defense, he has been pressured on 22 of his 38 dropbacks so far this preseason, and plenty of top quarterbacks would struggle with that volume of pressure, but the counterpoint to that would be that his PFF grade from a clean pocket of 56.7 ranks last among the five quarterbacks drafted in the first round.
This isn't a bad thing
While it might seem like something to be concerned about, Jackson not starting early in his career is far from a bad thing. Our own Steve Palazzolo wrote back in March that Jackson is the type of quarterback a team should want to build an offense around. Dropping him into the Ravens offense from Day 1 is not necessarily going to lead to success, and instead letting him get as much experience as possible this preseason, and working to fit the offense to his skillset heading into the 2019 season potentially puts the Ravens in a position of strength. From Steve's article back in March, 73 percent of Jackson's rushing yards came on designed runs, so building those type of plays into their offense makes a lot of sense for the Ravens.
We liked Jackson enough to have him as a top-20 player on our final big board, and two preseason games doesn't change that, but while many are looking for Jackson to assume his role as the starter soon, don't be surprised to have to wait until 2019 if the Flacco from the second half of 2017 shows up again.