The Miami Dolphins offensive line suffered a crushing blow on Friday when tests revealed that star guard Josh Sitton had torn his rotator cuff and will miss the remainder of the 2018 season.
The veteran guard suffered the shoulder injury in the second half of the team's season opener against the Tennessee Titans, after playing all 62 of the Dolphins offensive snaps.
The Miami Dolphins offensive line played impressively against the Tennessee Titans in Week 1. As a unit, they allowed just four quarterback pressures on their 31 passing plays and kept signal-caller Ryan Tannehill free from pressure on 87.1 percent of his dropbacks, which was the second-best mark of the week. However, the unit will now have to take on the rest of their schedule without the All-Pro guard in the lineup.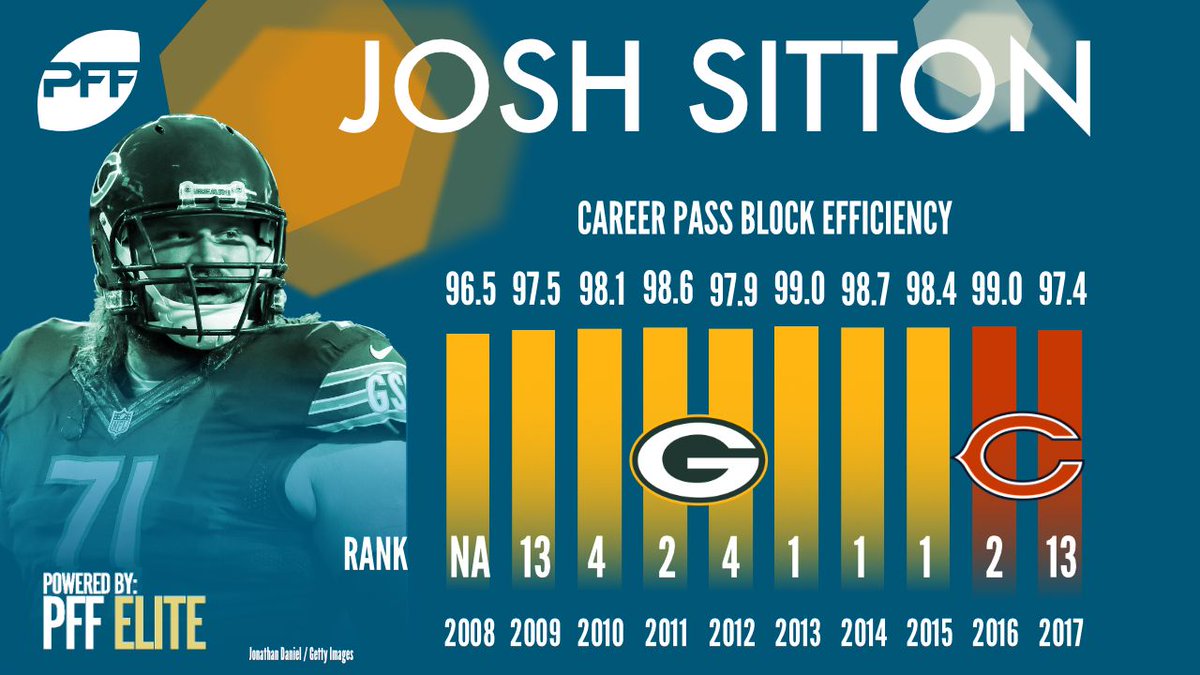 The void left at left guard will be difficult for Dolphins to fill, as Sitton is arguably the best pass-blocking guard in the entire NFL. In his 10 professional seasons, Sitton has been as consistent as they come as a pass-protector and is the only guard in PFF history to register pass-blocking grades above 80.0 in eight consecutive seasons, with the next-best mark sitting at six consecutive seasons.
From 2016 to 2017, Sitton allowed just 18 total quarterback pressures, averaged 44.7 pass-blocking snaps played per pressure allowed and registered a pass-blocking efficiency of 98.8 – all of which rank first among the 45 guards with at least 750 pass-blocking snaps in that span. He was beaten by a defender on less than one percent of his pass-blocking matchups.
The Dolphins will replace Sitton with veteran Ted Larsen, who will start on Sunday against the New York Jets.
In 2017, Larsen logged 521 snaps and started at left guard from Week 10 until the close of the campaign. He spent 338 of those snaps in pass protection, where he allowed one sack, three hits, and 12 hurries – registering a pass-blocking efficiency of 97.5 which ranked 39th among the 79 guards with at least 100 pass-blocking snaps in that span.
Larsen's efforts combined efforts as both a pass-blocker and a run-blocker earned an offensive grade of just 50.5, which put him 74th among 79 qualifying players at the position and 67 places below Sitton (76.7 offensive grade).
It's a tough ask, but for now, it's up to Larsen to step into Sitton's hunormous shoes and help the Miami Dolphins offensive line carry on their promising start to the season.