After 13 years as a stalwart in the middle of the Kansas City Chiefs' defense, linebacker Derrick Johnson will have a new home in Oakland at the age of 35, and his play, particularly in coverage, shows no signs of slowing down.
Johnson finished the 2017 season with a coverage grade of 86.0, which was good enough for seventh among 187 qualifying linebackers. The statistics that led to Johnson's impressive 2017 grade are staggering, as he allowed a 74.1 passer rating when targeted, batted four passes and gave up a catch rate of just 55.8 percent (best among linebackers).
Those numbers indicate that the veteran has yet to see a decline in his coverage ability.

Throughout the years, Johnson has been a consistent force in pass defense, posting a top five coverage grade of 86.5 in 2016 and a top 10 coverage grade of 86.4 in 2015. He has allowed just two touchdowns in coverage over the last three seasons combined, while tallying three interceptions and 10 passes defensed.
Johnson should be able to shore up an Oakland Raiders defense that struggled in coverage last season. The Oakland defense finished 24th in yards allowed on catchable passes – a facet Johnson excelled in. He allowed just 6.1 yards per catch on catchable passes, which was considerably lower than the NFL team average of 11.3 yards per catch on catchable passes.
The Oakland linebacker corps was picked on regularly in 2017. Linebackers Cory James, Nicholas Morrow and NaVorro Bowman finished 30th, 27th and 15th, respectively, out of 51 qualifying inside linebackers in yards allowed per cover snap in 2017. They combined to allow five touchdowns but managed to secure just one interception. All three players allowed more than 74.0 percent of passes thrown their way to be caught.
While Johnson isn't exactly tasked with covering a team's best pass-catchers, he did lock down some notable names when charged with the assignment. In 2017, he held Steelers' running back Le'Veon Bell to no catches on two targets and held Chargers' wide receiver Keenan Allen to one catch for seven yards on two targets.
The most prominent statistic for Johnson in 2017 is arguably his yards allowed per cover snap. He was tops among inside linebackers with 0.41 yards allowed per cover snap, finishing more than 0.25 yards lower than the next best.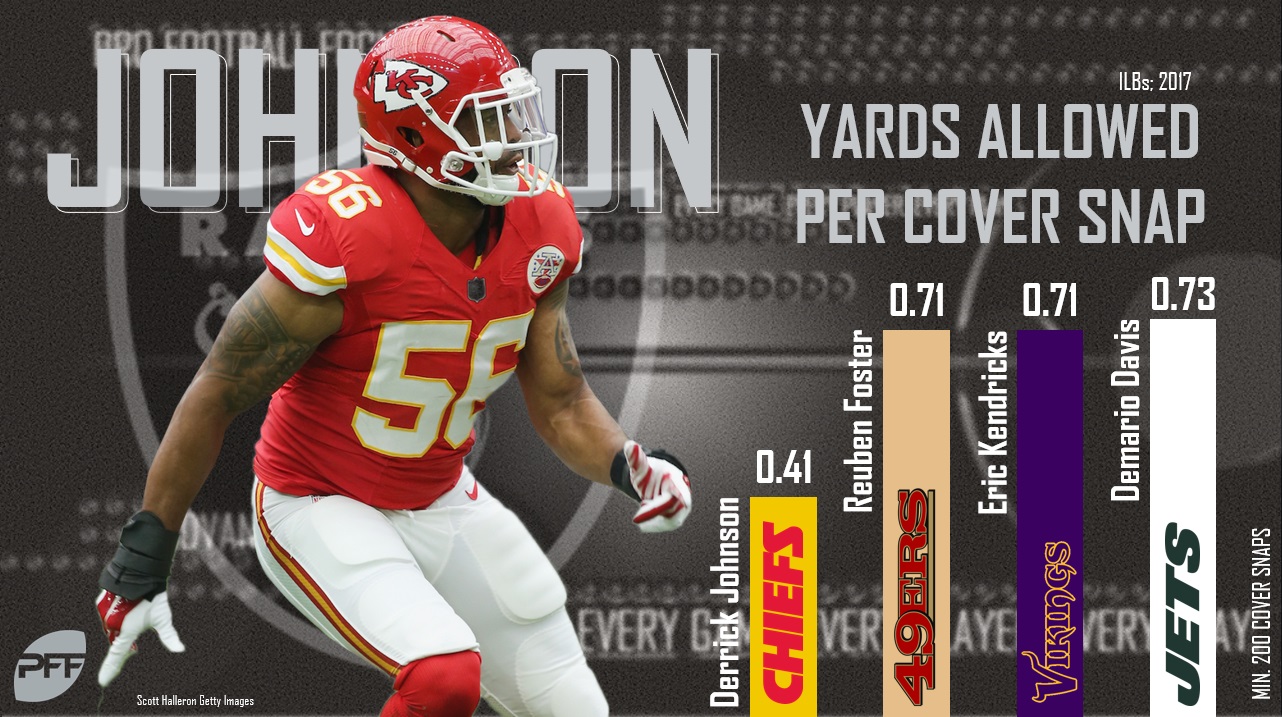 While Johnson's pass-rushing ability has fallen off over the past two years, the Raiders are getting a linebacker who will be tough to crack in the passing game.