After another stellar season as one of the highest-graded edge defenders in the league, Demarcus Lawrence received a massive five-year, $105 million contract extension from Jerry Jones and the Dallas Cowboys.
Lawrence had a slow start to his career. The 2014 second-round pick earned sub-72.0 pass-rush grades in each of his first three seasons in the NFL before exploding in Year 4 (2017).
In 2017, Lawrence posted a 91.6 overall grade — the highest single-season overall grade ever earned by a Dallas Cowboys defender in the PFF era (2006 – present). In addition to this, Lawrence also recorded the highest pass-rush win rate (24.0%) and the second-highest pressure rate (18.6%). However, Lawrence's astounding 2017 season wasn't just a one-hit wonder.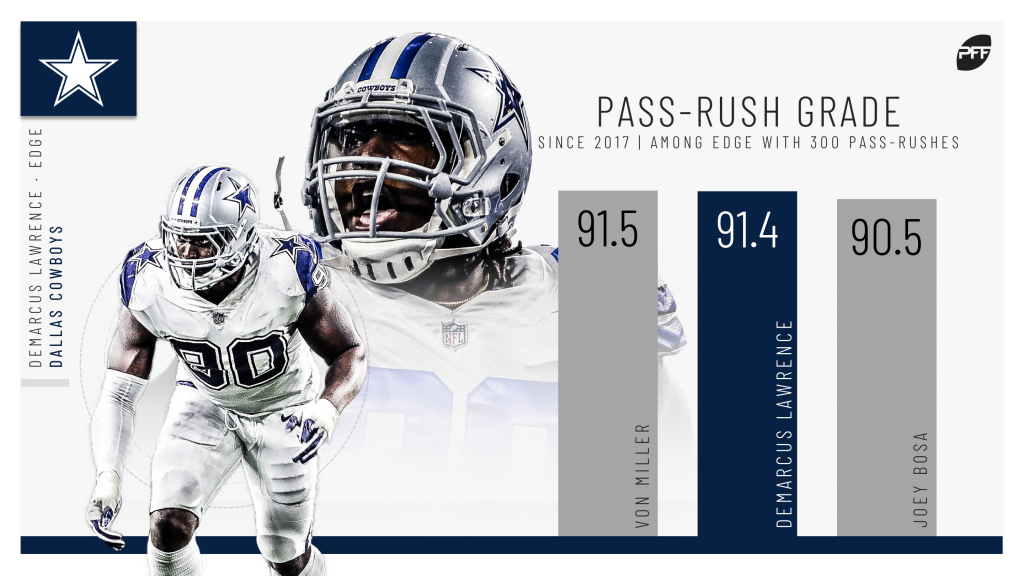 During the 2018 regular season, Lawrence put up an 89.5 overall grade (seventh), an 84.4 pass-rush grade (ninth), 44 defensive stops (fourth) and 63 total pressures (15th). And that astonishing two-year stretch has quite rightly catapulted him into the conversation for the NFL's best young pass-rusher. Since 2017, Lawrence's 91.4 pass-rush grade is the second-highest among edge defenders, trailing only Von Miller. Moreover, his 19.4% pass-rush win rate and 15.5% pressure rate in that timespan rank sixth and fifth among his position group, respectively.
Lawrence has thrived in this Dallas scheme. This past season, the Cowboys' defensive unit had the highest stunt rate in the league at 43.4%. On plays where Dallas did execute a stunt, Lawrence played particularly well. In fact, he was one of the top pass-rushers in the league on such plays, as he had an 85.6 pass-rush grade (second) and 37 total pressures (first). When there was a stunt and a blitz ran on the same play, however, Lawrence was clearly one of, if not the best pass-rushers in the NFL. Since 2016, on plays where Dallas ran a stunt/blitz combo, Lawrence ranks first in pass-rush grade at 91.0, second in pass-rush win rate at 23.2% and fifth in pressure rate at 18.4%.
Throughout his five-year career in Dallas, Lawrence has played exclusively at the 6/7-technique alignment. Out of his 2,890 career defensive snaps, Lawrence played 2,495 of them at 6/7-tech, and when lined up at 6/7-tech over his entire career, Lawrence ranks seventh among edge defenders in overall grade (90.0) and tied for sixth in pass-rush grade (90.0).
Although the start to his career was average for an edge defender, Lawrence has proven his worth over the last two campaigns, and he is making his case as one of the best pass-rushers in the NFL. In the PFF era, Lawrence ranks third among all Dallas defensive players in overall grade, first in pass-rush win rate at 16.2% and third in total pressures at 226. Since being selected with the 34th overall pick of the 2014 NFL Draft, Lawrence has far and away been the Cowboys' top pass-rusher. Lawrence's 88.9 pass-rush grade is 10 points higher than second place David Irving and has the highest win rate, pressure rate, and total pressures by a Dallas player in that period.
Despite the subpar start to his career, Demarcus Lawrence is proving to be among the NFL's best pass-rushers. His 2017 and 2018 seasons were among the likes of Von Miller, Khalil Mack, et al., and that's really all the proof needed to justify his prodigious contract extension.