One of PFF's unique selling points is being able to tell you more about offensive linemen than anyone else in football. We are the only people that have watched and graded every snap of every lineman over the NFL season and quantified how well they have done their job, rather than how well they looked while doing it or how good their technique was at the time.
One of our longest-standing awards at PFF has been the Bruce Matthews Award, given to the best offensive lineman in the NFL, regardless of position.
This season, there were a lot of big-name players missing time or hampered due to injury, which thinned a competitive field markedly. Joe Thomas was lost to injury, as was Jason Peters, and Tyron Smith battled various ailments throughout the season, but there was still some top-quality line play and several players stood up to be considered for the award. Missing three All-Pro caliber players opened up the race for other players to step their games up to the next level, and there were several players that did exactly that.
The winner of the 2017 Bruce Matthews Award to the league's best offensive lineman is Pittsburgh Steelers guard David DeCastro.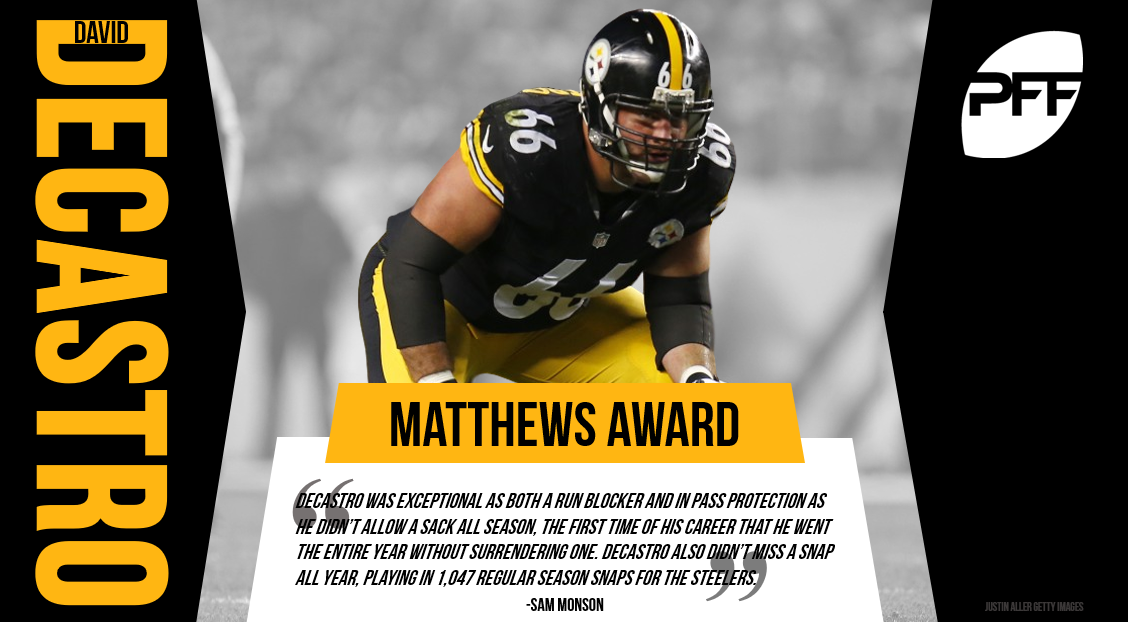 Last season was DeCastro's real breakout year where he took his game to another level, but in 2017 he had another career season. He pushed the bar even higher and ended the regular season ranked as the No. 1 ranked guard with an overall PFF grade of 92.5.
DeCastro was exceptional as both a run blocker and in pass protection despite the rest of that Steelers line taking a step backwards this year. He didn't allow a sack all season, the first time in his career that he went the entire year without surrendering one. DeCastro also didn't miss a snap all year, playing in 1,047 regular season snaps for the Steelers.
His pass protection was so impressive that he only surrendered 15 total pressures across 16 games, which earned him the third-best pass blocking efficiency score in the league at the position. He had five perfect games in pass protection, keeping clean sheets against multiple teams including some with top-quality opposing players.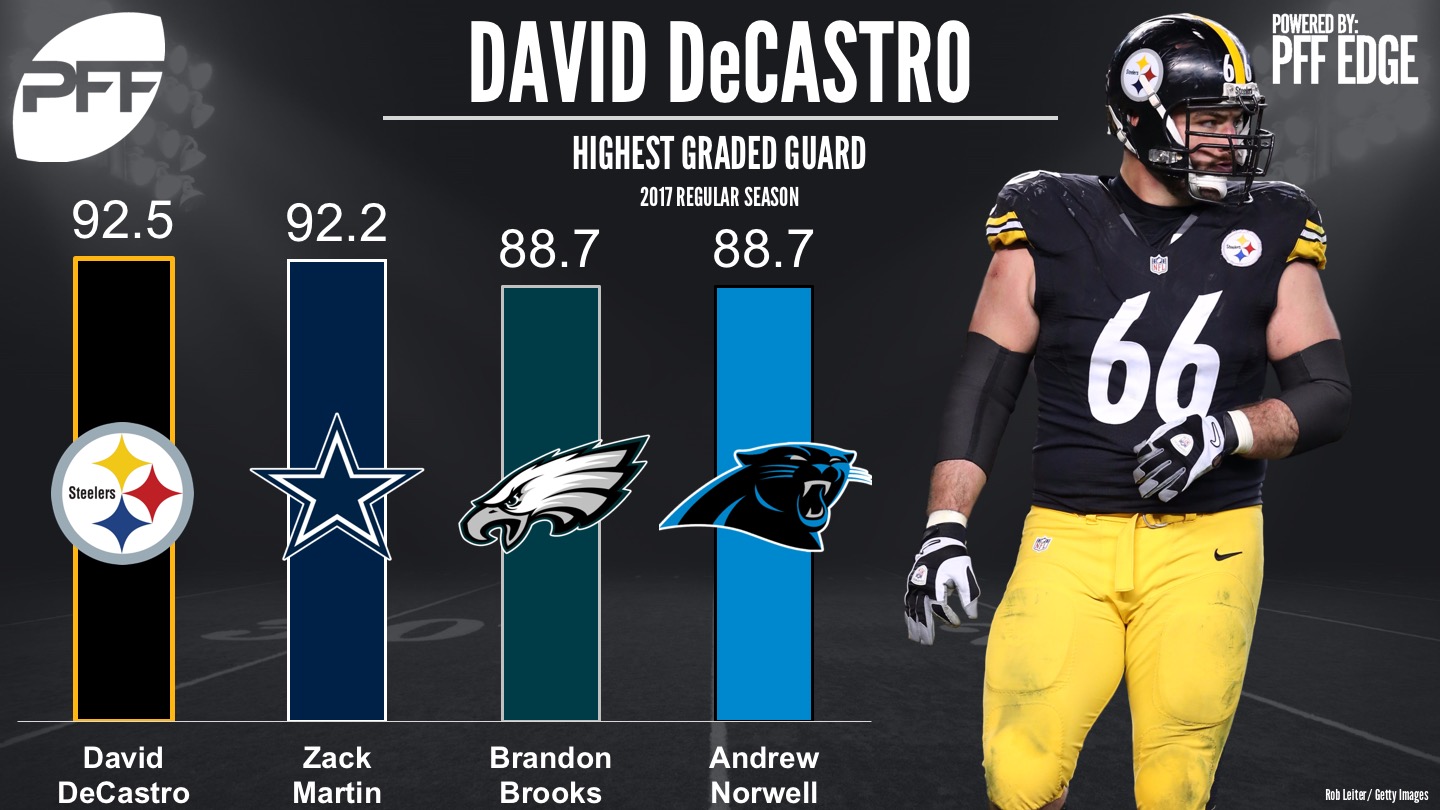 What's perhaps most impressive, though, is that pass-blocking may have been the weaker area of his game this season. DeCastro was dominant on the ground, showcasing some outstanding power in the Steelers' rushing attack. Whether it was driving players off the line at the point of attack or executing blocks on the move when pulling on power runs, DeCastro was consistently crushing defenders and opening up holes for Le'Veon Bell and the rest of the Steelers backs.
It didn't always equate to big runs because the rest of that Steelers line wasn't as impressive as they were a season ago, but DeCastro was good for a consistent win at one point in the blocking scheme for the Steelers. That might sound anecdotal, but it was backed up by the play-by-play grading mentioned at the top of this article. DeCastro led the NFL among guards in positive run-block percentage, just clear of two players that combined had fewer snaps than he did on the field.
The next-closest player to DeCastro's level of positive run blocks that had a comparable playing time was Rodger Saffold, who had 10 percent fewer positive blocks in the run game.
Ultimately, DeCastro was the game's best offensive lineman this season – a stud in all facets of the game – and a deserving winner of PFF's Bruce Matthews award.