Towering at 6-foot-4, 297 pounds, Da'Shawn Hand, who ran an absurd 4.83 at the combine, has always looked the part of a physical freak ready to dominate the NFL. However, there were questions whether Hand would be able to turn all of his physical tools into production on a consistent basis when he was coming out of Alabama.
He's answered all of the questions so far this season, as Hand has an overall grade of 89.6, which ranks eighth among qualifying defensive interiors, and is the highest-graded rookie in the NFL through Week 7. He also has an 88.0 pass-rush grade, which ranks fourth-best among any defensive interior with at least 200 snaps.
Hand has been even better than he was at Alabama, and that is a scary thought for opposing offenses throughout the league.

In Tuscaloosa, Hand didn't have a statistically impressive career. He played over 200 snaps in only his junior and senior seasons and never logged over 20 pressures. In 2016, he played a total of 310 snaps through 15 games, gaining 16 total pressures and just two sacks to go along with 12 defensive stops. It was his best season from a grading standpoint, earning a 78.3 overall grade, an 83.5 run-defense grade and just a 64.3 pass-rush grade. Hand generated a pass-rush productivity of 6.1 while playing around just 20 snaps per game.
Hand saw his role expand in 2017 but still failed to produce like many projected him to partly due to missing three games with a sprained MCL. Hand played 435 snaps in 11 games for an average of 39 snaps per game. Even with over 100 more snaps in his senior season, Hand still produced only 19 pressures and four sacks, the latter of which ranked 32nd among qualifying draft-eligible defensive interiors. He again recorded just 12 defensive stops and a 3.6 run-stop percentage that ranked 37th of 48 draft-eligible defensive interiors who played at least 25 percent of their teams' snaps. Hand also took a step back as a pass-rusher, generating a pass-rush productivity of 4.5 and a pass-rushing grade of 61.5.
Hand fell in the draft due to concerns with his lack of production and an off-field behavior, but the Lions jumped at the chance to snatch up the Alabama defender in the fourth round.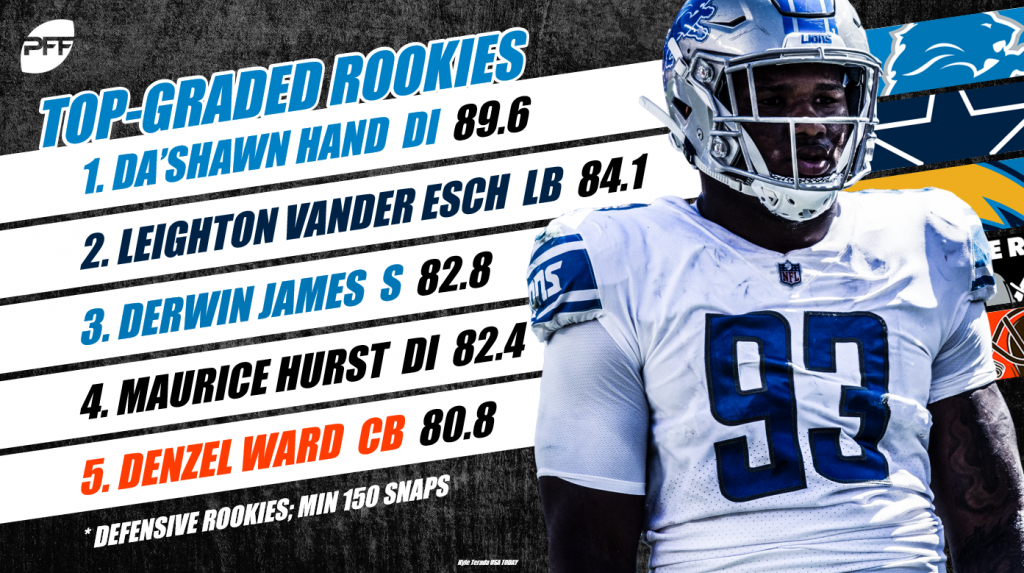 The Lions are surely very happy with those early returns, he already has 15 pressures and two sacks along with 13 defensive stops through six games – more than he ever had in a college season. He's playing 64 percent of the snaps for the Lions this season, and his aforementioned production along with his two forced fumbles shows he is more than making the most of the opportunity he's been given.
The rookie defensive lineman hasn't just been the best rookie this season; he is playing like one of the best defensive linemen in the league. Hand's overall grade of 89.6 and pass-rush grade of 88.0 rank 10th and sixth, respectively, among defensive interior and edge defenders with at least 200 snaps on the season. Among qualifying defensive interior players, Hand is ninth in run-stop percentage (10.8), 12th in run stops (T-11th) and eighth in pass-rush productivity (6.7). That number is even higher from the left, where Hand has a pass-rush productivity of 8.3, which ranks tied for fourth among qualifying defensive interiors.
Hand has always been an impressive physical specimen, but questions about his motor and whether his physical talent could translate to consistent production in the NFL caused many teams to pass on him not just once, but multiple times in the draft. The rookie has proved that when afforded the opportunity he could not only produce, but he could produce at a level on par with some of the best defensive interiors in the league. Through just six games, he already has more defensive stops and nearly more pressures than he ever had in an entire season in college. He plays every week like a man on a mission. He is proving that he is much better than he ever was at Alabama and he is making 31 teams regret passing on him in the process.