The Kansas City Chiefs' two-year, $5.1 million extension of veteran running back Damien Williams likely solidifies him as the team's top back, but veteran talents behind Williams, Carlos Hyde and Darrel Williams, shouldn't be awarded the luxury of solidified roles in Kansas City's offense.
Hyde's one-year deal signed in March already includes $1.5 million guaranteed, which should be enough to keep the Chiefs' brass from parting ways before the start of the 2019 season. But the same can't be said for Darrel Williams.
Signed as an undrafted free agent in 2018, the 6-foot-1, 229-pound Williams is a lumbering back with underwhelming speed and elusiveness. He rushed for 53 yards across 16 carries (3.3 yards per carry) as a rookie this past season, and his longest run went for eight yards. In his career-best season at LSU (2017), he rushed for 820 yards and nine touchdowns but averaged fewer than three yards after contact per carry and just 0.146 forced missed tackles per carry. He's due just $10K in guaranteed money if released prior to the season, a small price to pay to push either Darwin Thompson or James Williams into the limelight.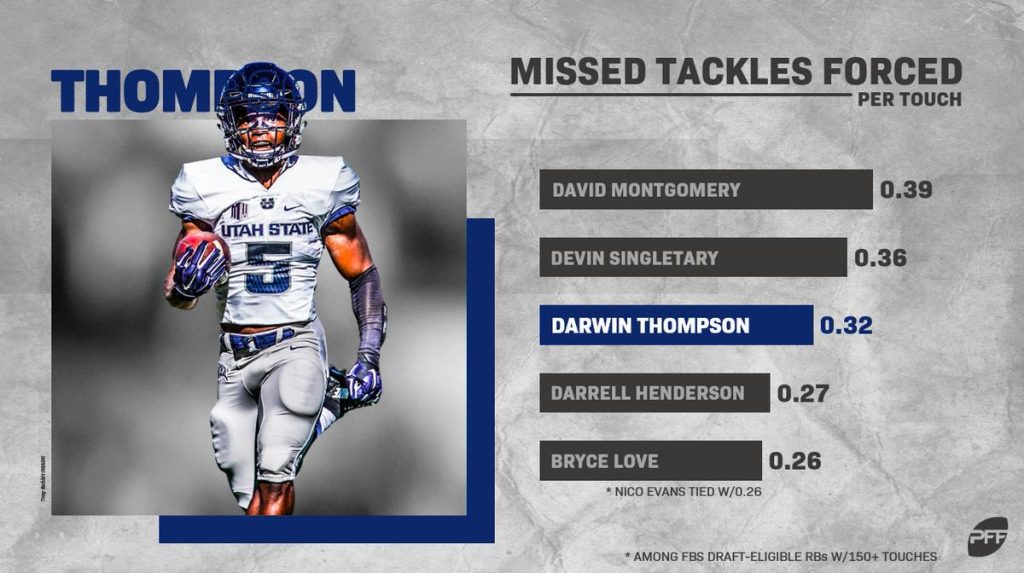 DARWIN THOMPSON
A former three-star running back with zero offers coming out of high school, Thompson went from unsung JUCO product to human highlight reel with Utah State. The 5-foot-8, 198-pounder still didn't receive an invite to the 2019 NFL Scouting Combine, however. Overlooked at every turn of his career, Thompson carries a hefty chip on his shoulder and has learned to thrive at the bottom of the depth chart – his play in 2018 is an example of that.
Thompson's 2018 campaign is one of the best recorded in the PFF College era (2014-18). Among the 876 times an FBS running back has logged 100-plus carries in a single season, Thompson's 2018 campaign ranks tied for 10th in forced missed tackles per carry (0.32) and ninth in yards after contact per carry (5.1).
Hauling in 24 passes for 367 yards and two touchdowns as part of his epic 2018 season, Thompson led all 83 FBS backs with 20 or more receptions in yards after contact per reception (18.5) and forced missed tackles per reception (0.542) on the year.
Already drawing some buzz in camp, Thompson is a poster boy for where the NFL is going. Elusiveness, contact balance and versatility have become more important than size and three-down ability for today's running backs.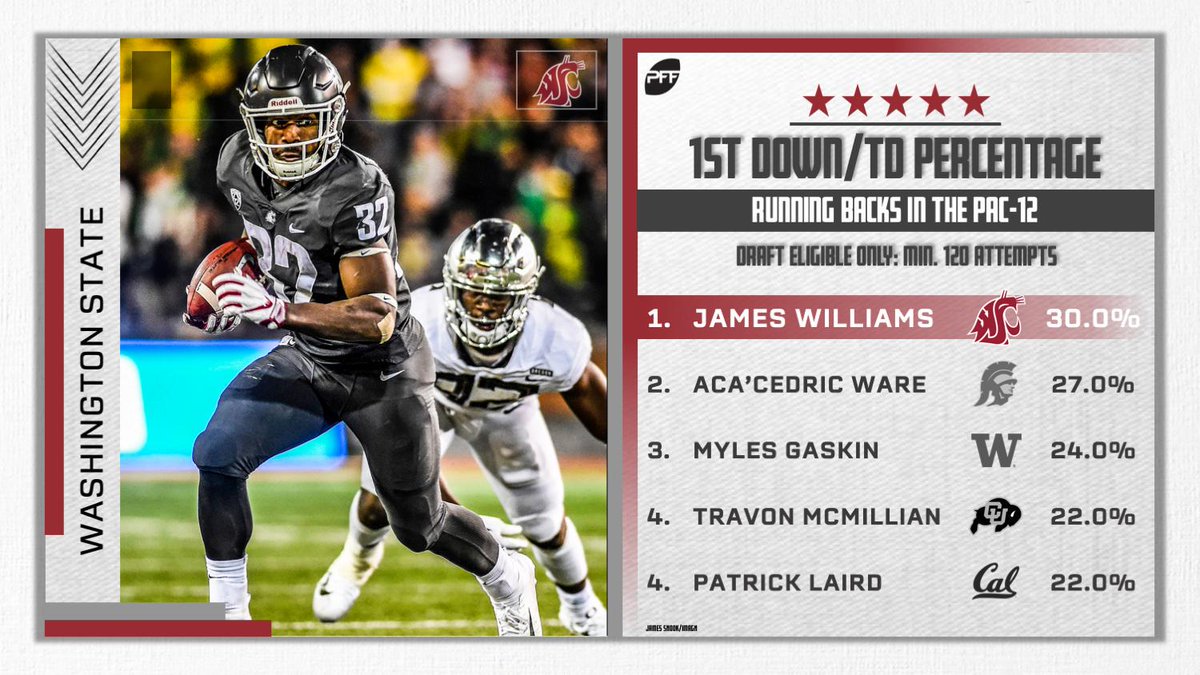 JAMES WILLIAMS
 Put simply, Williams' receiving production at the collegiate level is some of the best we at PFF have ever seen. No FBS running back has more targets (229), receptions (202), first-down receptions (72) or forced missed tackles on receptions (88) than Williams in the last five years.
Williams' high receiving production and grades are a product of his ability to force missed tackles. Not only has he forced the most missed tackles on receptions in the PFF College era, but he also ranks fifth in forced missed tackles per reception (0.436) among the 73 FBS running backs with 75-plus targets since 2014. The first six on the list goes as follows: Alvin Kamara (0.493), Sony Michel (0.492), David Montgomery (0.471), Kenneth Dixon (0.446), Williams (0.436) and Christian McCaffrey (0.420).
 As a result, Williams owns three of the top-15 single-season receiving grades recorded by an FBS running back in the PFF College era, and his 90.7 receiving grade in 2018 ranks sixth among the 264 qualifying single-season performances. McCaffrey (93.1) and Kamara (92.0) lead the list with their efforts in 2015 at first and second, respectively.
Williams was no slouch running the football, either. He ranked tied for 10th among qualifying backs in forced missed tackles per carry (0.30) and recorded the second-lowest percentage of carries where he was tackled on first contact (57.4%). His new teammate, Thompson, ranked fifth in the latter metric at 59.6%.
FINAL THOUGHTS
Investing a sixth-round pick and just under $130K guaranteed in both Thompson and Williams is an approach to the running back position all 31 other teams should follow. Signing Hyde to a one-year deal with $1.5 million guaranteed at signing is, quite frankly, the opposite.
Ideally, Kansas City's brass finds a way to right the wrong and sprinkle both Thompson and Williams throughout their offense in 2019 rather than follow in Hue Jackson's footsteps and hammer Hyde to the tune of 100-plus carries while better backs warm the bench.