He didn't receive any offers as a three-star running back recruit coming out of Oklahoma's Jenks High School in 2015. He didn't receive any Power-5 offers coming out of junior college a few years later. He didn't receive an invite to the 2019 NFL Scouting Combine after a standout year in 2018.
Utah State alumnus Darwin Thompson, a top-15 running back in terms of overall grade this past season, is used to being overlooked, used to being the underdog. And he wouldn't have it any other way.
"I'm supposed to be the underdog," Thompson said in a February interview with Pro Football Focus. "I've been like this all my life. I've never been handed anything. I've had to work for everything. I've had to prove my worth… It's God's plan. It's another opportunity to prove my worth and inspire somebody else. Don't let the doubters weigh you down."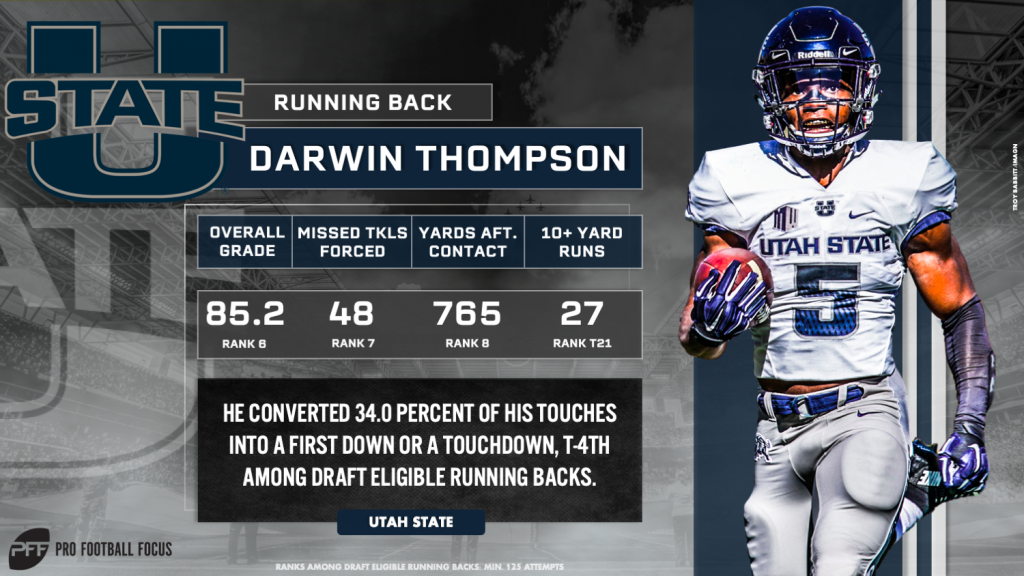 Thompson, while flying under the radar with the Aggies in 2018, gained 1,210 yards after contact and forced 61 missed tackles across his 175 touches. He ranked fourth in forced missed tackles per touch (0.349) and second in yards after contact per touch (6.91) among the 210 FBS backs with 100 or more touches on the year.
Though limited to just 151 carries this past season, Thompson ranked eighth in forced missed tackles per rush (0.318) and sixth in yards after contact per rush (5.07). His ability to make defenders miss in the open field and remain upright through contact is among the best entering this year's draft.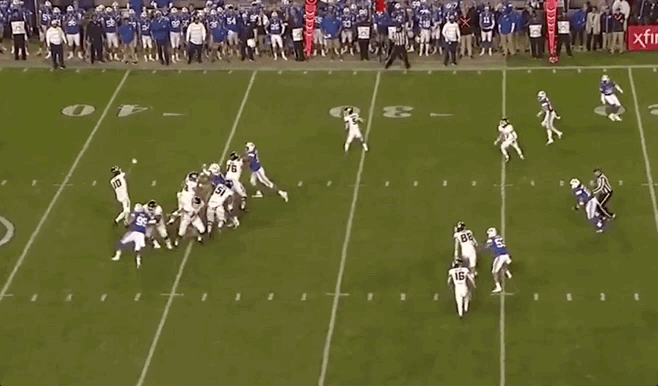 Looking specifically at his receiving ability, where the 5-foot-8, 200-pounder will make most of his money in the NFL, Thompson led all 83 FBS backs with 20 or more receptions in yards after contact per reception (18.5) and forced missed tackles per reception (0.542).
Thompson, however, has no intention of limiting himself as just a third-down back or a receiving back. He believes he can do it all.
"I'm an every-down back," Thompson said. "I can play every down. I can pass block. I can run short yardage. I can bust for the big play. I mean, I can catch the ball. I can do it all. I'm sure there are things I can get better at, but there's room for improvement for everybody."
[Editor's Note: Check out Darwin Thompson's profile in our 2019 NFL Draft Guide to see all of his advanced stats, grades and more. ALL PFF EDGE and ELITE subscribers already have access to the guide. Sign up today!]