The best news that could have come out of Los Angeles this week on the injury front hit the news cycle several days ago: Cooper Kupp will not open the season on PUP, and it sounds as if he will be a full-go at training camp. Surely, that's not more important than Todd Gurley returning at full strength from the knee issues he's been dealing with, right? Well, the numbers behind Kupp's impact on the Los Angeles Rams' offense and the drop they saw after his torn ACL and resulting absence may surprise you.
In games in which Kupp played in 2018, the Rams fielded the top-graded offense in the league in PFF grade by a healthy margin (92.9 team offense grade – next closest was the New Orleans Saints at 86.5 over those eight weeks). They had the highest percentage of plays resulting in positive expected points added and were one of only three teams with a rate over 50%, along with the Saints and Kansas City Chiefs. They averaged 7.5 yards per play with Kupp on the field last year compared to just 5.3 yards without him in the regular season. Those numbers would have ranked first (by a full yard) and 18th in the NFL, respectively. It's hard to overstate just how important he was to their team.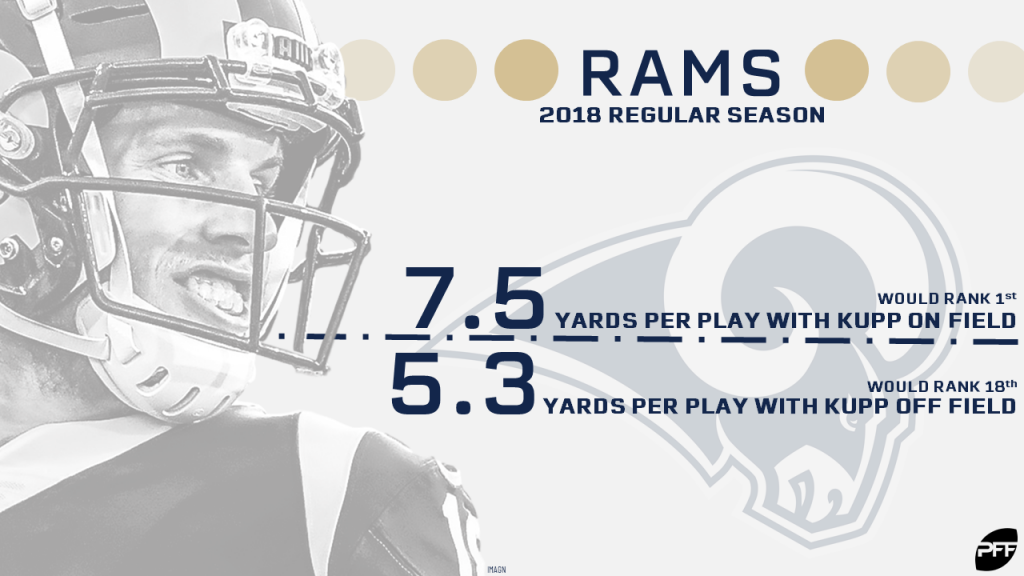 Kupp's rise to one of the main engines in the LA offense has been abrupt. The Rams spent a third-round pick on the Eastern Washington product just two years ago, and it certainly appears to be trending towards a mid-round steal.
Since 2017, Kupp's 78.3 overall grade when lined up in the slot ranks ninth out of 69 wide receivers who have played at least 300 snaps lined up inside. He finds himself sandwiched by names such as Julian Edelman, Larry Fitzgerald, T.Y. Hilton and Amari Cooper. His 129.9 passer rating when targeted in the slot ranks third among all wide receivers with at least 50 slot targets since 2017, falling behind only Tyler Lockett and Tyreek Hill. Early on in his career, Kupp is already finding himself among the most effective slot receivers in the NFL.
That reliability from the slot has become Jared Goff's best friend. Goff's numbers jump across the board when he looks Kupp's direction. His passing grade goes from 82.5 on all passes over the last two seasons to 93.3 when targeting Kupp. His yards per attempt jump from 8.2 to 10.4.
Part of that success when throwing to his soon-to-be third-year receiver is that Kupp simply gets open. 76 of his 139 regular-season targets since entering the NFL have come with two or more steps of separation, the highest rate of any wide receiver in the league. Yes, part of that is McVay's offensive scheme getting Kupp open looks, but you can't pin it solely on that. Kupp is a polished route runner that understands how to get open and does it frequently. Open receivers make things a whole lot easier on the quarterback and open things up for the offense in return. The Rams missed Kupp in that regard as the season closed down in 2019, and it's a large contributor to their offense tailing off after his injury.
Now that he is back, they will once again have three high-level wide receivers to employ on the field at all times with Kupp, Robert Woods and Brandin Cooks. Considering the Rams utilized 11 personnel on over 90% of their offensive snaps last season — easily the highest rate of any team in the league — those three are primed to share the field often once things kick off in September. That is great news for Los Angeles, and it should have their offense firing on all cylinders next season, regardless of how healthy Gurley is to start the year.