The Cleveland Browns have been rocking this offseason. Considered by many as one of the most complete teams in the NFL, the Browns then opened up question marks on the offensive line by sending guard Kevin Zeitler — the second-highest graded pass-blocker (91.7) in the NFL last season — to the New York Giants in exchange for edge defender Olivier Vernon. To further complicate things, there is now a hole that needs to be filled at left tackle.
The days of future Hall of Famer Joe Thomas protecting the blindside for the dawg pound are in the rearview mirror. In the first full season without the former first-round pick, the Browns opted to insert rookie undrafted free agent Desmond Harrison into the starting lineup at left tackle. But following a tumultuous 2018 that ended with Harrison being benched in Week 9, the team announced they had released the second-year pro shortly after he failed to show up to the team's mandatory minicamp.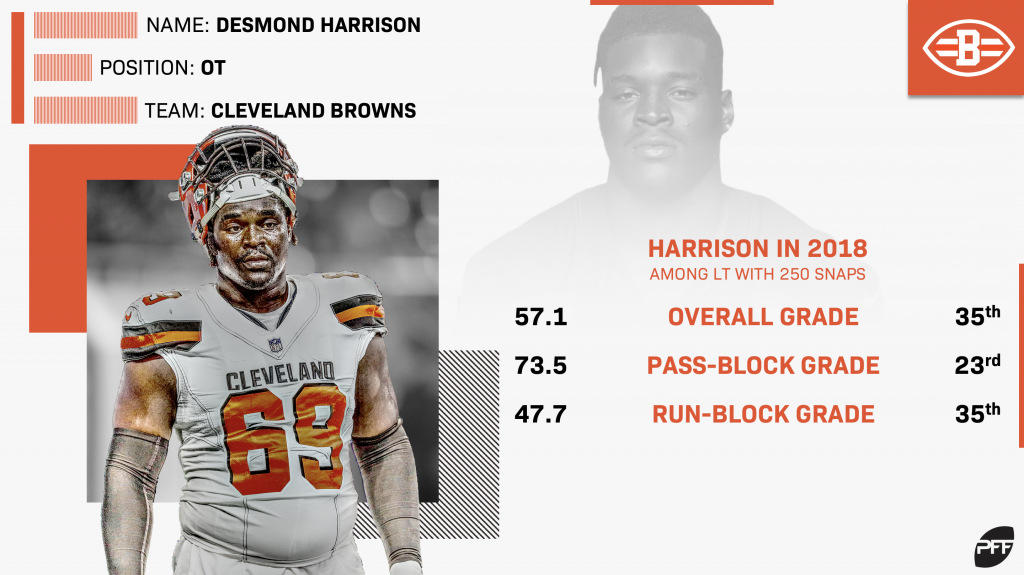 Harrison began his career like many an undrafted rookie free agent — with the lowest overall game grade of his career (46.7). But even early on, the former West Georgia Wolf showed that he could hold his own in the passing game. Harrison earned a 78.5 pass-blocking grade in Weeks 1-4, which tied for the 14th-best mark among offensive tackles in that span, and he allowed just 14 total pressures on his 176 pass-blocking snaps.
There was a reason for optimism for the rookie as he improved his overall game grade in each of his first four career-starts, culminating in a career-high 72.9 overall in the Week 4 overtime thriller against the Oakland Raiders. However, following that loss, Harrison failed to reach 56.0 overall in a game and that subsequently led to his benching in Week 9.
While Harrison had his struggles throughout his tenure as the starting left tackle, the rookie did perform well in some key areas of the passing game. A season ago, Harrison led the Browns' offensive tackles in pass-blocking grade when facing the blitz (81.4), against stunts (73.4), and on his ever-important red-zone snaps (76.7) — all of which ranked among the top-30 tackles in the NFL in 2018. Impressively, Harrison only allowed two total pressures on his 34 red-zone snaps, both of which came against some of the best pass-rushers in the NFL in Terrell Suggs and Melvin Ingram III.
If Harrison can improve on his subpar run-blocking grade (47.7, 77th among 85 tackles) and continues to show promise as a pass-blocker, then the former Brown may be able to not only find a new home in the NFL but make an impact wherever he lands.