The Cleveland Browns are now favorites for the AFC North in 2019 after making several splash moves in free agency.  That's not opinion or a hot take based off some esoteric metric. For the first time since they returned as an NFL franchise, they are the Vegas favorite to take the division.
Also for the first time in the PFF era (2006 – Present), there is a case to be made that Ben Roethlisberger is not the best quarterback in the division, such has been the immediate impact of last year's No. 1 overall pick, Baker Mayfield.
Cleveland's house of horrors at the position has been well documented, but Mayfield hit the ground running in the NFL and picked up almost exactly where he left off in college, where he earned the highest PFF grades we have ever seen in the NCAA. He didn't quite post the best rookie quarterback grade we have seen in the NFL, but he ran Russell Wilson close and now owns the second-best PFF grade since 2006 among first-year passers.
The transformation of the team the instant Mayfield took over was palpable, and it kicked into high-gear the franchise's rebuilding process, catalyzing a series of roster-building moves that have seen the team overhaul a roster that had already been moving in the right direction.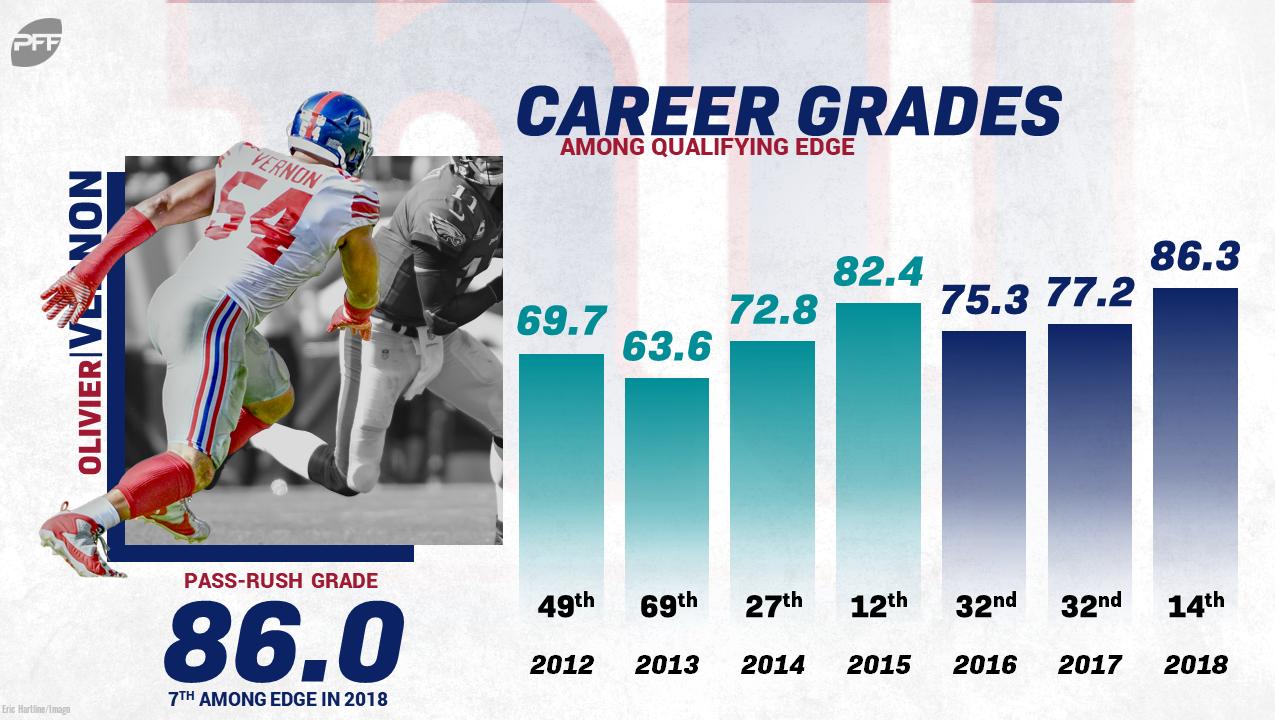 Olivier Vernon Trade
Entering free agency, the Browns had the third-most salary cap space with $81.4 million, enabling them to acquire a player like Olivier Vernon from the New York Giants in a trade. Vernon is a player seen largely as a disappointment in terms of perception because he is being judged against an inflated free agency contract that he may never be able to match, but he has been a far better player than that reputation, can add valuable consistent pressure as a secondary pass rusher opposite Myles Garrett for Cleveland, and the Browns are able to absorb the inflated contract without the worries other teams would have.
Vernon has averaged 57 total pressures over his past three seasons in New York, a figure which would be 17 more than any Browns defender after Garrett last season and only 10 fewer than their star pass-rusher. Vernon will also be moving from arguably the hardest job in the NFL – rushing against the NFC East's left tackles – to a much easier proposition against the AFC North's right tackles, something which is sure to increase his overall efficiency.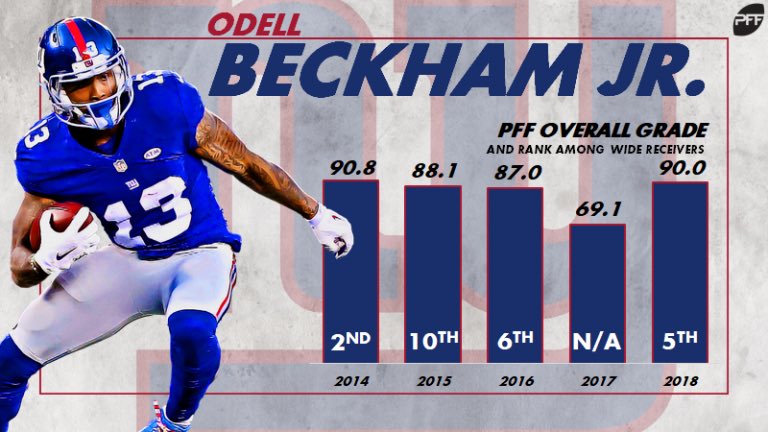 Odell Beckham Trade
But the biggest move the Browns made was trading for superstar receiver Odell Beckham Jr., giving Mayfield a legitimate No. 1 target and creating one of the most impressive QB-WR tandems on paper in the league. Beckham has two NFL seasons above 90.0 in PFF grade since entering the league, including this most-recent year despite dealing with an aging and declining Eli Manning at quarterback who ranked just 31st in PFF grade.
Since Beckham came into the league he has been one of the most productive receivers in the game, ranking up with Antonio Brown, Julio Jones and DeAndre Hopkins in overall PFF grade as well as yards per route run over that period. Beckham is arguably a better threat after the catch than any of those players, with only new teammate Jarvis Landry and Golden Tate notching more broken tackles with the ball in his hand since 2014.
As a rookie, Mayfield's top target was Landry, a player better suited to be a complementary force inside than a true number one weapon. After Landry, rookie Antonio Callaway was the next-highest wideout in terms of targets on the year with 78, catching only 43 of them (55.1 percent) and earning a PFF grade of only 63.6 overall. Beckham now gives Cleveland one of the best receivers in the game, who suddenly gets paired with a significant upgrade at quarterback and allows the rest of their stable of pass-catchers to improve by proxy of being shuffled down the pecking order and reaping the associated benefit of no longer being the primary focus of defenses.
Critically, the franchise addressed two of the most important areas – pass-rush and receiving – while impacting arguably the two least important positions in football (guard and safety) in trades to make it happen.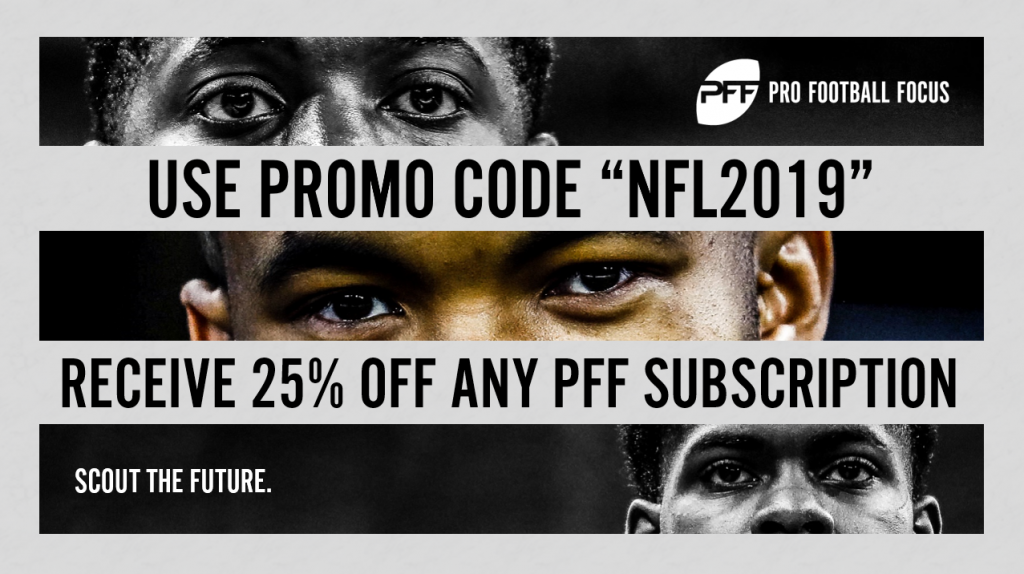 Sheldon Richardson signing
The biggest moves the Browns have made were so significant that bringing in a quality force on their defensive line will barely move the needle or get noticed, but Sheldon Richardson is one of the most talented defensive linemen in the game, even if he doesn't always show that on game days. While he may have the potential to be even better, Richardson's baseline is that of a good and productive interior lineman. He has overall PFF grades above 70.0 in each season of his career and has averaged 44 total pressures in his career – a mark that would have tied with Jurrell Casey in 2018. The new-look front four of Garrett, Richardson, Larry Ogunjobi, and Vernon has the potential to rival any front four in the game and immediately elevates Cleveland's defense to a unit that will cause issues for any team in football, with the draft still to come.
Overall
Any franchise becomes transformed the second they finally find their franchise quarterback, and that finally happened a year ago for the Browns after 19 years of searching. Having a quarterback on a rookie contract opens a window of opportunity, and few teams in recent years have lept at that opening with the enthusiasm the Browns are currently displaying. The hype train is in danger of gaining too much steam, but this team looks very much for real and are rightly favorites to take the AFC North for the first time since it even became the AFC North.