As the 249th selection of the 2017 NFL Draft, Chris Carson has had his fair share of doubters, but PFF data suggests that he is far and away the most productive runner in the Seattle Seahawks' backfield — and potentially the entire NFC West.
Amid a season where he saw 257 carries, Carson amassed 45 forced missed tackles on rushing attempts — tied for second in the league — which resulted in an 82.0 rushing grade.
It was not a complex tell for opposing defenses when Carson was on the field; the Seahawks were most likely running the football. Of Carson's 2018 snaps, 61.3% came on run plays, which was the fifth-highest rate among players with 200-plus offensive snaps. As a result of Seattle's affinity for "establishing the run," teams crowded the defensive box with eight or more defenders on 30.5% of their run plays. Even with the unfavorable situation, Carson saw 29% of his carries against heavy boxes result in either a first down or touchdown, which ranked fifth among qualifying backs and earned an eighth-ranked 73.5 grade in said situation.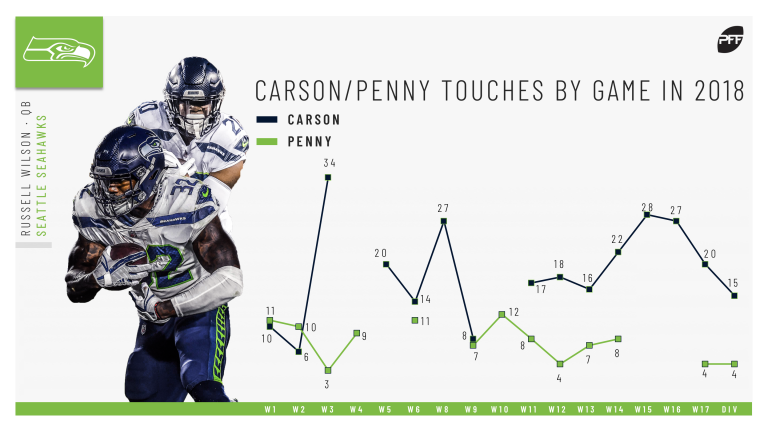 When looking at Carson's production, it is tough to believe his achievements with Seattle's 22nd-ranked team run-blocking unit. Carson saw negative yards before contact on 124 of his 257 total rushing attempts — the sixth most in the league — and earned a 65.7 grade. Although it was a relatively low grade, the mark ranks first among qualifying running backs. The two-year vet also gained 3.3 yards after contact and 20 first downs on these plays, the latter of which ranks first at his position.
With a successful 2018 season behind him, Carson enters camp as the workhorse back while competing with 2018 first-round pick Rashaad Penny. The talk from Penny's camp remains positive as the back has been labeled "stronger and faster than he's been." Penny participated in 14 games last season but recorded zero starts while earning a 66.0 rushing grade on 86 attempts. Though slightly more efficient (Penny's 4.9 YPC vs. Carson's 4.7) Penny was utilized in more favorable situations as he rushed against a stacked box on 23.2% of his runs compared to Carson's mark of 33.8%.
There is little concern about Carson's health entering 2019 after getting work done on his knee earlier in the offseason — undoubtedly good news for fantasy football owners (and obviously Carson) as PFF projects him to attain 794.9 rushing yards on 190.2 carries, as well as secure 6.4 total touchdowns. Although his 2018 campaign surmounts his 2019 projections, Carson is still being taken off the board as RB21 and will continue to trend upward should he remain preferred to Penny in the NFL preseason.