Melvin Gordon II leads all running backs with at least 250 offensive snaps in overall grade (87.6) through Week 12, so to say his play in its entirety is replaceable is misleading. But, the back taking Gordon's place as he works toward his return from an MCL sprain, Austin Ekeler, isn't the significant downgrade some see in the second-year Western State Colorado University product.
Dropping the qualifying snap count total down to 200, Ekeler leads all running backs in overall grade (89.5) and receiving grade (90.7) through Week 12. His ability to create yards above expectation – both in the passing game and as a runner – is among the league's best at the position.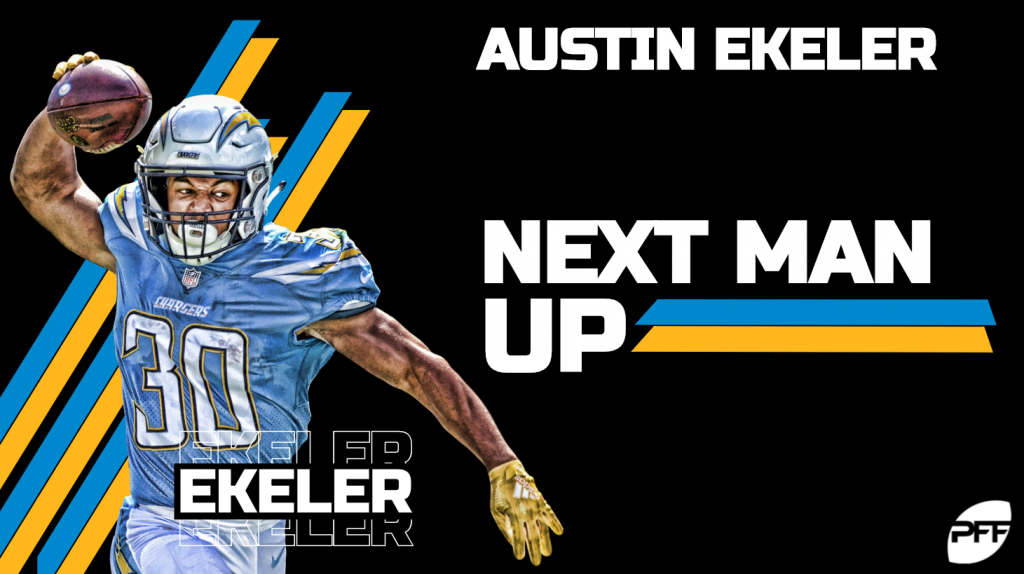 Ekeler ranks tied for second in forced missed tackles per touch (0.25) and second in yards after contact per touch (4.01) among the 44 NFL running backs with 100-plus touches on the year. He also leads the group of backs in yards per touch (7.48) and ranks tied for third in percentage of touches resulting in a first down or touchdown (34.3%).
With Gordon out, Ekeler's role will go from complement to lead back as it did when Gordon missed the Los Angeles Chargers' Week 7 affair with the Tennessee Titans. Though Ekeler averaged just 3.5 yards per carry across 12 attempts in the game, the uninspiring box-score totals were products of poor offensive line play more than they were reflective of Ekeler's play.
Against Tennessee, Ekeler was contacted at or behind the line of scrimmage on five of his 12 carries and gained just nine yards from scrimmage on the disadvantageous opportunities. He turned his seven other carries into 33 yards (4.7 yards per carry) and two first downs.
Getting the best out of Ekeler in Gordon's absence will require more than better play front, as well. It's no secret that the 5-foot-10, 200-pounder is at his best in the receiving game. Rather than making a concerted effort to establish the run with Ekeler as the lead back, Los Angeles can play to the back's strengths and increase his opportunities through the air.
In addition to his first-ranked receiving grade, Ekeler leads all backs with 20-plus targets in yards per route run (2.70) and ranks third in passer rating when targeted (133.6) through Week 12. Also, looking at passes thrown at or behind the line of scrimmage, Ekeler has caught 16-of-19 targets for 159 yards, six first downs and one touchdown so far this season and ranks fourth in passer rating when targeted on such throws at 119.6.
Los Angeles will undoubtedly miss Gordon's presence in the backfield for as long as he's injured, as his role in the one-two punch of himself and Ekeler was second to none in the NFL when healthy. Ekeler, however, has shown no signs that he'll let the running back position become a liability for the Bolts for as long as Gordon is sidelined.