There aren't many players in the National Football League who can come close to shutting down Von Miller one-on-one, but we're going to get a look at somebody who has done it before in "Sunday Night Football" this week when Miller and the Broncos host Mitchell Schwartz and the Chiefs.
[Check out PFF's full preview of Chiefs-Broncos in our Big-Game Breakdown video.]
Schwartz had been playing well throughout his career, but he really put himself on the map last season – and probably helped himself secure the lucrative free-agent contract he did in the offseason – with his performance against Miller while with the Browns last year.
Last season Von Miller played in 19 games. He tallied 105 total pressures in those games, or 5.5 per game. Against the Browns that week, he notched only three, and just one against Miller. That lone pressure came late in the game and Schwartz saw him nine yards deep in the pocket. Had QB Josh McCown not had interior pressure to deal with as well, it's likely he would have been fine with one quick step up in the pocket.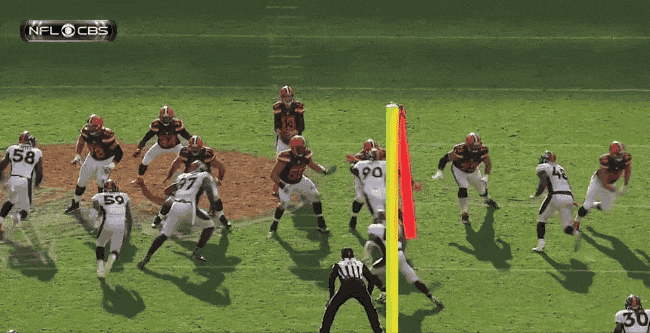 It was by far Miller's worst pass-rushing grade of the season, and one of just two games in which he was held without either a sack or hit — and in the other one he notched seven hurries.
That was the best job anybody did on Miller last season, and the question now is whether he can put up a repeat performance.
Schwartz hasn't been as good this season with Kansas City as he was a year ago with Cleveland. He has surrendered seven sacks already, having given up just three in 2015 and seven in all of the 2014 season. He has had poor games, but he has also turned it on against some of the league's better opposition.
Against Oakland, he struggled in the run game, but he kept a clean sheet in pass protection against Khalil Mack. The week after that he was again perfect in pass protection against New Orleans and Cameron Jordan, who has been on a tear this season outside of that game. Jordan averaged eight total pressures in the two games on either side of his encounter with Schwartz, but he wasn't able to generate any pressure at all against the Chiefs' right tackle.
Miller, for his part, has picked up 2016 pretty much as he left off in 2015 – and that was a season that culminated in one of the best playoff runs in history from an edge rusher, and a Super Bowl MVP award.
He has 52 total pressures this season (third-most in the NFL entering Week 12) in only 10 games, and has recorded multiple pressures in every single game. Nobody so far has done the kind of job Schwartz was able to do a year ago on him, and he has a sack in eight of the 10 games he has played.
Miller hasn't faced the best slate of right tackles, but the two legitimate quality ones he has faced have been taken down just like the rest. Atlanta's Ryan Schraeder surrendered a sack and three hurries to Miller, and New Orleans' Zach Strief allowed four total pressures in his matchup.
There is no magic formula to dealing with Miller. You can limit the damage he does schematically with quick passing, help from backs or tight ends in the form of chip blocks, or screen passes to his side of the field to try and take advantage of his speed and aggression in getting after the passer. But the bottom line is that at some point you're just going to have to ask your right tackle to man up and do the best job he can.
For most tackles, that's just not good enough, and Miller will have at least a couple of plays per game where he completely defeats the right tackle's block. When he does, those can have a devastating impact on the passing offense. He gets the kind of quick pressure that can force fumbles because is it so unexpected, or that forces extremely errant passes, because a panicked QB puts the ball in the air long before the play has properly developed.
Schwartz is one of a select few blockers that has been able to hold up to Von Miller over an entire game, and he did so with a QB that doesn't exactly make life easy for his blockers in the form of Josh McCown. Chiefs quarterback Alex Smith gets the ball out at the sixth-fastest rate in the league, and whether that combined with Schwarz's blocking is enough to limit Miller should go a long way toward determining the outcome of this game.