Every season, there are at least a few undrafted free agents who impress in the NFL and make the other 31 teams regret not drafting them. Last year's example? Running back Philip Lindsay, who ran for 1,037 yards and nine touchdowns while also finishing with the seventh-best rushing grade (84.3) in the league. Going back further, fellow Bronco Chris Harris Jr. also made a huge impact as an undrafted free agent, and he has since finished among the top-graded cornerbacks in each of the last seven seasons.
This year, the Denver Broncos may have found yet another gem of an undrafted free agent in linebacker Joe Dineen, who played his college ball at the University of Kansas. Of course, Chris Harris Jr. also played at Kansas, and he has worked out pretty well for Denver. Here at Pro Football Focus, we watch every single player on every play of every game, and our grades say that Dineen has the potential to be the Broncos' next great undrafted Jayhawk.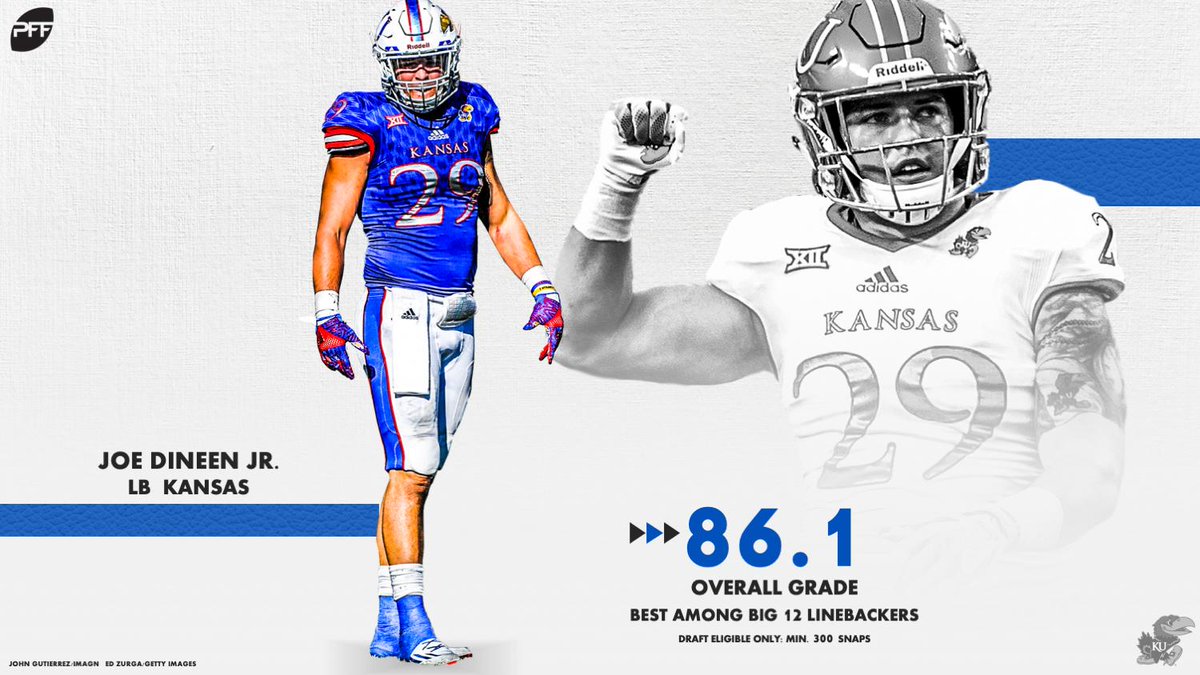 Joe Dineen, who stands at 6'2" and weighs 235 pounds, played four seasons at Kansas and finished this past season with an overall grade of 86.1, tying for 23rd out of the 518 qualifying linebackers in the country. Last season, the highest-graded linebacker for the Broncos was Todd Davis, who earned an overall grade of 71.9; while that mark isn't bad, it still leaves a lot of room for improvement at a position that used to be one of the strong points for a defense that carried the Broncos to the Super Bowl just three years ago.
That's where Joe Dineen comes in, as he was hands down one of the most productive linebackers in the country last year, especially against the run. Dineen had 59 run stops last season, which was the third-most among all linebackers. Having played 402 run-defense snaps, Dineen's run-stop percentage clocked in at 14.7%, ranking second among linebackers who had at least 250 run-defense snaps. Dineen's work against the run earned him a run-defense grade of 88.6 in 2018, which ranked 10th among Power 5 linebackers.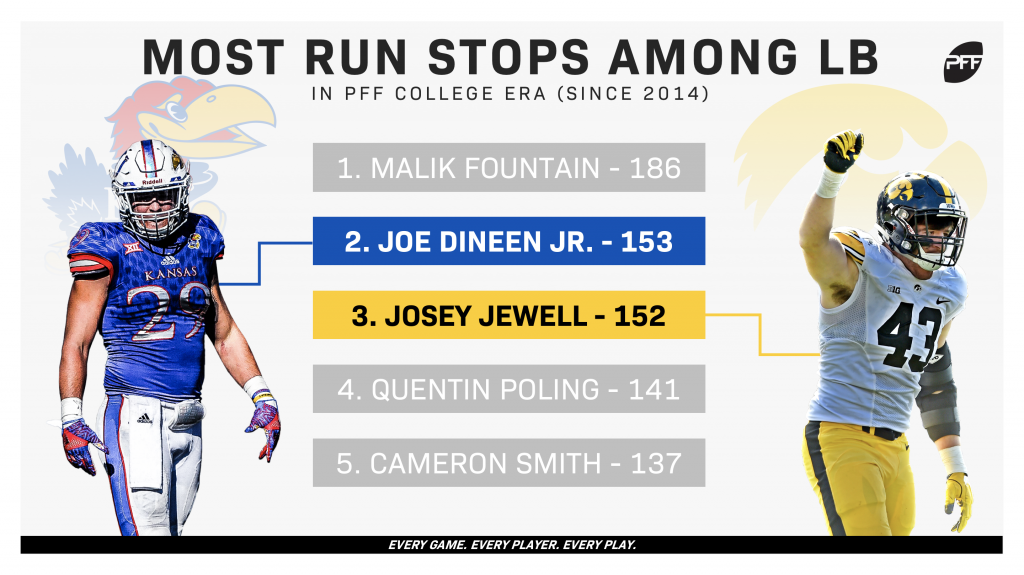 Dineen's ability to hunt down ball-carriers, fight off blocks and secure the tackle is as good as it gets. Over the past two seasons, Dineen has made a tackle for loss on 5.5% of his run snaps, ranking second among qualifying linebackers, and his 45 tackles for loss or no gain also rank second. His dominance over not just the last two seasons but his four-year career is hard to overlook.
The Jayhawk standout has no shortage of accolades in the PFF era of college football (since 2014). In fact, Dineen has the second-most run stops (153) among linebackers in the PFF era, ranking just ahead of Josey Jewell, who the Broncos selected in the fourth round of the draft last year. Dineen is also one of only two linebackers who has notched 50-plus run stops in multiple college seasons, and he tallied three or more stops in 31 of his career games. To top it all off, Dineen's career run-stop percentage of 16.0% ranks first among all college linebackers in the PFF era.
To provide further perspective on Dineen's dominance, he is one of only 12 players who have 1,000-plus snaps since 2017 and have grades above 85.0 in both run defense and coverage. Over the past two seasons, Dineen has allowed an average of just 0.59 yards per cover snap, ranking 26th out of 108 linebackers with at least 500 cover snaps in that span, and he has also allowed a reception only once every 15.5 cover snaps, which ranks 29th at the position. In terms of coverage grade, Dineen's career-high came in 2017 when he earned a coverage grade of 87.4 – 13th among qualifying linebackers.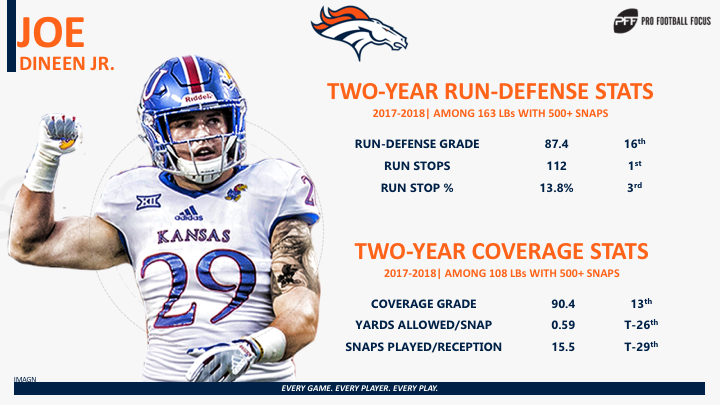 Going into the 2019 season, the Broncos have themselves another guy who can make noise as an undrafted free agent. After not even receiving an invite to the NFL combine, Dineen should have plenty of motivation to prove his doubters wrong. Can he be the next great undrafted Jayhawk for the Broncos?