The New England Patriots have used five draft picks on running backs since 2008. Only one, James White, has made to it to a second contract with the reigning Super Bowl Champions.
Bill Belichick has built one of the deepest backfields in all of football with players like White, Sony Michel, Rex Burkhead and Brandon Bolden. But the Patriots head coach didn't lead New England to six Super Bowl titles by being complacent, as he continually looks to retool the roster and elevate the level of competition at every position.
His latest addition to New England's running back room is Alabama product, Damien Harris. The Patriots selected the former Crimson Tide tailback with the No. 87 overall pick in the third round of the 2019 NFL Draft.
The biggest question facing Harris is, where will he fit in New England's backfield?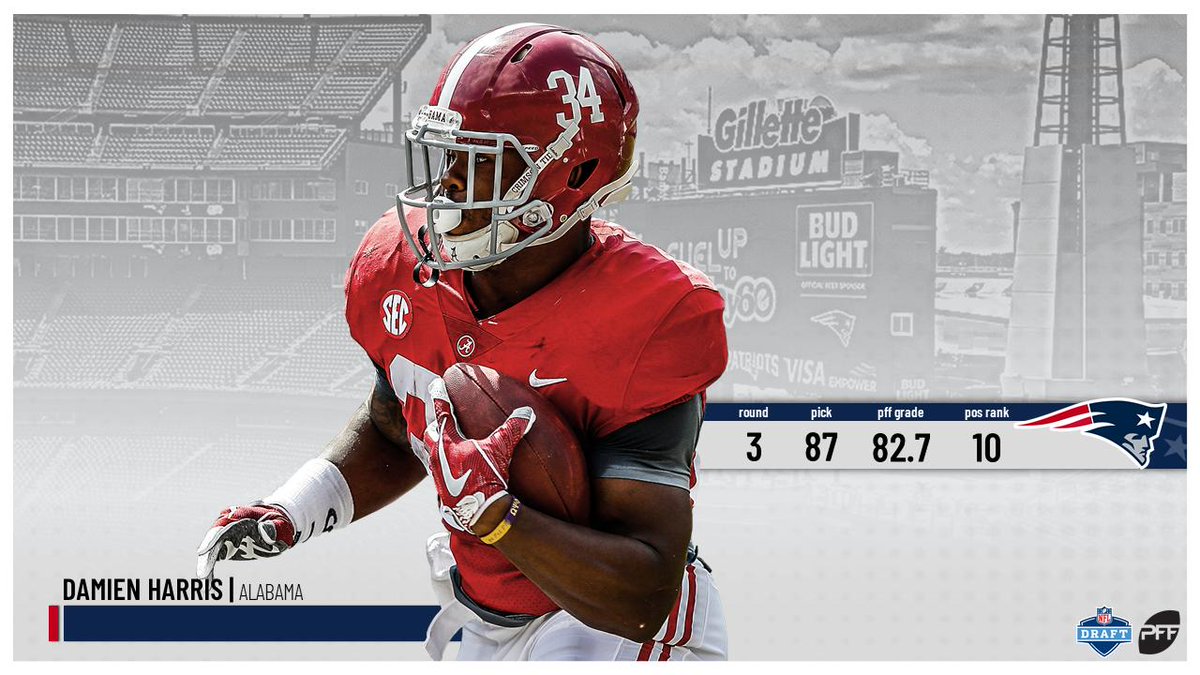 Michel took the league by storm in his first season, setting a rookie playoff record of six rushing touchdowns. He finished the year with a 77.3 overall grade, ranking 19th among running backs with a minimum of 50 rushing attempts.
However, the biggest concern surrounding the 2018 first-round pick has been his health. The 24-year-old suffered a torn ACL in high school and missed time at Georgia due to a fractured shoulder blade, ankle injury, as well as another knee injury. He then missed the start of his rookie season after undergoing a knee procedure in August and missed two more games during the regular season after suffering another knee injury against the Chicago Bears in Week 7.
The Athletic's Jeff Howe reported this past week that Michel had undergone a knee scope, but that the former Bulldog would be ready to hit the field with his teammates for training camp.
The scope is not considering to be a big deal. The sum of knee injuries during Michel's playing career, on the other hand, is unquestionably a concern.
Enter Harris, who knows all too well how to make the most of his opportunities. Through four seasons at Alabama, Harris shared the backfield with names like Derrick Henry, Kenyan Drake, Josh Jacobs, Bo Scarbrough and Najee Harris.
Two of those five, Henry and Drake, are now starters for NFL franchises, and Jacobs was the top running back taken off the board in the 2019 NFL Draft. Harris is now transitioning from one juggernaut to another and brings his team-first mentality from Tuscaloosa.
He's gotten plenty of reps during the team's offseason workout program and is just focusing on improving, via New England's team website.
"You can work on anything at this point. That's our objective — to get better at all phases of the game. I know that's my objective, to be the best player I can be. Whether that's in the run game or the passing game, special teams, whatever I'm asked to do I want to come out here and do it at a high level."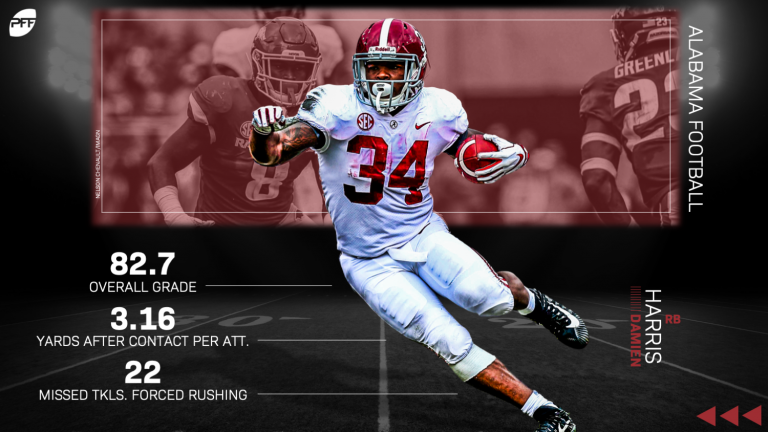 Harris brings an added value to New England's backfield due to his versatility. He earned the 17th-highest rushing grade (84.4) among draft-eligible running backs with at least 50 carries. He also ranked 14th among draft-eligible running backs in receiving grade (72.4) with a minimum of 20 targets.
Josh McDaniels will look to take advantage of his new Swiss Army knife, and Belichick is sure to love Harris' talent of taking care of the ball. Harris has not fumbled the ball since 2016 and has a total of just two fumbles on 475 carries. He's also been a reliable option for Alabama's quarterbacks, dropping just three passes on 60 targets during his college career.
His ability to be a dual-threat option could lead to more opportunities even if Michel and White remain healthy throughout the 2019 season.
Michel logged a total of 417 snaps in his rookie season, and 316 of those snaps were running plays. That means the Patriots passed the ball less than 25% of the time that Michel was on the field. And for White, it was the opposite.
Despite logging a career-high 138 snaps on running plays in 2018, the Patriots passed the ball more than 80% of the time when White was on the field. He earned an 84.2 receiving grade, ranking sixth among running backs with a minimum of 25 targets last season.
While both players excelled at either rushing or receiving, neither showcased the ability to be a complete dual-threat. White's 60.5 rushing grade ranked 61st among the 73 running backs to handle at least 50 carries in 2018. Michel's 45.6 receiving grade ranked 79th among the 89 running backs to see at least 10 targets.
Neither of those numbers is too impressive. However, it didn't prevent New England from winning another Super Bowl title. Belichick has a way of utilizing his players' strengths, and clearly, that was the case with Michel and White last season.
Harris' dual-threat ability and reliable hands should find him in the early rotation with both players. But it's up to him to make the most of his opportunities, much like his collegiate career in Tuscaloosa.
The Patriots reward players for productivity. Should Harris display his value early in the year, it's not far-fetched to think he could steal the show in New England's backfield.