Buffalo Bills linebacker Matt Milano made quite the step forward as a second-year player in 2018. As a fifth-round rookie out of Boston College in 2017, Milano logged 450 defensive snaps and finished the season ranked 58th out of 100 qualified linebackers with a 60.3 overall grade. This past season, Milano saw substantial increases in both playing time and performance, ranking 12th out of 96 qualified linebackers with a 76.2 overall grade over the course of 741 defensive snaps.
Milano saw broad improvement from rookie to sophomore seasons, but the biggest jump he made was as a coverage defender, where his grade climbed from 58.2 in 2017 all the way up to 77.3 this past season.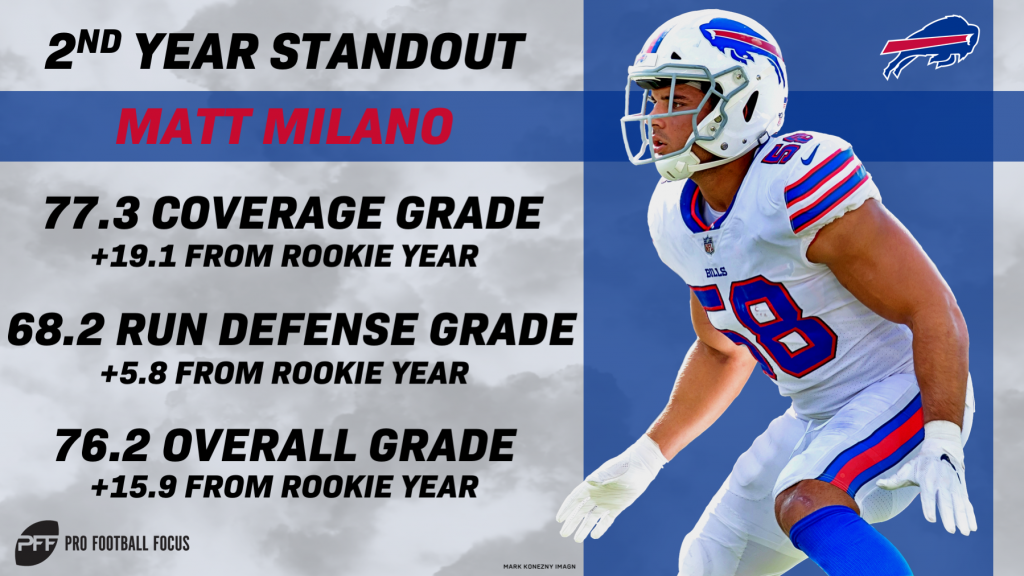 As a rookie, Milano surrendered 27 catches on 38 targets into his coverage for 247 yards and a touchdown to go with one interception and one additional pass breakup; opposing quarterbacks had an 86.2 passer rating when targeting Milano in coverage.
This past season, the former BC Eagle allowed 27 catches on 44 targets for 285 yards and two touchdowns to go with three interceptions and an additional four pass breakups; opposing QBs had just a 67.0 passer rating when targeting him in coverage, the third lowest allowed by any of the 98 linebackers who spent at least 100 snaps in coverage last season.
Milano also showed improved play as a run defender in year two as a pro, bumping his run-defense grade up from 60.2 in 2017 to 68.2 this past season. In 2017, Milano ranked 54th out of 103 qualified linebackers with a 7.7 run-stop percentage; in 2018 he ranked 22nd out of 98 qualified linebackers with an 8.9 run stop percentage – and Milano was one of the more prolific linebackers last season when it came to making plays around the line of scrimmage in run defense, with an average depth of tackle of just 2.62 yards, ranking 10th among linebackers.
Additionally – even though he hasn't been asked to do it much in either season as a pro – Milano showed better production as a pass rusher during his second NFL season. As a rookie, Milano was asked to rush the passer just 32 times; he totaled only four pressures (two hurries and two hits), and his 6.3 pass-rushing productivity rating ranked 52nd out of the 69 linebackers who attempted at least 30 pass rushes that season (PRP measures pressures generated on a per-snap basis, weighted towards sacks).
In 2018, Milano rushed the quarterback on 54 defensive snaps, notching 10 total pressures (seven hurries, two hits, and a sack) and earning a 10.2 PRP, which ranked 25th out of the 65 linebackers who saw at least 30 pass-rush snaps.
Not every player drafted in the fifth round ends up lasting in the NFL, but as any football fan well knows, there are steals to be found on the third day of each draft, and it looks like the Bills found one in Matt Milano back in 2017. If Milano can improve his tackling as a third-year pro (something he's struggled with in both pro years so far, his 17.0 missed tackle rate ranks as 29th worst out of 164 linebackers who've recorded at least 20 tackles over the past two seasons) he very well could grade out as a top-10 linebacker in 2019.