Emmanuel Ogbah's three-year tenure with the Cleveland Browns has been a disappointment. The former No. 32 overall pick from the 2016 NFL Draft hasn't lived up to the hype now 2,117 defensive snaps into his NFL career. And now, Cleveland's brass has seemingly seen enough.
Per ESPN's Adam Schefter, John Dorsey & Co. are shopping Ogbah now that veteran Olivier Vernon and his $15.5M 2019 cap hit on the books. The 28-year-old veteran recorded more pressures in his 2016 campaign (108) than Ogbah has in his entire career (104), and Vernon has since added another 104 pressures in 2017 and 2018 combined.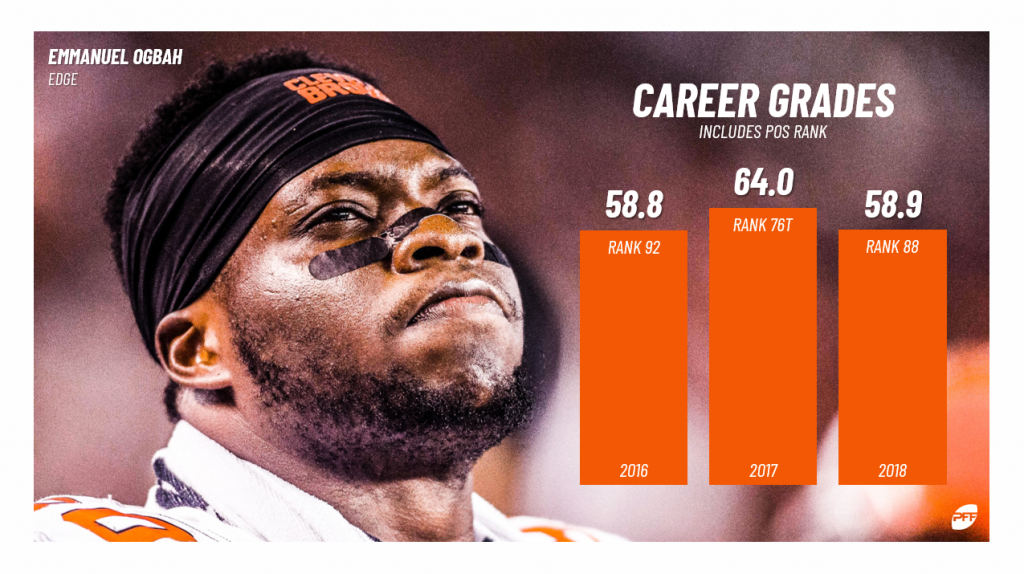 The writing is on the wall; Vernon will start opposite of third-year phenom Myles Garrett, leaving Ogbah as either the odd man out on the pine or in another uniform. Cleveland, however, likely won't see a significant return on investment if its brass does ship Ogbah out of the Dawg Pound given his streak of dismal NFL production.
Ogbah has yet to earn a pass-rush grade above 60.5 in his three-year career despite rushing the passer at least 268 times in each of the past three seasons. Rushing the passer a career-high 496 times this past season, he ranked dead last in pass-rush win percentage (7.5%) among the 61 NFL edge defenders with at least 300 pass-rushes on the year.
His run defense was better but still not great. Ogbah ranked 30th in run-defense grade among the 61 edge defenders with 200-plus defensive snaps playing the run in 2018.
Low Day 3 picks come to mind when considering Ogbah's lackluster pass-rush and nondescript run defense through three years in the NFL. Due just $2.1M in 2019, Ogbah may offer more value to Cleveland as a depth piece than as a future fifth- or sixth-rounder.