On the first day of the draft, 15 picks past without the Cleveland Browns selecting a player for the first time since 2011. Thursday night ended without hearing the Browns name called for the first time since 2008. When the 46th pick came up though and it was announced the Browns were trading up, they still managed to secure a player who was among PFF's top-10 heading into the draft.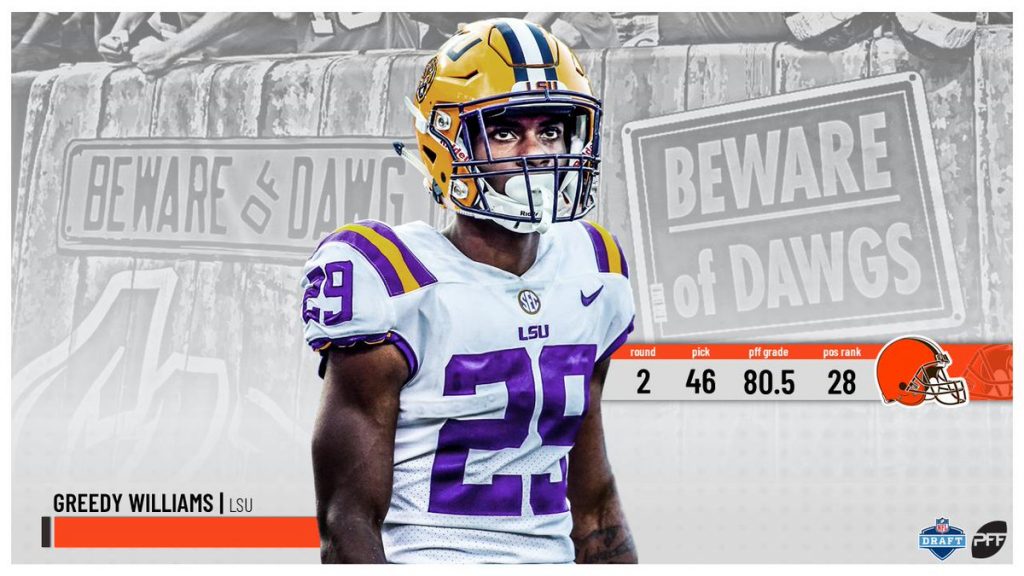 LSU cornerback Greedy Williams came in ninth on the PFF draft board but slipped down due to reported off-field concerns. We at PFF do our best to focus our attention to on-field performance, and our only question mark there is scheme fit.
Greedy was at his best in college when playing press man. Over the past two seasons, he earned a 90.2 coverage grade when LSU played press (647 snaps). When they didn't play press (196 snaps), Greedy earned a 79.9 coverage grade. The frequency of each might be flipped in the Browns' defense this year. Last season, the Browns new defensive coordinator Steve Wilks had his Arizona Cardinals run only 293 snaps with a defender in press coverage – the fifth-fewest of any defense in the NFL. That's with arguably the best press-man cornerback in the NFL in Patrick Peterson. With Denzel Ward on the other side, who earned the fourth-highest coverage grade (82.9)  of any cornerback in the NFL in 2018, Wilks needs to play to their strengths this season.
It was a decidedly defensive draft from there on out for Cleveland after their first-rounder was coughed up for wide receiver Odell Beckham Jr. earlier this offseason. With a loaded roster offensively,  we can't argue with that strategy.
Sione Takitaki is a do-it-all linebacker who can drop into coverage, play the run and rush the passer off the edge. Back in 2017, he was utilized as an edge, earning an 81.3 pass-rushing grade on 273 pass-rushing snaps. This past season, he played a more traditional linebacker role and excelled with a 75.9 coverage grade on 365 snaps and an 88.6 run-defense grade. He's likely to play a Swiss Army Knife role in the Browns' defense with his versatility.
Most of the fireworks this offseason already took place for the Browns, but they came away with a nice haul on draft weekend, as well. The talent is obvious, but how their first two draft picks will be deployed in Wilks' defense will go a long way towards determining their effectiveness this upcoming season.