The New York Giants have already seen enough of Eli Manning.
Per ESPN's Adam Schefter, New York is benching Manning in favor of rookie first-round pick Daniel Jones, PFF's No. 70 overall player and No. 5 quarterback in the 2019 class. Jones will earn his first career start against the Tampa Bay Buccaneers in Week 3.

Jones completed 20-of-34 passes for 416 yards, two touchdowns and four big-time throws across his 36 dropbacks this preseason. Among the 82 quarterbacks with 25 or more preseason dropbacks in 2019, Jones ranked tied for seventh in passing grade (83.5) and first in yards per attempt (12.2).
From PFF's Steve Palazzolo, who said Jones was a third-round prospect likely to get overdrafted prior to April's draft:
"Things can escalate quickly in player evaluation and Jones has emerged from intriguing third-round prospect to overrated first-round prospect. His best value remains as a third-rounder as a team invests and hopes that he can continue his upward trajectory, catch fire with his play under pressure and develop into a capable starter at the next level. Hitching the franchise to Jones is very risky given his college level of play, but like any evaluation, there is a wide variety of potential outcomes and an NFL team may take the chance that they can get the most out of Jones' skillset."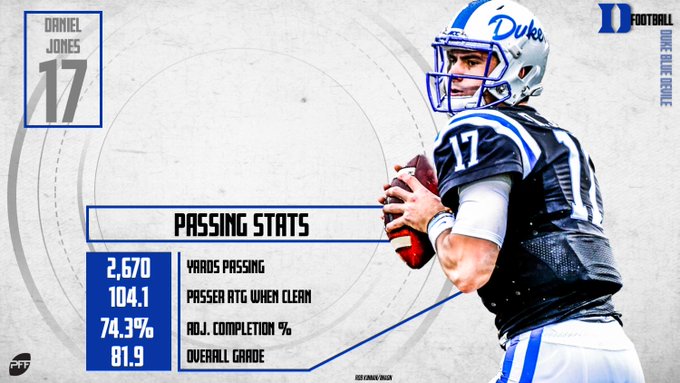 Manning heads to the pine after earning a 63.3 overall grade and a 62.1 passing grade to start the season. He hasn't earned a passing grade above 70.0 in a single season since 2013. The Daniel Jones Era in New York is two weeks too late, but late is better than never.