Urlacher vs. Lewis. Willis vs. Johnson. Bowman vs. Lee.
The battle for the title of NFL's best linebacker has been a fiercely fought one over the last decade-plus. And whether it's been as a part of the stop-the-run era or during today's pass-happier time, over the years, we have been blessed with the opportunity to watch all-time greats hash it out at one of the most physically demanding positions in all of team sports.
But no battle, in the PFF era at least, has been fought as hard or for as long as Bobby Wagner vs. Luke Kuechly.
These two modern-day greats at the position have been at the top of the linebacker totem pole for almost as long as they've been in the league. They've both ended seasons as the highest-graded linebacker in the NFL, and in each of the last three seasons, they've not finished more than 5.0 grading points apart from one another. While Kuechly took the title of the highest-graded linebacker in 2016 with a 91.0 overall grade that edged out his West Coast counterpart's grade of 86.4, Wagner claimed the prize in both 2017 and 2018, with overall grades of 91.4 and 91.8 that just inched past Kuechly's respective grades of 90.6 and 90.7.
Now, as we look towards the 2019 NFL season, Wagner has secured another victory, as he lands at No. 3 on the PFF50 — narrowly beating out Luke Kuechly, who has landed at No. 7.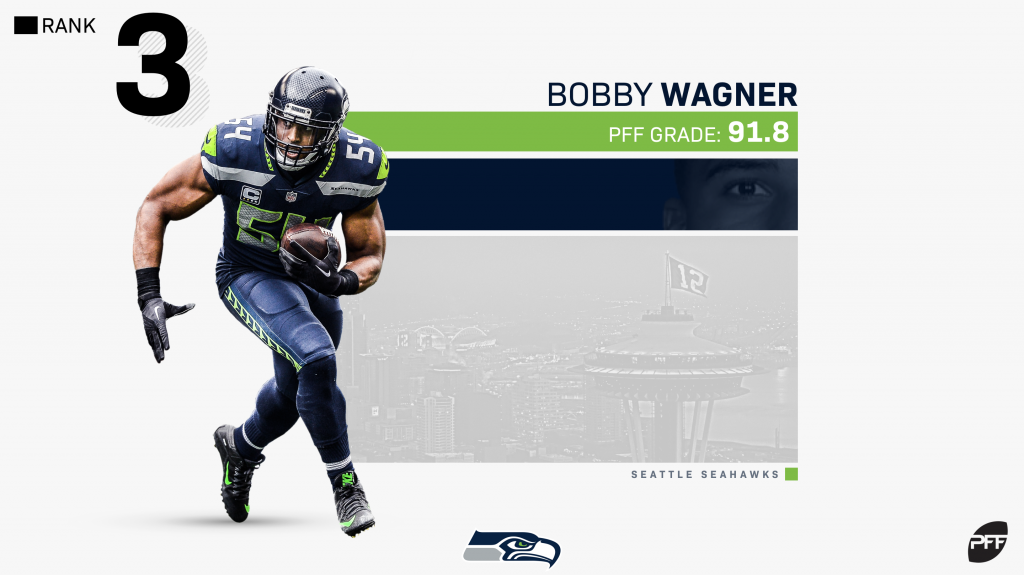 Stopping the run
Defending against the ground attack is not nearly as important as it was 15 years ago, but you'd still be hard-pressed to find two better linebackers against the run than Wagner and Kuechly. In the PFF era, Wagner (6), E.J. Henderson (6), Luke Kuechly (7) and Patrick Willis (7) are the only linebackers who have recorded at least six single-season run-defense grades of 75.0 or more. The highest single-season marks ever recorded by a linebacker with at least 200 run-defense snaps in a season? Luke Kuechly in 2018 (92.3), Bart Scott in 2010 (91.6), Patrick Willis in 2012 (91.6), Bobby Wagner in 2018 (91.6) and Bobby Wagner in 2016 (91.3).
To get a real feel for their production against the run, we can look at the list of over 700 off-ball linebackers who have taken a snap in run defense since 2006. Among players on that list, Wagner and Kuechly rank 24th and 45th, respectively, in terms of run-defense snaps played. Yet, Wagner ranks 12th among that same group in total run stops, with 275, and Kuechly ranks 14th among that group with 266.
Over the last three years, however, nobody has been more productive against the run than the Seattle Seahawks linebacker. Since 2016, including the postseason, Wagner's elite run-defense grade of 93.8 ranks first among the 68 off-ball linebackers who have played at least 500 run-defense snaps, while Kuechly's mark of 93.6 takes a close second-place finish. Wagner also leads all players at the position in total run stops (108) and solo tackles against the run (187).
Cementing his place as one of the best run defenders of his generation and showing his ability to stop even the best rusher in his tracks, Wagner has been the first player to contact the opposing ball carrier on 169 snaps over the last three regular seasons, and on those plays, the rushers have averaged just 2.24 yards after said contact. For comparison, Kuechly has made 146 "first contacts" over the last three years, and on those plays, rushers have averaged 2.73 yards after contact.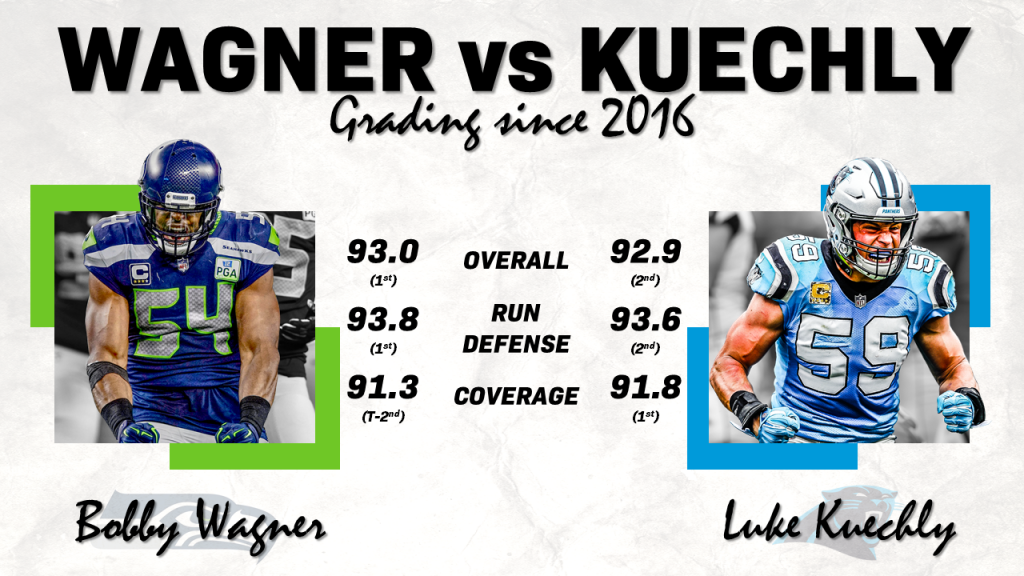 Dominant in coverage
There is no more sought after trait in a linebacker in the modern NFL than the ability to cover from sideline to sideline. And both of these players have this trait in spades.
Over the last three years, Wagner has allowed 145 receptions from 198 targets in primary coverage, and he's surrendered 1,356 yards and three touchdowns while logging four interceptions. Among the 49 off-ball linebackers who have seen 100 or more targets since 2016, Wagner's allowed catch rate (73.2%) ranks sixth, his forced incompletion percentage (10.6%) ranks fifth, his passer rating allowed (88.5) ranks fifth, and his 0.87 yards allowed per coverage snap ranks seventh. Wagner is one of only six players who have logged more interceptions than the number of touchdowns that they've allowed — and that list doesn't include Luke.
Over that same stretch, Kuechly has allowed 123 receptions from 165 targets for 1,169 yards, seven touchdowns and five interceptions. Among the aforementioned group of 49 players, his catch rate allowed (74.6%) ranks 11th, his forced incompletion percentage (8.5%) ranks ninth, his passer rating allowed (95.2) ranks 11th, and his 0.84 yards allowed per coverage snap ranks fifth.
This past season, the Seahawks linebacker separated himself further from the ever-excellent Kuechly in terms of coverage, with Wagner's league-best coverage grade of 90.5 beating the eighth-placed Kuechly's mark of 84.1. This was on display all over the field and against all types of receivers too. Against running backs, Wagner allowed a passer rating of 70.3 compared to Kuechly's 81.3; against tight ends, Wagner allowed a passer rating of 96.2 compared to Kuechly's 109.0; against wide receivers, Wagner allowed a passer rating of 89.4 compared to Kuechly's 114.0.
Adding heat in the pass-rush
With pass-rush grades of 86.9, 91.0 and 86.7 in 2016, 2017 and 2018, respectively, Wagner has become the only off-ball linebacker in the PFF era to record three consecutive single-season pass-rushing grades of 85.0 or more.
Adding to his incredible three-year resume, Wagner's three-year pass-rush grade of 91.5 is head and shoulders above the 73 off-ball linebackers with at least 100 pass-rushing snaps in that span. His 27.6% pass-rush win rate ranks first among that same group of players — and dwarfs Kuechly's mark of 15.5% — while his 32.3% pressure rate sees him as the only linebacker to have cracked the 30% threshold. All told, he's racked up 62 total pressures from his 192 pass-rush snaps over that three-year period, leaving Kuechly (40 on 174) trailing behind.
Securing the tackle
While becoming arguably the league's best all-around linebacker, Wagner's strongest trait has been his tackling throughout it all. In the PFF era, Wagner holds first and second place for the PFF record for the most tackles made without a miss, the top mark ringing in at an astonishing 140 tackles.
Over the last three years, Wagner has missed just 13 tackles on 417 tackle attempts — an almost unfathomable figure — while his three-year missed tackle rate of 3.1% is the best mark among the 143 off-ball linebackers with at least 50 tackle attempts to their name over that time. In stark comparison, Kuechly missed nine tackles on 140 attempts in 2018 alone, and his three-year missed tackle rate of 6.4% ranks 12th among the same group of qualifiers.
Final thoughts
Wagner finished the year ranked first in overall grade (91.9), coverage grade (90.4) and run-defense grade (91.8) among qualifying off-ball linebackers in 2018. Only two off-ball linebackers in the PFF era (2006-18) have earned 90.0-plus marks in all three facets: Wagner in 2018 and Kuechly in 2015.
Less of a No. 1 and No. 2 and more like a 1a and 1b, these two titans of the linebacker position will continue to do battle for as long as their bodies can hold out. And while Kuechly isn't too far off the Seahawks phenom, Wagner takes the cake for top off-ball linebacker in the NFL right now coming off one of the best seasons we've ever seen at the position.