Following up on Pro Football Focus' first-ever under-25 team (offense and defense) recently, today we are introducing our first-ever over-30 team, starting with the offense. While this list includes purely individuals aged 30 or older, some of them actually represent the best players at their positions in the NFL. Due to the fact that players' performance can fall off a cliff out of nowhere and older players are less likely to bounce back after struggling, we focus more on recent form and performance on this list rather than looking at potential and historic play.
Quarterback
Tom Brady, New England Patriots (2016 PFF overall grade: 99.3)
While Brady will turn 40 in August, he was still not only the best quarterback over 30, but the best signal-caller overall in 2016. Furthermore, Brady's grade of 99.3 is the highest earned by a quarterback in the PFF era (since 2006). While players tend to decline at this stage of their careers, the New England quarterback has surprisingly been able to further improve in recent years, especially when it came to his performance under pressure and extending play. Brady had a passer rating of 84.9 under pressure in 2016, which ranked fifth in the league. In addition, he was sacked on just 10.6 percent of the plays when he was under pressure, which was the third-lowest rate among quarterbacks.
Honorable Mention: Aaron Rodgers, Green Bay Packers (93.3)
Running back
Jonathan Stewart, Carolina Panthers (73.9)
The age 30 is associated with a decline in performance for running backs, or even worse, some might be out of the league by the time they turn 30. While that is not the case for Carolina's Stewart, in 2016 he did earn his lowest grade since 2013 and also had to miss some time with injury. However, when he is on the field he is still a reliable starting running back as his grade of 73.9 ranked 20th among running backs last season. Furthermore, although he's not a threat as a receiver, Stewart earned the fifth-highest elusive rating in 2016 with 59.6. The Carolina running back's 47 forced missed tackles on runs were tied with Le'Veon Bell for the second most broken tackles despite the fact that Bell had 43 more carries in 2016.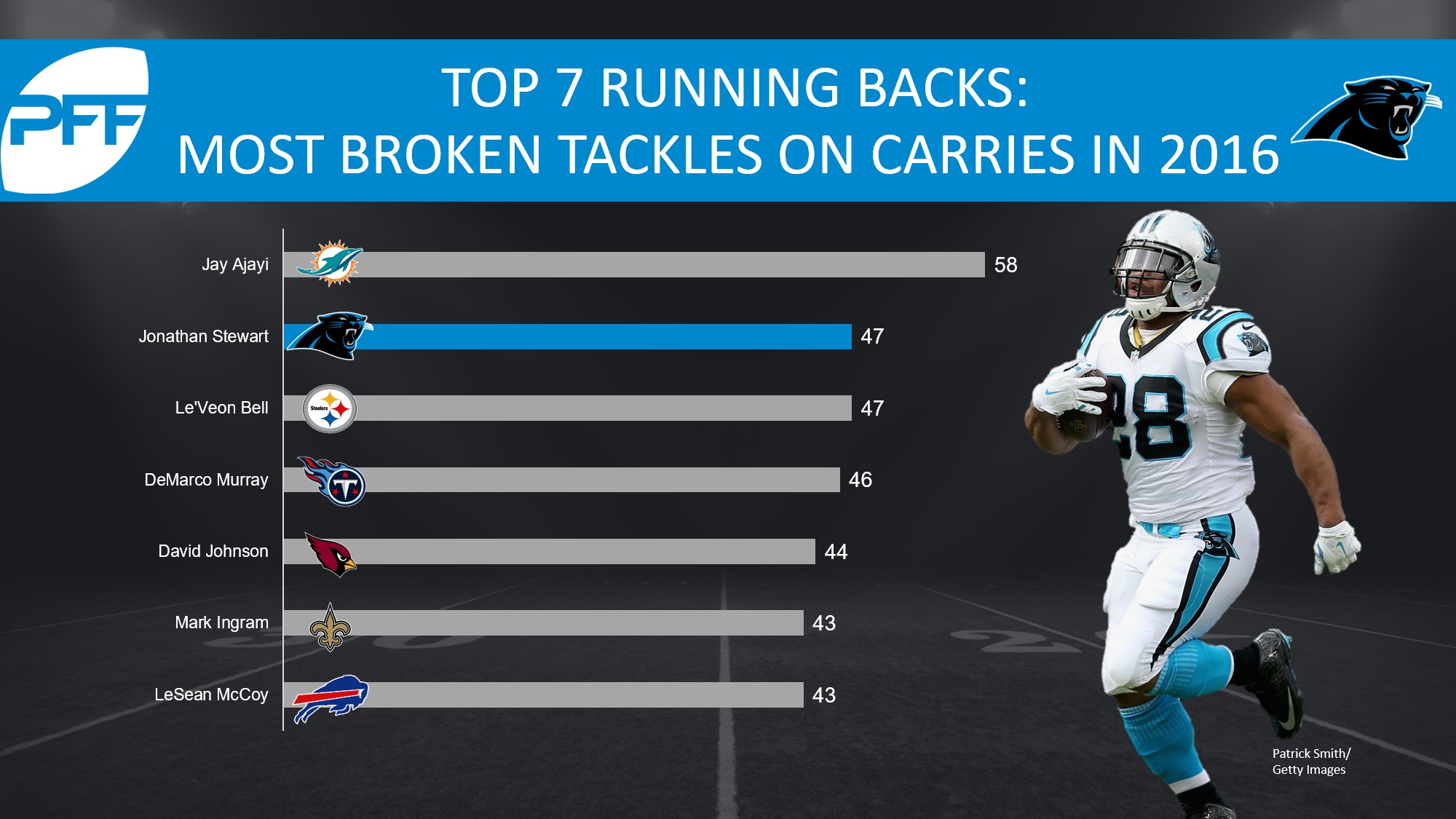 Honorable Mention: Marshawn Lynch, Oakland Raiders (2015 PFF overall grade: 86.2)
Wide receiver
Larry Fitzgerald, Arizona Cardinals (85.1)
While every year there are speculations regarding Fitzgerald's decline and expectations regarding other Arizona receivers stepping up, he still remains the Cardinals' top pass-catcher even though he had to transition from an outside receiver to a slot receiver over the years. As a matter of fact, Fitzgerald has become one of the most frequently used slot receivers in the league as his 63 receptions were tied with Julian Edelman for the second most catches from the slot. In addition, Fitzgerald ranked among the top 10 receivers in eight of the last 11 seasons, including 2016.
Pierre Garcon, San Francisco 49ers (85.8)
Garcon signing with the 49ers might be the most underrated move of the offseason since, while the veteran wide receiver turns 31 in August, he has not showed any sign of decline so far. Although DeSean Jackson was considered the primary receiver in Washington, Garcon was flying under the radar and the two earned similar grades in every season until 2016. Last season Garcon earned a grade of 85.8 – the highest in his career – which ranked eighth among receivers while Jackson's 77.0 ranked 36th. In addition, Garcon was tied with Emmanuel Sanders for the second-best drop rate in the NFL as he dropped only 1 of his 80 catchable targets.
Jordy Nelson, Green Bay Packers (83.9)
Although Nelson turned 32 Wednesday and he just came back from a serious injury, he was still the 14th-highest-graded receiver in 2016 with an overall grade of 83.9 and is still considered to be Aaron Rodgers' primary target going forward. Nelson still led all wide receivers with 14 touchdown receptions at the age of 31 and Rodgers threw only one interception and had a passer rating of 122.4 when targeting Nelson, which was the fifth-highest for a wide receiver in 2016.
Honorable Mention: Julian Edelman, New England Patriots (81.2); DeSean Jackson, Tampa Bay Buccaneers (77.0); Mike Wallace, Baltimore Ravens (75.7)
Tight end
Greg Olsen, Carolina Panthers (87.5)
Although his run-blocking has never become a strength, Olsen's receiving skills more than make up for his work in run blocking and eventually earn him a spot on this team ahead of Jimmy Graham and Delanie Walker. Olsen's usage makes his strengths even more evident as he ran the eight-highest percentage of routes from the slot and finished with the most receiving yards from the slot among tight ends with 509 yards.
Honorable Mention: Jimmy Graham, Seattle Seahawks (85.1)
Offensive tackle
Andrew Whitworth, Los Angeles Rams (91.3)
Whitworth's play has to decline at some point, right? Well, it has not so far, as the former Cincinnati Bengal just finished his eighth consecutive season with an overall grade of at least 85.0. Although Whitworth will be facing new challenges with the Rams, he was still going strong at the age of 35 last season as he led all offensive tackles with a pass blocking efficiency rating of 98.0 since he allowed only 14 total pressures on 561 pass-blocking snaps.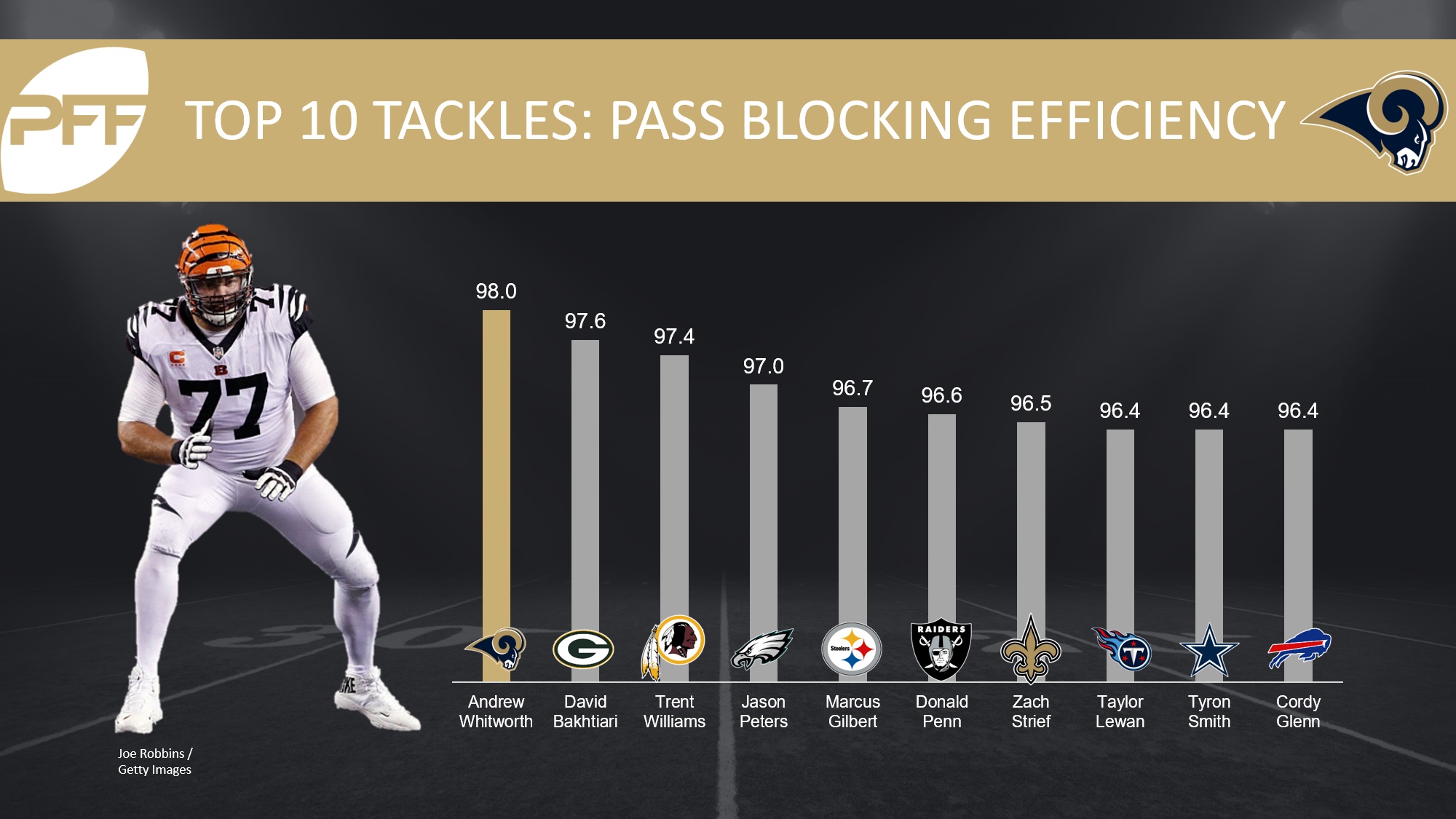 Joe Thomas, Cleveland Browns (89.1)
While Thomas posted his first grade below 90.0 in the last four seasons in 2016, he was still our fifth-ranked offensive tackle with an overall grade of 89.1. Although Thomas took a slight step back in pass protection as his pass-blocking efficiency rating of 96.0 was tied for 17th among offensive tackles, his track record and consistency over the years speak for themselves: Thomas graded above 85.0 and was among the Top 10 offensive tackles in every season of his career.
Honorable Mention: Jason Peters, Philadelphia Eagles (88.3); Donald Penn, Oakland Raiders (87.3)
Guard
Marshal Yanda, Baltimore Ravens (92.0)
The fact that offensive linemen have a longer career in the NFL is supported by the fact that both of PFF's two highest-graded guards in 2016 are above 30. Yanda continued his streak of dominance in 2016 as his grade of 92.0 was actually his lowest since 2013. Baltimore's versatile guard not only earned the highest pass-blocking grade among all guards, he also ranked in the top three in run-blocking in 2016. Furthermore, Yanda was one of only three guards not to allow a single quarterback hit or sack last season.
Ramon Foster, Pittsburgh Steelers (89.1)
Although Foster played only 14 games in 2016, his performance in those outings was enough to earn him a grade of 89.1, the second-highest among guards. In addition, he was part of a unit that gradually became the best offensive line in the NFL by the end of the season. While Foster did allow 25 total pressures and ranked only 32nd in pass-blocking efficiency, he was one of four guards to play more than 500 pass blocking snaps and not allow a single sack all season.
Honorable Mention: Richie Incognito, Buffalo Bills (87.2); Josh Sitton, Chicago Bears (86.2)
Center
Alex Mack, Atlanta Falcons (89.5)
While Mack's play seemed to decline in 2014 and 2015, reuniting with offensive coordinator Kyle Shanahan in Atlanta did wonders and helped him earn an overall grade of 89.5, the highest of his entire career. As a result, he ranked just behind Matt Paradis and Travis Frederick as PFF's third-highest-graded center in 2016. While Mack surrendered two sacks and ranked just 19th in pass-blocking efficiency among centers, his consistent execution of some difficult blocks in Atlanta's outside zone-heavy run game earned him a spot on this list.
Honorable Mention: Max Unger, New Orleans Saints (83.8)