Bouncing back from a torn pectoral injury that cost him his entire rookie campaign, Cincinnati Bengals cornerback William Jackson III has returned to his formerly dominant self to anchor the Bengals secondary. But this should come as no surprise.
The former first-round pick (No. 24 overall in 2016) drew high praise coming out the University of Houston and fortunately for Jackson and Bengals' fans, his injury a year ago hasn't prevented him from tapping into his collegiate success in Cincinnati.
Now 12 weeks into the season, Jackson ranks third in yards allowed per coverage snap (0.67), second in passer rating allowed (41.4) and fifth in coverage snaps per reception allowed (17.8) among cornerbacks with 130-plus coverage snaps. Additionally, he is one of just 14 NFL cornerbacks who have logged at least 200 snaps in coverage and to not have allowed a touchdown all season. He currently holds the league's 24th-highest grade among all cornerbacks with an 82.3 overall grade.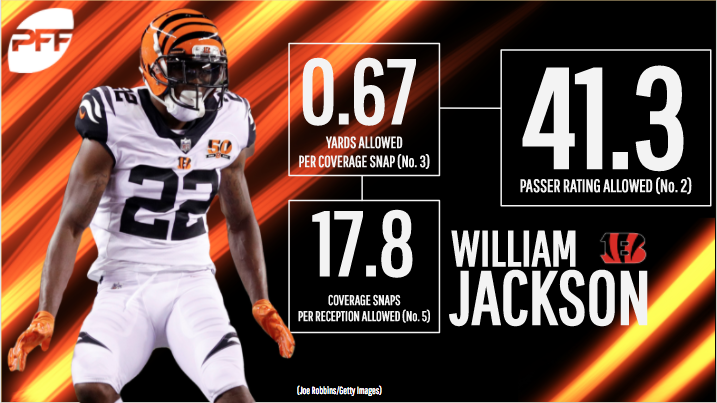 Adding even more legitimacy to his outstanding efforts, Jackson has played a significant amount of his coverage snaps along the boundary against some of the league's best wide receivers. Of his 214 coverage snaps, only nine have come in the slot, where he has allowed just one reception for one yard on one target.
Jackson has earned significant snaps against four different receivers who currently own overall grades above 73.0 in the nine games he's played this season, squaring off against Antonio Brown (93.9 – first), Davante Adams (79.8 – 24th), T.Y. Hilton (76.4 – 38th) and Marqise Lee (73.9 – 50th). This normally-dominant group of four, however, combined for just two receptions for 42 yards (seven targets) when Jackson was the primary coverage defender.
Of the four, Pittsburgh Steelers wide receiver Brown stands out as not only the top graded receiver this season, but the highest graded Jackson has faced all season, as the savvy Steelers superstar currently leads all wide receivers in overall grade (93.9) and ranks second in yards per route run (2.91). However, Brown had no such success in his duel with Jackson in Week 7.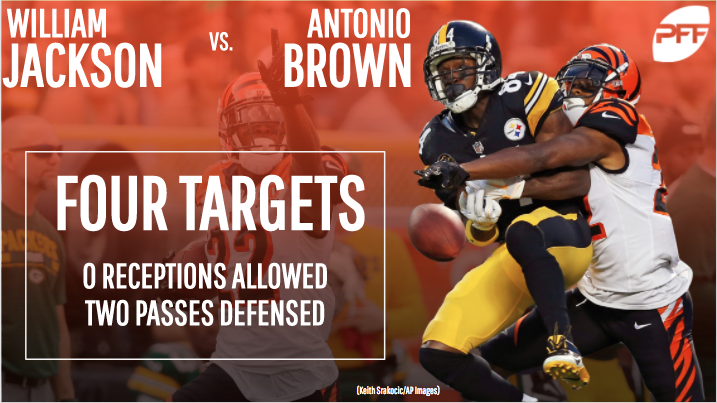 Targeted four times with Jackson as the primary coverage defender, Brown recorded zero receptions, while the Bengals' budding star logged two passes defensed.
As anticipation builds for Round 2 of the Brown-Jackson bout on Monday night, a few other high-profile wide receivers are also in line to go toe-to-toe with Cincinnati's top cornerback over the final stretch of the season.
With the Detroit Lions and Minnesota Vikings – both of whom boast dynamic duos at the wide receiver position – on the schedule Weeks 15 and 16, Jackson will have his fair share of opportunities to solidify his stardom with strong performances in the two tilts.
Playing just over 80 percent of his snaps in the slot, Lions' Golden Tate (84.5) should only see a few snaps opposite of Jackson while Marvin Jones Jr. (82.6) takes a better look from him outside the numbers. Similarly, Vikings wide receiver Adam Thielen (86.9) plays just over half of his snaps in the slot, meaning Stefon Diggs (83.3) should see the most of Jackson between the two.
Regardless of how he fares in what is ought to be a labor-intensive finish to his sophomore season, Jackson's impressive start speaks volumes to his potential at the cornerback position. Of course, the competitor in Jackson won't have him taking the field against some of the league's best solely for experience.