FCS running backs weighing in at 5-foot-6, 181 pounds aren't supposed to go the NFL. They lack experience against high-level competition. They're too small.
Tarik Cohen of the Chicago Bears missed that memo, however.
Two years removed from Greensboro's North Carolina A&T, Cohen stands tall as one of the NFL's most productive receiving backs, as he's earned the second-highest receiving grade (91.2) among the 68 backs with at least 200 receiving snaps in the last two years (2017-18). Only New Orleans Saints' phenom Alvin Kamara (92.2) can claim a better receiving grade than Cohen.
Cohen's 80.0 two-year overall grade, which is dragged down by his 63.1 rushing grade, ranks just 13th among the 66 NFL running backs with at least 400 offensive snaps since Week 1 of the 2017 season. But Cohen, largely because of his modest frame, isn't asked or expected to run with the best. Chicago plays to his strengths in the passing game, and his value is among the league's best as a result.
Heading into Week 15, Cohen led all running backs in PFFs' WAR (Wins Above Replacement) metric at 1.34. New York Giants' Saquon Barkley was slotted at No. 2 (1.29).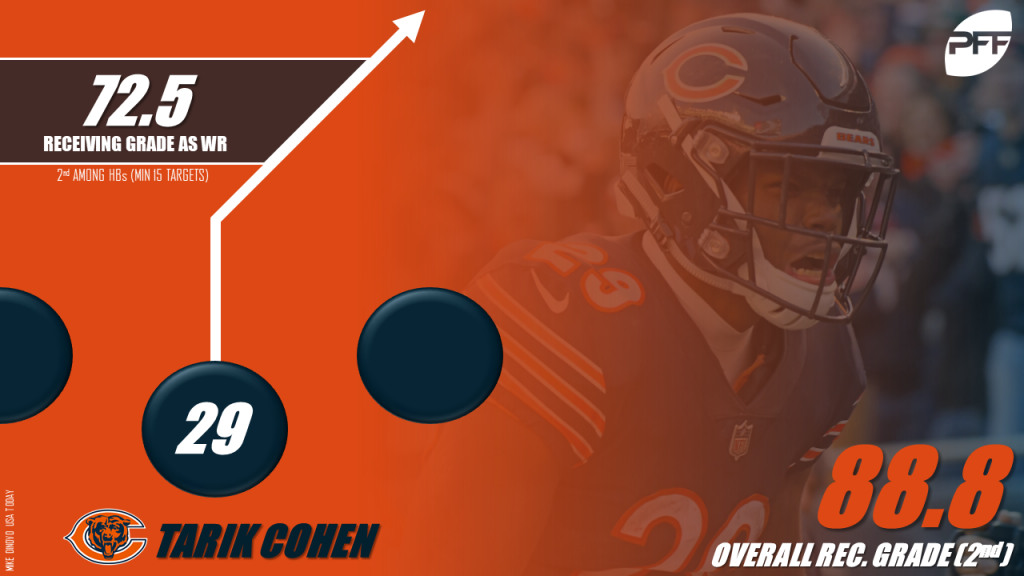 How does he do it? Pre-snap alignment plays a part in the answer, as he currently has played more offensive snaps at either slot or wide receiver (152) than any other running back in football, and his 72.5 receiving grade on such snaps ranks second behind Kamara (76.2) in 2018. Cohen has caught 26-of-31 targets for 231 yards, nine first downs and one touchdown from a receiver pre-snap alignment. He also leads all backs with 50-plus receiving snaps at slot or wide receiver in receptions (26), yards (231) and yards per route run (2.31).
Here, Cohen gets a free release from the slot and turns a short pass on 2nd & 10 into a first down with great acceleration and shiftiness after the catch. He can be a nightmare to tackle in the open field, especially when given ample space at the catch point.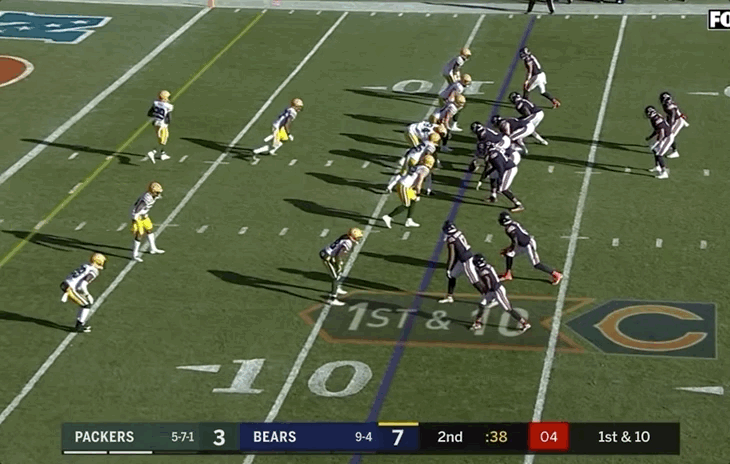 New Bears head coach Matt Nagy deserves his fair share of credit for getting as much production out of Cohen from receiver pre-snap alignments, but he's only keeping a good thing going. In 2017, Cohen caught 25-of-34 targets for 193 yards and six first downs from receiver alignments, and his 75.3 receiving grade on his 118 snaps at receiver ranked second in the NFL last season.
In his two years in the NFL, Cohen has now forced a league-high (among running backs) 19 missed tackles across his 53 receptions while playing either slot or wide receiver. His two-year receiving grade (76.6) from such pre-snap alignments ranks second among the 21 backs with 75 or more receiving snaps at slot or wide receiver in the two-year span.
And it only gets better when Cohen runs routes out of the backfield.
Cohen's 91.4 receiving grade from the backfield leads all 55 players a the position with at least 100 receiving snaps. He also leads the same group of backs in yards per route run (2.65). He's caught 43-of-55 targets for 482 yards, 15 first downs and four touchdowns running routes out of the backfield on the year.
Against Green Bay, Cohen flies out of the backfield to the right, turns back toward the line of scrimmage to catch a pass from Mitchell Trubisky and accelerates upfield down the right sideline to beat out an angle from the Packers defender and score from 12 yards out.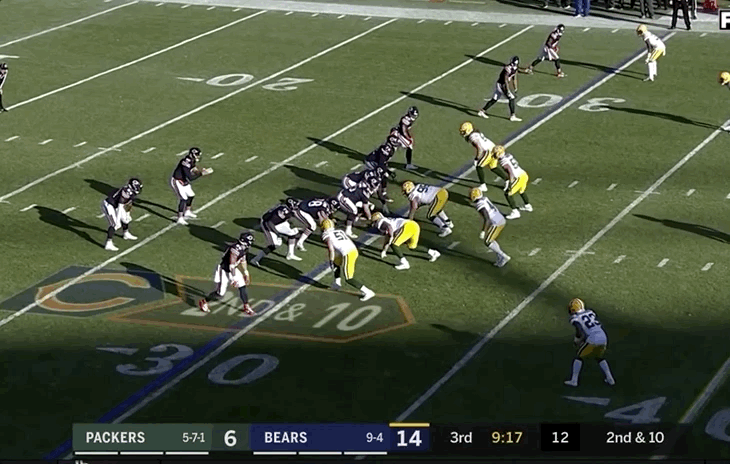 In addition to his receiving ability, Cohen adds significant value as a punt returner for Chicago. His ability to make plays in the open field carries over to his punt return duties, as evidenced by his league-leading 413 punt return yards and fourth-ranked 13.32 yards per return. No other punt returner has more than 312 punt return yards this season.
Though Cohen's lackluster contributions as a runner are surely a disadvantage, he more than makes up for his pitfalls with his high-flying ability as a returner and in the passing game. Opposing defenses have to game plan for him for that reason, even if he's easily overlooked in a crowd of NFL backs.