Baker Mayfield's NFL debut will go down in the history books as not only the first win for the Cleveland Browns in 635 days, but it also finds itself atop the leaderboard in terms of overall PFF grade in a rookie debut for an NFL quarterback.
His emergence detailed here, Mayfield lit up the field with his play, re-energized a fan base and brought the Browns back from a 14-0 hole. And did so in just over two quarters of play.
So this begs the question, where does Mayfield's strong debut rank among the all-time rookie quarterback debuts since PFF began grading every snap of every NFL game in 2006. Our research team hit the books and found some historic numbers for Mayfield.

Here are the top-graded rookie performances from a quarterback in their first regular season game in the PFF era: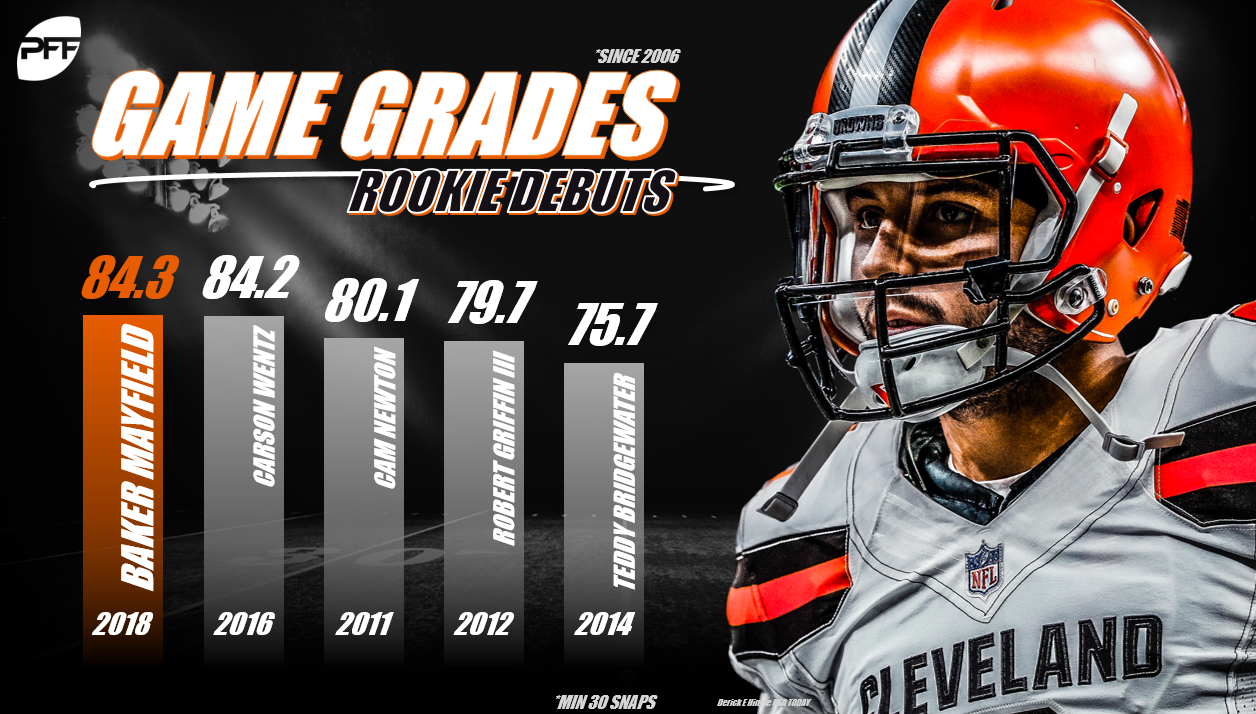 Grade: 84.3
Game: 21-17 WIN vs. New York Jets, September 20, 2018
Mayfield completed 13-of-16 passes from a clean pocket including two dropped passes, giving him an adjusted completion percentage of 93.8 percent when kept clean from pressure.
Grade: 84.2
Game: 29-10 WIN vs. Cleveland Browns, September 11, 2016
Wentz may have completed only 22-of-37 passes in this one, but breaking it down further reveals he had four dropped passes, one attempt as he was hit, another three passes batted at the line and two more passes thrown away. All told, he finished the afternoon with an adjusted completion percentage of 83.9 percent and accounted for 12 first downs and two touchdowns.
3. Cam Newton, Carolina Panthers
Grade: 80.1
Game: 21-28 LOSS @ Arizona Cardinals, September 11, 2011
Newton had no fear throwing the deep ball in his debut against Arizona, finishing the afternoon completing 6-of-7 for 219 yards and two touchdowns on passes targeted at least 20 yards downfield.
Grade: 79.7
Game: 40-32 WIN @ New Orleans Saints, September 9, 2012
Griffin III became the NFL's first starting quarterback to be born in the 90s as he carved up the middle of the field against New Orleans in a 40-32 win. On throws targeted in between the numbers, Griffin completed 12-of-13 passes for 202 yards and two touchdowns.
Grade: 75.7
Game: 20-9 LOSS @ New Orleans Saints, September 21, 2014
Entering in relief for an injured Matt Cassel, Bridgewater took care of the ball and accounted for first downs on two of his scrambles out of the pocket and on seven of his 12 completed passes.