The Atlanta Falcons are moving on from cornerback Brian Poole, as the team has decided not to tender their three-year player. In the league desperate for dynamic slot coverage corners, Poole should find work quickly once free agency opens on March 13th.
Since signing as an undrafted free agent in 2016, Poole has been a mainstay in the Falcons' secondary in slot coverage. In his rookie year, which culminated in a trip to Super Bowl LI, he logged over 1,000 snaps with 754 in coverage, 449 covering the slot. He finished with a career-best passer rating allowed that season at 91.2, a 69.1 overall grade and a 66.3 percent catch rate allowed.
In the two most recent seasons, Poole has regressed slightly in terms of overall PFF grading. In 2017, he generated a 66.3 overall grade, while last season, the third-year Florida product recorded a 61.7 grade with a 60.5 grade in coverage.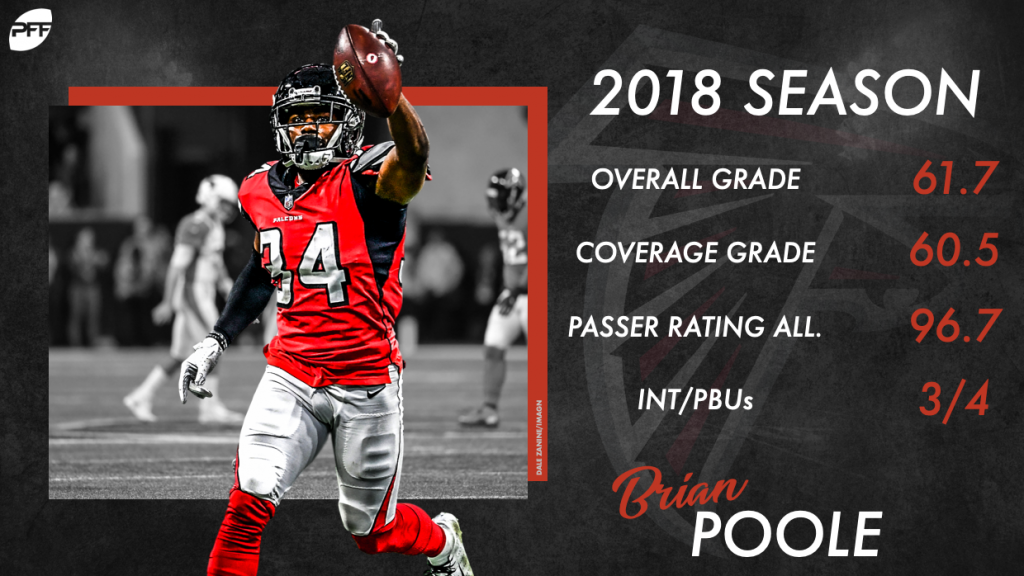 Despite his struggles last season, Poole demonstrated flashes of high-level ability, especially with his performance in Week 7 against the New York Giants. On the field for 45 snaps on defense, including 27 in coverage, Poole had a stat line that few matched in 2018. Targeted twice in coverage, he did allow a reception, but that reception went for a total of negative eight yards. He also didn't miss a tackle, and he registered a hurry from the seven snaps as a blitzer.
Poole has always had a knack of getting after the quarterback on blitzing opportunities from the slot throughout his career. His 23 total pressures over the last three seasons are third-most among cornerbacks over that period.
As passing is more prevalent than ever and with the rise in 11-personnel offensive schemes, the importance of slot coverage is at an all-time high. NFL teams are clamoring for interchangeable chess pieces on defense and Poole fits the bill as a depth option in covering the slot. Teams will be weighing their options on Poole once free agency begins in an attempt to examine the potential he's shown in stretches of his career thus far.