To have a Wes Welker, or a Marques Colston, or a Randall Cobb in their prime is to have a wide receiver you can count on from the inside; one who works the middle of the field with an unparalleled deftness; one who has the quickness to blow by a linebacker but also the tactics necessary to outwork a corner or safety. For the Minnesota Vikings, Adam Thielen was not that player for the first five years of his NFL career. But in 2018, he exhibited a slot prowess akin to that of the recent greats.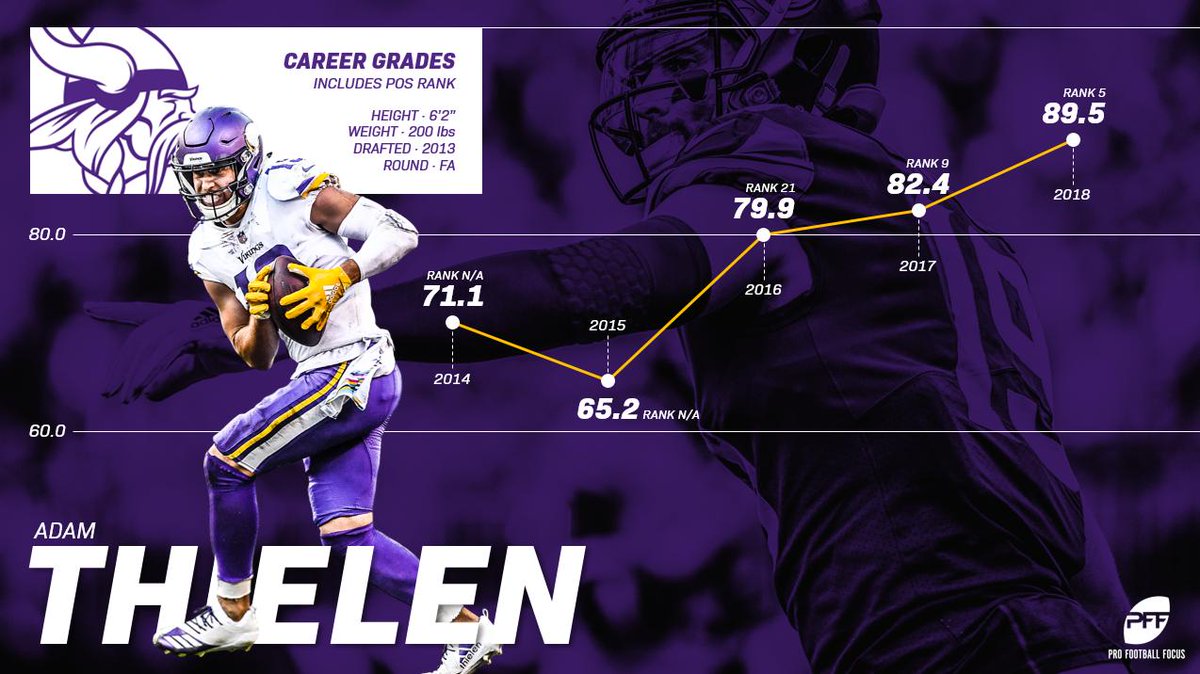 In his first three seasons, Thielen was hardly an option, let alone a top slot threat. He saw just 29 targets (six of which were from the slot) and often went without a look in the games he saw action in. When his opportunity to break out came in 2016 though, Thielen pounced.
But he did so mainly from the outside, where he took more than 70% of his snaps. That year, Thielen was a mere 33 yards from breaking the 1,000-yard mark, and he fought his way to a 121.9 passer rating when targeted that ranked seventh among qualifying receivers. While that pushed him toward the lucrative role of the Vikings' top receiving weapon, the potential for more clearly existed. So, following the league-wide trend of lining up top receiving options in the slot, it led to more snaps on the inside, where Thielen continued to improve upon the fundamentals that now have him slated as an elite slot target.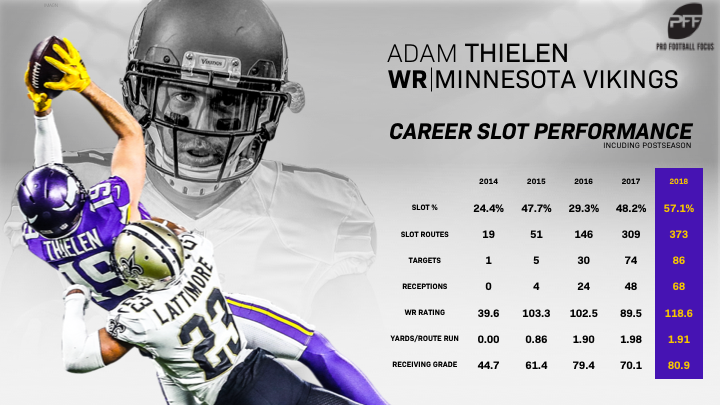 In 2017 and 2018 combined, Thielen took 52.7% of his snaps from the slot — a marked difference from his early years. His seamless progression is almost unfathomable — he racked up more than 700 yards and seven touchdowns in 2018 from the inside (his first season taking more than 50 percent of his snaps from the slot), a feat Wes Welker accomplished just once in his 12-year career. 
A more in-depth look into Thielen's profound 2018 season provides even more evidence as to the type of player he is. He led the league in slot receptions and was one of the most efficient receivers on deep throws from the position. On passes targeted 20 or more yards downfield to wideouts lined up in a slot position, Thielen was one of four to haul in three touchdowns while accumulating 150 yards or more. On shorter throws (10 or fewer yards downfield), Thielen was also a force as one of four receivers to reel in three scores while racking up 300 or more yards. As long as he's on the field, opposing defenses have reason to worry.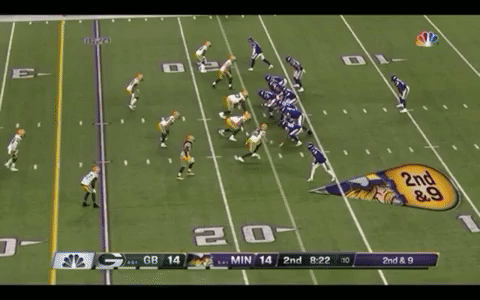 Thielen made his presence known against both seasoned veterans and budding rookies, too. In Week 13 against 10th-year cornerback Jason McCourty, Thielen caught 4-of-6 targets — albeit for just 19 yards — and snagged a touchdown. Prior to that game though, McCourty had allowed only 9-of-18 slot targets to be completed into his coverage; none of which went for a touchdown. Against rookie Jaire Alexander in Weeks 2 and 12, Thielen's seemingly effortless skillset was on full display against the inexperienced but talented first-round pick. Thielen tallied six completions on six targets for 64 yards and a touchdown, and that was against a player in Alexander who finished the year as a top-15 slot corner in yards allowed per snap and snaps per reception allowed.
All evidence pointed to Thielen being a top receiver after he earned an 82.4 overall grade in 2017. But 2018 provided an entirely new glimpse into just how valuable he can be to the Vikings' offense. The once-overlooked and undrafted free agent is now looking down on nearly all of the 254 players selected ahead of him.