For each of the last five years, PFF has made a list of the top 101 players from the previous season. For three straight years, Texans defensive lineman J.J. Watt sat comfortably at the No. 1 spot, but in 2015, Rams defensive tackle Aaron Donald took over the throne.
Part if not all of the reason for Watt's declined play — and to be clear, he was still one of the NFL's best players — was due to injury. By season's end he had five torn muscles that required surgery, in December he broke his hand, and he still didn't miss a game.
Our PFF analysts believe Watt will bounce back in 2016 and regain his spot as the best player in the NFL, including Sam Monson in his list of the 101 best players in football right now. But there's no question that Donald has a chance to once again be one of the very best players in the game, and some analytics that suggest he could get even better than he was in his second season. That's why I ranked him as the top overall player on my ballot.
Here's how Donald stacks up to Watt, and why he appears to be on a similar career path to the Texans star.
Like Watt, Donald is a standout against the run
When Watt was at his best against the run, few players were better. In 2012 he had a run-stop percentage of 17.1, which was the second-best for defensive linemen in the PFF era. He followed that up in 2013 with a run-stop percentage of 13.7, which doesn't look as impressive as the previous year but is still good for third-best among linemen in the PFF era. In 2014 and 2015 his play against the run was still been among the league's best, but not on that same, off-the-charts level of the previous years.
Last year Donald was excellent versus the run, even grading out slightly better than Watt, and his run-stop percentage of 10.9 was higher. It's important to note that the run game isn't just about making tackles. There are plenty of other ways of making plays, whether it's standing up an offensive lineman at the line of scrimmage or squeezing the point of attack or forcing the running back to make a cut; all of which are things that don't show up on the stat sheet but do show up in PFF grades. Last year there were 71 plays where Donald was graded positively in the run game because he did something to disrupt the offense that didn't show up on the stat sheet. Watt has never had more than 49 such plays in a year — a sign of just how effective Donald was as a run defender in 2015.
In general, Donald has played well against good competition. As mentioned in this piece on Donald's great 2015 season, Donald earned his run-defense grade against some great competition including Marshal Yanda and T.J. Lang.
He was even better as a pass-rusher
In 2015, Donald was not only better than Watt as a run defender but also as a pass rusher, both in terms of grades and PFF's pass-rush productivity metric. There's no reason to expect that both won't be among the top interior rushers in the NFL in 2016 (although Watt spent a good amount of his 2015 season rushing from the edge). In 2014, Watt had his best pass-rush year yet, which included the highest pass-rush grade PFF has ever recorded for an interior defensive lineman.
Donald has a ways to go before he is at that level, but there's reason to believe he should keep getting better as a rusher. Below is a graph of each player's pass-rush productivity compared to their year in the league. If Donald continues on the same path as Watt, he could be close to matching Watt's best in 2016.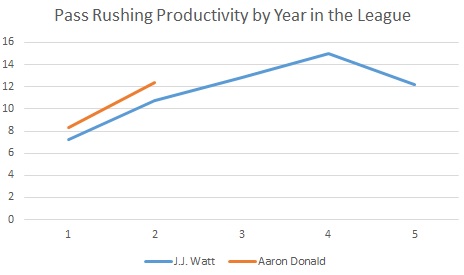 Something else in Donald's favor is the general progression of all pass-rushers. Looking at the nine years of data we have, more than 50 percent of the time a player will improve his pass-rushing grade from his second year in the league to his third, which is what Donald will be doing in 2016.
Bottom line
Watt is a difficult comparison to be making for any player, given that he ranks as PFF's No. 1 player in football right now and has been our top-ranked player three of the last four years. But the production that Donald has put together in his two seasons in the league is too impressive to ignore, and given the reasons to believe that his 2016 season could be even better than his 2015, it's fair to say that he is on a Watt-like career path. Look for both of these guys to be top-10 NFL players this season, and if Donald improves, he could again challenge Watt's best-in-the-NFL title.