Jimmy Garoppolo made national news for all the wrong reasons during the San Francisco 49ers' final practice before traveling to Denver. During one stretch, he threw five interceptions on five consecutive plays, per Matt Maiocco of NBC Sports Bay Area. There are two rapid-fire thoughts that tend to flare up when initially coming across a storyline such as that, the foremost being: What does it mean for Garoppolo? Will he be the same guy in 2019 that led them to five straight wins to close the 2017 season? The other thought that crosses the mind is whether or not the interceptions are a sign of improvement for a secondary that has struggled in recent seasons. Will that unit no longer be among the worst in the league?
To quote the great Allen Iverson, "We sitting in here — I'm supposed to be the franchise player, and we in here talking about practice. I mean, listen: We talking about practice. Not a game." In this situation, especially given the two sides involved, there is no reason to take much from this five-play stretch. The sides involved is exactly what makes it an interesting side story, though.
JIMMY G KEEPING THE BALL SAFE
Given the sample we have from Garoppolo as a starter over the last two seasons, albeit a relatively small sample, one would not expect him to throw five consecutive interceptions in any setting, even in a practice that ultimately means nothing in the grand scheme of things. In 267 pass attempts, Garoppolo has thrown just six passes that we deemed turnover-worthy at PFF, making his interception total of eight look unlucky. That equates to a turnover-worthy pass once every 45 pass attempts, ranking seventh-best among the 48 quarterbacks who have recorded at least 200 pass attempts since 2017.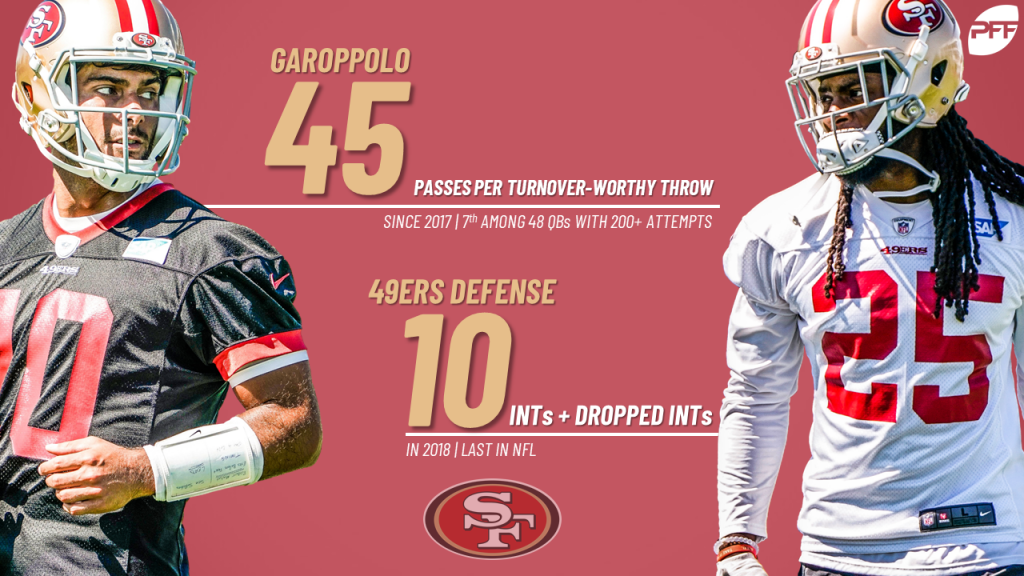 Simply put, Garoppolo has been one of the safest passers in the league when it comes to giving defenders a chance to flip possession. It shouldn't need to be said, but his 250-plus attempts in game action carry significantly more weight than a five-play stretch in a situation where Garoppolo is actively trying new things and working on his game.
THE AVERSION TO INTERCEPTIONS BY THE 49ERS' SECONDARY
For as good as Garoppolo has been at limiting turnover opportunities for opposing defenses, the 49ers' secondary has been even worse at generating turnover opportunities, particularly via interceptions. Last season, the 49ers intercepted just two passes over the entirety of the season. That was least in the league by five — the same number of interceptions that they recorded over the course of several minutes in yesterday's practice. It's not as if they simply couldn't finish turnover opportunities, either. With eight dropped interceptions, they brought their 2018 interception opportunity count to 10, lowest in the league by four. They didn't get in position to pick off passes and when they did, the 49ers converted only one out of four chances, which was the lowest rate in the NFL.
It's pretty safe to say that Garoppolo isn't about to turn into a turnover machine and that the 49ers' secondary isn't about to morph into the 2018 Chicago Bears' secondary. With the small samples that come from training camp and the preseason, it's easy to overreact, but the five straight picks thrown by Garoppolo are nothing more than an anomaly, albeit an interesting one.
[Editor's Note: All of PFF's advanced stats and grades for every NFL player are made available in PFF's ELITE subscription. Subscribe today to gain access!]